Rudy's 'Explanation' Belies Trump Alibi On Tower Meeting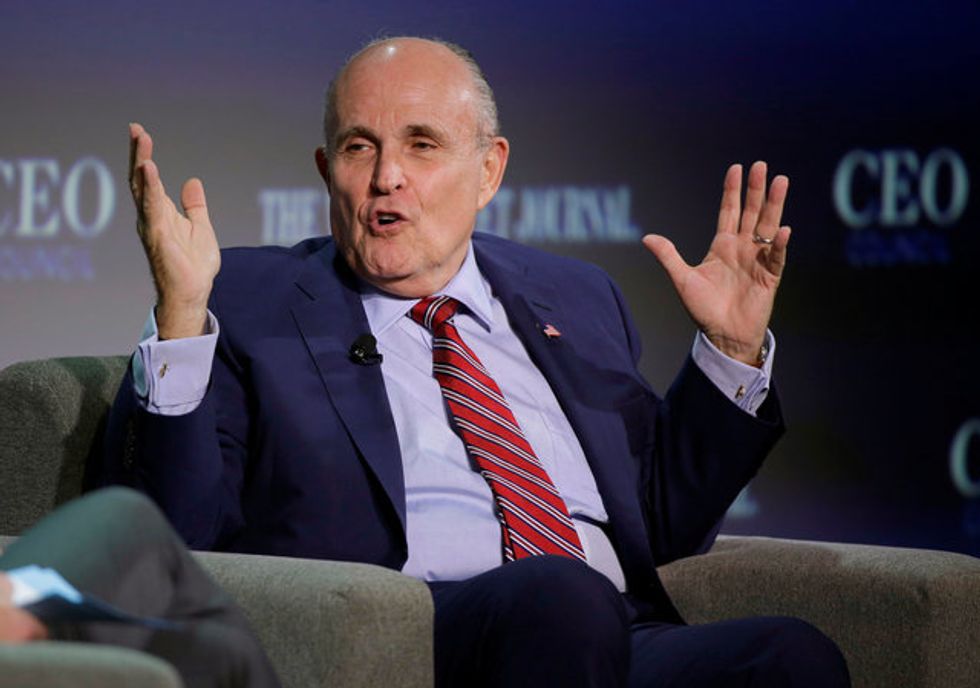 Reprinted with permission from AlterNet.
During a live TV interview on Monday, Donald Trump's lawyer Rudy Giuliani called into Fox News' "Outnumbered" in an effort to clear up statements he made earlier in the day—and ended up confusing the hosts even more.
Giuliani on Monday appeared to move the goal posts on Russian collusion, insisting that Donald Trump could not have committed a crime because he didn't personally carry out any hacking—a far cry from claims there was "no collusion." He also told CNN Trump never attended the June 2016 Trump Tower meeting, a claim that raised questions as no reporting has placed Trump at that meeting.
Giuliani told Fox News his bizarre statements Monday morning were not a departure from his previous position, telling Harris Faulkner he's "been saying from the very beginning" that "my client didn't do it and even if he did it, it's not a crime."
"The only crime is hacking and is ridiculous to think of the president hacked," Giuliani said. "Why do I say that? I say that to attack the legitimacy of the investigation because it has become crystal clear this investigation that began with Peter Strzok has been continued as an illegitimate investigation and someday, we may have to prove it is."
Faulkner asked about Giuliani's "shift" regarding the Trump Tower meeting.
"[That was] the Trump Tower meeting with the Russian officials who were here to meet with Donald Trump Jr., and others from the Trump campaign," Faulker said. "In that meeting at Trump Tower there, it has been a question because of Michael Cohen now saying that he was willing to go on the record with Russia investigation and [special counsel] Robert Mueller to say the president knew that meeting was going to take place. What we heard you say today was the president was not at that meeting. That actually takes on a question that has not been asked or even suggested. So why did you say that?"
Giuliani replied there were "two different meetings," before turning his attention to Cohen.
"[Cohen] has talked about this endlessly on those 183 unique recordings and he never mentions it at all," Giuliani said. "…The reason he is saying it is it's one of the few things he can lie about where the tapes don't contradict, but the testimony of other people does. Second, there was another meeting that has been leaked that hasn't been published yet. That was an alleged meeting three days before."
"[Cohen] says it was a meeting with Donald, Jr., with Jared Kushner, with Paul Manafort, possibly others, in which they, out of the presence of the president, discussed the meeting with the Russian," Giuliani said. "We checked with their lawyers, the ones we could check with, that meeting never took place, it didn't happen. It's a figment of his imagination or he's lying. The only meeting that they find for that day that included any of these people is a meeting about the Hispanic judge that the president had criticized back around that time. So that hopefully set the record straight."
"Let me just ask it this way," Faulkner replied. "You now told us about two meetings, there was one that the public knows about, which when you talk about a meeting and you say the president wasn't there, that's the one that everybody would assume that we are on the same page about. What you're saying now is that there was another meeting that was leaked that has not been made public and I would assume, until now, really described by you in detail … that Michael Cohen says the president knew about the head of time, but you say the president was not there."
"I don't know," Giuliani replied. "All I have are two reports telling me Cohen told him there was a meeting three days before with a group of people that I said that they discussed it and that the president was not there. He didn't say the president knew about it. I am telling you the meeting didn't take place, never happened. He had to handle it himself. Second, there's another leak, this one is out, and this one, he says he was in Donald Trump's office when Donald Trump Jr. walked in and told him about a Russian meeting that was about to start. That is also not true."
"I don't think any of that really addresses the question of why he would say he wasn't at the meeting," Melissa Francis replied. "Why are you saying that the president wasn't at the meeting? I understand those two meetings that you just set out there, but that doesn't explain why you're saying. Who asked if he was there? No one asked if he was there."
"[Cohen] is alleging the meeting took place and we are making it clear that the president was not at that meeting," Giuliani said. "… Two alleged meetings, first meeting, a group of people, not the president. That group of people says the meeting didn't take place, who alleged it is Cohen. And secondly, president's office, in walks Donald Trump Jr., says 'let me meet with the Russian,' never took place, didn't happen."
"It's different to say that meeting didn't happen," Francis said. "To say he wasn't there implies that it happened and he wasn't there."
Following the interview, the "Outnumbered" cast appeared to try and process Giuliani's remarks.
"It still doesn't make sense," Francis admitted.
Watch below:
Elizabeth Preza is the Managing Editor of AlterNet. Follow her on Twitter @lizacisms.