Trump Rebuked For Falsely Claiming Victory In Pennsylvania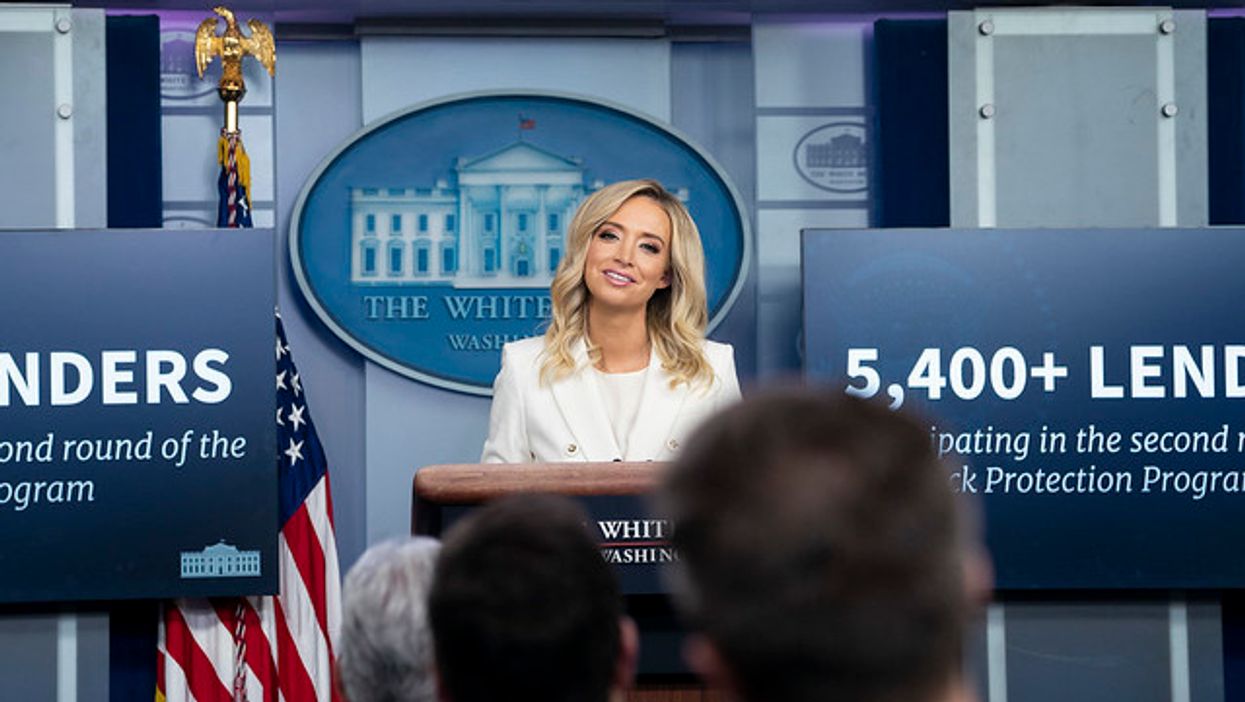 Official White House photo
Reprinted with permission from Alternet
As the state presidential election results ticked in Joe Biden's favor on Wednesday, President Donald Trump and his allies began launching desperate attempts to change the narrative and squeeze victory out of contrived chaos.
White House Press Secretary Kayleigh McEnany, for instance, was among the allies of the president who falsely claimed that he had won in Pennsylvania, where the count is ongoing:
VICTORY for President @realDonaldTrump in PENNSYLVANIA ‼️

— Kayleigh McEnany (@Kayleigh McEnany) 1604521874.0
Twitter quickly rebuked this claim — already obviously dubious since it claimed cited no source — by slapping McEnany's tweets other those of others Trump allies with a warning label. In fact, election observers believe Biden may be on a path to winning Pennsylvania, given the votes left to be counted.
Trump also tried to falsely claim that he has won other states that have yet to be called. He even claimed he won Michigan, which multiple outlets have reported as a victory for Biden:
We have claimed, for Electoral Vote purposes, the Commonwealth of Pennsylvania (which won't allow legal observers)… https://t.co/tyDx2FcTzX

— Donald J. Trump (@Donald J. Trump) 1604526970.0
Clearly, the goal is to seize control of the narrative and cast doubt on results that are favorable to Biden. He may hope to inspire protest and even violence from his supporters, which could potentially disrupt ongoing counts or raise the pressure on courts to intervene. If the election ends up in a legal dispute, he wants to make the claim that he has already won, and anything the courts would do to give victory to Biden would be illegitimate. It is, to be clear, a blatant and transparent effort to start a disinformation campaign.
Trump and his team are already launching a legal strategy to contest the election results — but it seems unlikely to work.
Rick Hasen of the Election Law Blog outlined their efforts so far:
After networks called Wisconsin for Biden with about a 20,000 vote lead and counting complete, the Trump campaign said it would seek a recount. The recount effort is highly unlikely to be successful, a point former Wisconsin Governor Scott Walker acknowledged. Statewide recounts rarely work according to a Fairvote study, shifting an average of 282 votes.
The Trump campaign is also suing to try to temporarily stop the count in Michigan until additional procedures are put in place for observing the count. This lawsuit comes very late and is likely to be get the same judicial reception as the Nevada suit that lost in the Nevada Supreme Court unanimously. Allies of the campaign also engaged in a mini-Brooks Brothers riot trying to stop the counting in Detroit. As Josh Barro says, "Kind of a weird thing to do in a state where Trump is already trailing in the count." Of course in Nevada and Arizona, where the campaign is behind, the Trump campaign is pushing to extend the count and make sure every last vote is counted.
The Trump campaign also just filed in the Supreme Court to intervene in the already existing dispute over ballots arriving over the next three days pursuant to the Pennsylvania Supreme Court order. No doubt there will be a request from one of the parties to have those ballots (which have been segregated) not included in the final count.
"[The] hope is that these Hail Mary legal plays could lead to court intervention to throw out votes and help Trump capture one of these states," Hasen wrote. "This is possible but very unlikely for reasons Ned Foley,Joey Fishkin, and I have all given."
He also noted that Trump likely wants to harm any potential Biden presidency by casting a shadow over his win.