Running America 'Like A Business' Is A Road To Ruin
@IanReifowitz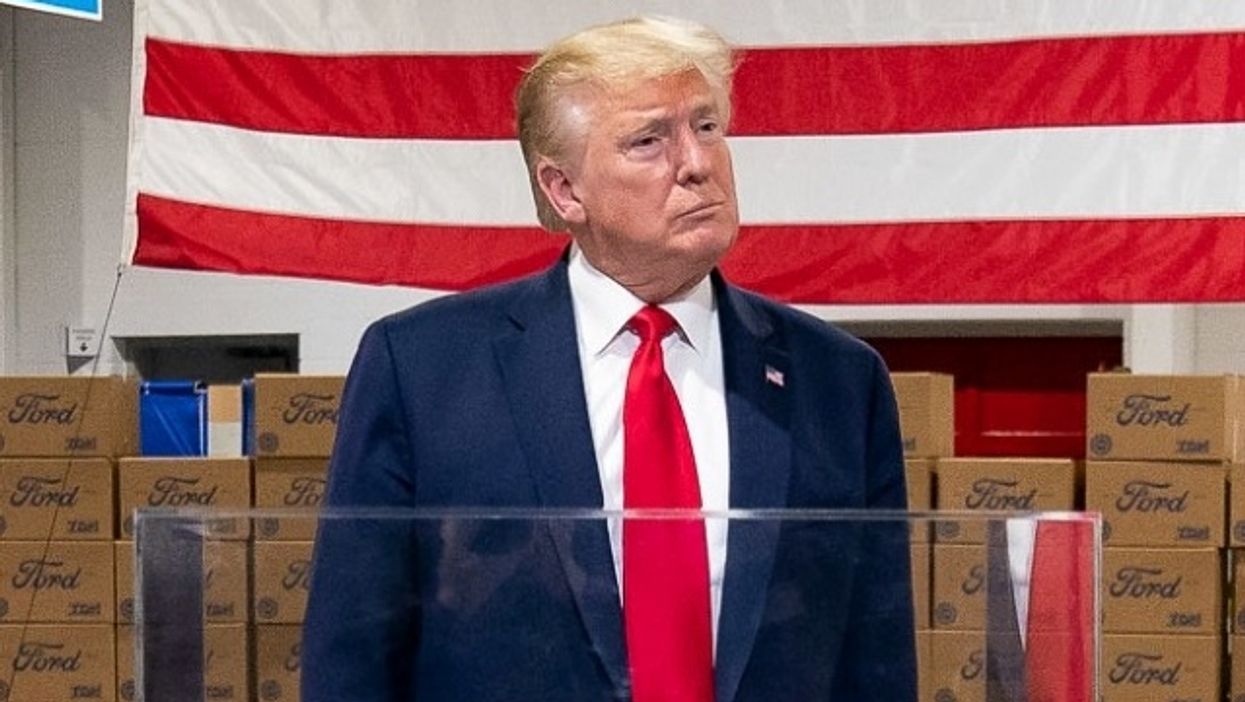 Reprinted with permission from DailyKos
The coronavirus pandemic has changed much about American politics and society—but not everything. One constant is that Republicans believe a lot of stupid things about how to run a country. Correction: Who knows what they actually believe. Is it better if they're lying rather than deluded? Either way, Republicans definitely say a lot of stupid things.
One of their longest-standing vapidities is the hoary, cockeyed notion that government should be run like a business. Trump has said this, as has his supremely unqualified son-in-law Jared Kushner , and so did Mitt Romney during his 2012 presidential run, just to name a few.
---
That idea has always been about as true as the impeached president's assessment of just about any subject he's ever spouted off on, but it's especially untrue in the middle of the most dire public health crisis our country has faced in a century. Unfortunately for the American people, there's little evidence that Trump has backed away from it.
The call to run our country like a business is really more of a talking point than a serious, content-based philosophy. Businesses, simply put, aim to make a profit. In fact, that's the sole goal of any business, according to radical free-market economist Milton Friedman, who advised Ronald Reagan and Margaret Thatcher. In 1970 Friedman wrote that the sole responsibility of a business is "to use its resources and engage in activities designed to increase its profits."
In 2017, Ivanka's husband proclaimed that "the government should be run like a great American company. Our hope is that we can achieve successes and efficiencies for our customers, who are the citizens." We can take his platitudes and add them to Friedman's more substantive answer to determine that Republicans believe that the government should aim for efficiency and profits.
The American people don't necessarily agree, and it is clearly a partisan issue. A 2017 Marketplace-Edison Research poll found an even 50-50 split among respondents, with 78 percent of Republicans agreeing that the government should be run like a business, compared to only 32 percent of Democrats.
Religious right leader Jerry Falwell Jr., perhaps more than anyone other than The Man Who Lost The Popular Vote himself, personifies the utter moral corruption of the contemporary American right. In December 2018, Falwell told The Washington Post Magazine that this cliche masquerading as a philosophy is why he supports Trump.
What earns him my support is his business acumen. Our country was so deep in debt and so mismanaged by career politicians that we needed someone who was not a career politician, but someone who'd been successful in business to run the country like a business. That's the reason I supported him.
First of all, that Trump's been "successful in business" is news to anyone who reads the actual news . As John Cassidy detailed in The New Yorker , "as a businessman, Trump was the biggest loser of them all."
As for the rest of Falwell's statement, where should we start? Republican politicians have been the ones (mis)managing the country for the majority of the past 50 years. Most of the debt that Falwell and other deficit peacocks pretend to care so much about when there is a Democratic president—and then forget about when their party's hand rests on the till—was accrued largely thanks to tax cuts for millionaires passed by Reagan, George W. Bush (the, ahem, " MBA president "), and, most recently, Trump himself.
When WaPo's Joe Helm pointed out that the deficit and the debt had both increased in Trump's first two years (he also should have pointed out that these were years of relatively strong overall top-line economic growth, a time when deficits should be going down, not up), Falwell didn't hesitate to break out the bullshit and deflect the blame and responsibility away from his political crush. "Yeah, Congress, the spending bill that they forced on [Trump] in order to get the military spending up to where it needed to be—he said that would be the last time he signed one of those," he replied.
That "Congress" was, during the years under discussion, under the control of Republican House Speaker Paul Ryan and Republican Senate Majority Leader Mitch McConnell. Another inconvenient fact. Of course, Falwell also blamed President Barack Obama for the deficits Trump ran. He is a Trumper, after all, and Trumpers never let facts get in the way of a good story.
Speaking of stories, it's time for a true one. The abject failure that is Trump's response to the coronavirus pandemic flows, in many ways, from his commitment to running our country like a business. I don't even mean in the completely accurate sense that he ran his businesses into the ground, so he's doing the same with the United States. Yet this story isn't actually about Trump being a putrid businessman; rather, this is about how damaging this twisted idea of how to run the government is in the first place.
Trump's focus has always been on numbers, but not the numbers that should matter most to the leader of a nation during a pandemic—such as how many Americans are sick and how many are dying. Instead, Trump cares about figures that matter most to someone who sees a country as no different from a company: the numbers that make up the stock market. This has been true from the outset of the COVID-19 crisis—when Trump downplayed its severity and contributed to delays that cost tens of thousands of lives—right up to the present, when he is demanding that businesses be reopened with no regard for public health, and even providing material assistance as well as encouragement to the most extreme kinds of protests along those lines, as Paul Krugman explains .
Thousands of Americans may be about to die for the Dow. We know that Trump is obsessed with the stock market, and his long refusal to take Covid-19 seriously reportedly had a lot to do with his belief that doing otherwise would hurt stock prices . He may now believe that pretending that the crisis is over will boost stocks, and that that's all that matters.
Along similar lines, Democratic Sen. Sherrod Brown of Ohio aimed a few pointed questions at Treasury Secretary Steven Mnuchin during the latter's recent testimony before the Senate. "How many workers will die if we send people back to work without the protections they need, Mr. Secretary?" Brown asked.
Mnuchin's non-substantive response included a mention of how he "couldn't be more proud of the medical advice we are getting," which prompted Sen. Brown to try again. He asked, "How many workers should give their lives to increase our GDP by half a percent, that you're pushing people back into the workplace? How many workers should give their lives to increase the GDP or the Dow Jones by a thousand points?" This prompted Mnuchin to, like any good Kool-Aid drinker would, sing the praises of the Trump administration's response to COVID-19. Brown, true to form, cut the secretary's lies off with a bit of truth-telling on the matter that, had Trump heard it, would have turned the Orange Julius Caesar's skin beet red.
More specifically, we can see the dangers of thinking that the government should be run like a business in how the Trump administration has approached the distribution of the half-trillion dollar bailout fund for corporations created by the CARES Act. In particular, it appears that the administration is interpreting the rules in ways that reduce the risk of lending money it won't get back—just like a bank would—but which increase the risk of inflicting lasting harm on the American people.
As the United States plunges into the worst economic downturn in decades, there is growing concern that the Federal Reserve and the Treasury are being too timid and halting in their approach as they scramble to rescue the economy .
On Monday, a report from the congressional commission overseeing the Fed and Treasury's efforts pointed out that most of the $500 billion that Congress allocated in March to the Treasury to support businesses and local governments had yet to be used and raised questions about how the rescue programs would work. The Treasury Department has yet to extend any of the $46 billion it was given to support airlines and national security-related companies and the Fed, whose newer and riskier lending programs are meant to be backstopped with the remaining $454 billion, has just one such program underway.
The concern is largely focused on Mnuchin, who, like his gold-plated boss, seems to be thinking primarily about appearances rather than substance.
Mr. Mnuchin has resisted taking on too much risk, mindful of the optics involved in bailing out large companies or those already heavily indebted. He has said he does not expect to lose the money that Congress has handed him to support emergency lending, which could be driving the Fed to be more cautious. While Mr. Mnuchin has said the Treasury could take losses if the economy worsens, his base case scenario is that it will return all $454 billion.
Last month, Mnuchin made his perspective quite transparent: "I think it's pretty clear if Congress wanted me to lose all of the money, that money would have been designed as subsidies and grants as opposed to credit support."
As Virginia Democratic Sen. Mark Warner points out , this is exactly the wrong approach. "When it comes to helping Main Street businesses, we should err on the side of doing a little too much, rather than doing too little." Hank Paulson, who was Treasury secretary when the 2008 economic crisis hit, similarly argues that worrying about repayment above all—again, what a business would do—is the wrong focal point. "The objective now shouldn't be on whether we get our money back. The objective should be to minimize the number of insolvencies and bankruptcies and the economic hardship the American people are going to suffer before we can get people back to work and leading somewhat normal lives." Mnuchin changed his tune a bit after feeling some heat, but we'll see if words lead to action when it comes to helping out Main Street.
The argument former Sec. Paulson made is clear: Government cannot be run like a business. Economics expert and Massachusetts Sen. Elizabeth Warren—boosted by presumptive Democratic presidential nominee Joe Biden—demonstrated why by highlighting another issue that relates to that same $500 billion relief fund for large businesses. Warren recently clashed with Mnuchin over the administration's failure to require that any company getting money from that fund keep all their workers on the payroll.
During Mnuchin's aforementioned Senate testimony, Warren put him on the spot. "Congress passed the CARES Act and put nearly half a trillion dollars in corporate bailout money in your hands. The law gives Treasury and [Federal Reserve] authority to write rules for who gets the money. So does this mean that you will require companies that receive the bailout money from the taxpayers to keep their workers on payroll?" Mnuchin refused to make any such commitment, and Joe Biden slammed
That's exactly why @EWarren and I have called for more oversight. We need more conditions on corporations to ensure… https://t.co/1ay5IQNh4W

— Joe Biden (@Joe Biden) 1589933316.0
If the government were being run like a business, it wouldn't care whether the recipients of its loans kept workers on the payroll, or much of anything else, as long as the loans got paid back. That's exactly how Trump and Mnuchin see it. The more humane approach is the one Warren and Biden are advocating; the American people are also on the side of the Democrats.
Check out these numbers.
Progressive pollster Data for Progress asked 2,328 likely voters about eight conditions laid out by Sen. Elizabeth Warren (D-MA) and backed by many Democratic lawmakers for companies getting bailout money. Their findings : By and large, voters agree companies shouldn't get money without strings attached.
Nearly three-quarters of voters say companies receiving bailout money should commit to no layoffs, while just 11 percent oppose that requirement, according to the Data for Progress polling . And it's an area where, at least among voters, there is agreement across the political spectrum: 82 percent of Democrats, 61 percent of independents, and 70 percent of Republicans agree on no layoffs.
Had Republicans in Congress been willing, a guarantee on layoffs could have been written into the CARES Act itself, and then Mnuchin would have had no choice but to enforce it. Instead, the GOP chose not to stand up for American workers. Whether you call that choice running government like a business or just running government on behalf of big business, either way, that's just how Trump and his Republicans roll. They certainly aren't going to let a little old pandemic alter how they do business govern.
Here's another example of this Republican business as usual. They are once again pretending to be worried about deficits and debt. That's always the excuse right-wingers offer when they don't like spending proposed by Democrats. Republicans currently claim that the federal government will soon have to cut off additional aid to those who lost their jobs during the pandemic—forcing them to go back to work, whether it's safe or not—and can't support state governments suddenly starved for revenue. Why? Because, supposedly, we can't afford more debt—even though interest rates are essentially at 0%. Those Republicans are not very good businesspeople, are they?
As noted above, "running the government like a business" is a platitude, not an actual governing philosophy. That's why Republicans can peacock about debt out of one side of their mouths, while at the same time their leader is advocating for—wait for it—additional tax cuts aimed largely at the rich, which will only add more to that very same debt they decry. Remember: At the last second, the GOP slipped tax cuts for millionaires and billionaires into the CARES Act. I know Democrats won't let voters forget, which is why Nancy Pelosi made sure the HEROES Act, passed in the House a week ago, repealed them.
In the end, most for-profit companies will take advantage of radically changed circumstances, such as a pandemic, to make more money. The morality of doing so is a separate question, but that's the reality, in particular given that if one business doesn't take advantage, and its competitors do, it risks ending up going out of business altogether.
Yet our government, in the midst of the worst health crisis in 100 years, is not supposed to take advantage of the situation to make more money. It has a substantially different mission. Our government is supposed to respond to these radically changed circumstances by making sure those placed in harm's way get the help they need, and by making the situation going forward better for American society as a whole, in particular the most vulnerable among us.
Always, but especially now, a government is tasked with serving the common good. Whereas a business typically serves the interests of its owners/shareholders, our government has a much broader constituency: every single American. That's something Donald Trump has never understood. But if we all do our part in the days leading up to Nov. 3, we can make sure that we finally get a president who does.
Ian Reifowitz is the author of The Tribalization of Politics: How Rush Limbaugh's Race-Baiting Rhetoric on the Obama Presidency Paved the Way for Trump (Foreword by Markos Moulitsas)