Rush Limbaugh Flees For His Safety After Calling Hurricane Irma A Liberal Hoax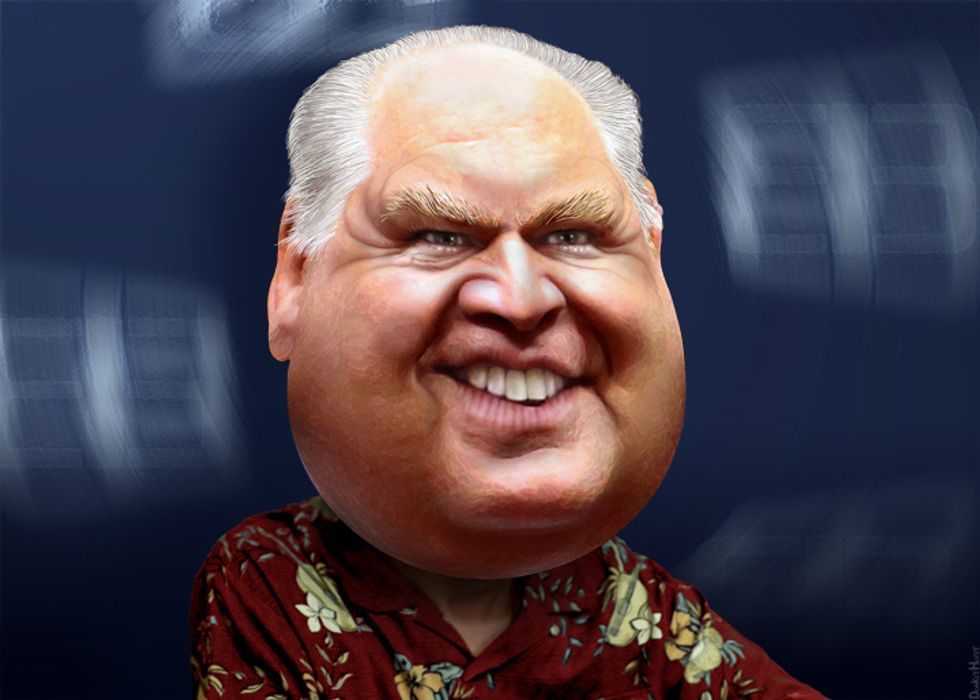 Reprinted with permission from AlterNet.
Two days ago, right-wing radio host Rush Limbaugh said that Hurricane Irma's news coverage was a ploy to create "fear and panic," and predicted that the storm probably wouldn't impact the major population centers of South Florida.
It took Limbaugh about a day to change his mind.
On Thursday, the bag of bluster announced that he'd be going to be taking a hiatus from his Palm Beach, Florida, house and studio, leaving someone else to handle his show.
.@rushlimbaugh – based in S. Fla. – says he will not be on the air next several days – will be back on air next week from "parts unknown."

— Gary Fineout (@fineout) September 7, 2017
Limbaugh's previous statements indicated that he was unsure that there would be serious devastation to areas — it was all media hype! — and, on Thursday, he stood by those remarks. He argued that, if you're not going to be in the eye of the storm, it won't be as bad as the media and government say it would be.
So when they say "hurricane category 4, maximum sustained winds 155 miles," there is a place where that is happening, but it's not very large. It's not the whole hurricane. But all of this is done on purpose because — and once it's committed to, once you reach the three-day forecast range, which we're in now, 72 hours out, once you reach that, they're committed.
But even as Limbaugh cast doubt on the government's forecasts, he heeded them in case they were right.
They're committed to it. It's part of the way they warn. Even if they think that it's gonna turn and be offshore east, they can't move that track in advance of that happening, because they can't be sure. If they were to move that track offshore east, say tonight at five o'clock, in two hours, and it moves and they're right, but then late Saturday night it makes a jog left back over land, they would be in deep doo-doo, because people believe them too. And they can't afford now that they've invested and committed to a landfall in south Florida, they have to stick with that until the hurricane makes a move that is off that track. They can't make a move now because of the model.
President Donald Trump's seaside resort Mar-a-Lago has also been ordered to evacuate as Irma, a ferocious category 4 storm, approaches Florida.
Last year, Limbaugh revealed how damaging a category 4 storm would be.  He also blamed Obama for part of the panic during Hurricane Matthew, while admitting that yes, being in a hurricane is actually pretty bad!
Now, we've lived through Category 2s here, and they are devastating.  You lose power and you lose your phone lines and trees are blown over and the roads are impassable, and there's some home damage, depending on the construction of the home and how old it is.  It's not pretty.  Category 1 even can feature some of that.  Category 4, like is headed for the East Coast of Florida right now could be catastrophic if it comes ashore.
Just remember: Even Rush Limbaugh listens to the meteorologists.
Jeremy Binckes is Salon's Cover Editor.