Rush Limbaugh Can't Do Election Math, But He Loves Conspiracy Theories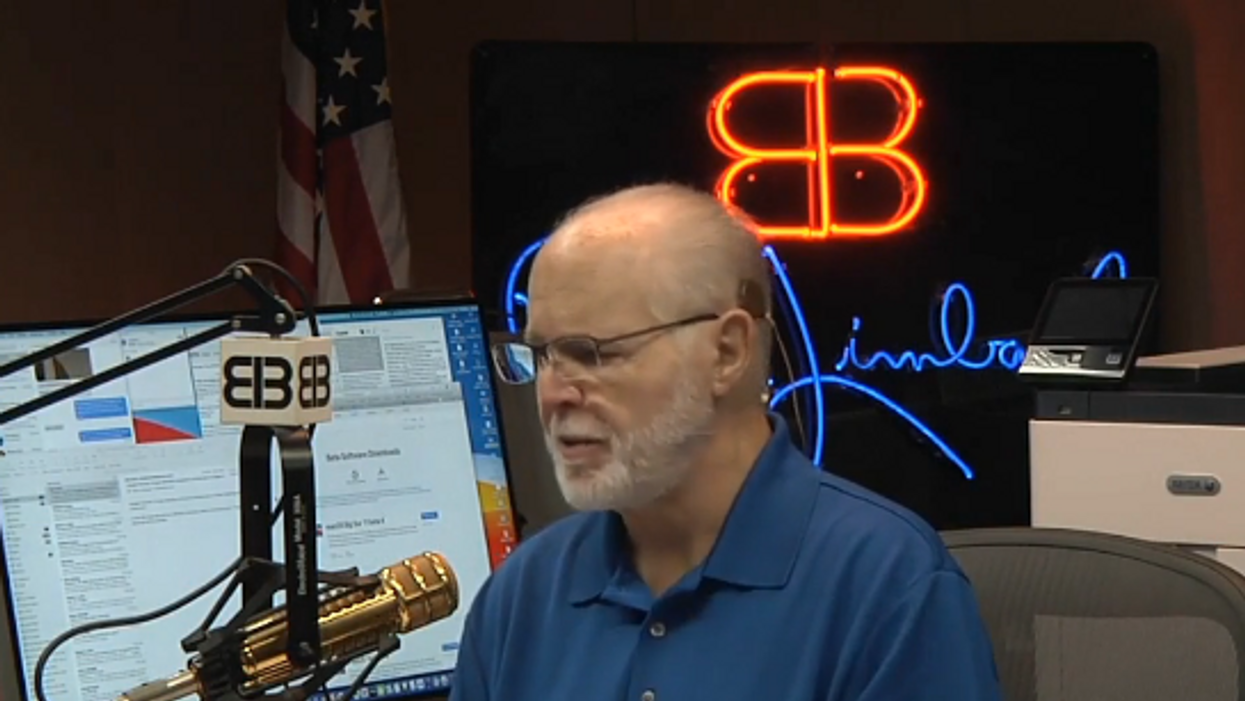 Screenshot from the The Rush Limbaugh Show
Reprinted with permission from MediaMatters
With Democratic presidential nominee Joe Biden appearing likely to clinch the election on Friday against incumbent President Donald Trump, right-wing talk radio host Rush Limbaugh provided his listeners with a cornucopia of conspiracy theories about Democratic officials manufacturing votes to overcome what would otherwise have been a Trump landslide victory.
His propaganda creates an image of fraud at the polls — in contrast to actual election results — that would put Charles Foster Kane's newspapers to shame.
---
Much of Limbaugh's conspiracy theories hinge around Biden overtaking Trump's earlier leads in key states after days of counting mail-in votes in heavily Democratic cities — a phenomenon dubbed the "red mirage" that was predicted for months due to increased interest in mail-in voting among Democratic-leaning voters as a result of the coronavirus pandemic.
In fact, the mirage has occurred precisely because of decisions made by Republican officials, not Democrats. In the key state of Pennsylvania, for example, the state's Republican legislature did not pass changes requested by the state's counties, which would have allowed them to begin processing mail-in ballots before Election Day. As a result, they began the day with a tremendous backlog of envelopes to sort through, which are only now being resolved.
Limbaugh has been peddling a variety of conspiracy theories, such as falsely claiming there were more votes cast in Wisconsin than registered voters in the state — though the voter registration figure dates back to 2018, and since then the rolls have increased significantly. And during his show on Friday, he claimed that Republicans won some key down-ballot races, while Biden was pulling ahead in the vote count because Democrats were in a hurry and only manufacturing fake votes for Biden. (Just to be clear, the House and Senate races he has discussed are not connected to such contests as the presidential race in Pennsylvania.)
Limbaugh kicked off his November 6 show by reading from a column published at Fox News, written by Jason Whitlock of the right-wing sports site OutKick.com, decrying that "hate" had conquered "love" in the election — that is, claiming that dislike of Trump had was a greater motivating force among Democratic voters than love for Joe Biden, in contrast to Trump's own supporters genuinely loving him.
Limbaugh commented further on his own. "I know, it doesn't matter to anything now. But it matters to me, I'm sorry," he said. "The guy that won did not have any kind of massive pro support. He was just the vessel. He was just the recipient of whatever anti-Trump sentiment there was out there."
In the early afternoon, a tweet circulated, which has since been deleted, interpreting this talk from Limbaugh as amounting to a concession — an admission that Trump had lost the election.
Limbaugh soon returned, and told listeners that he had received a question about this from Fox News anchor Bret Baier. His answer to Bret Baier: No, he isn't conceding — plus a warning to Fox News, that they should not become the first network to project Biden as the president-elect, which the Democrats must truly want to see.
RUSH LIMBAUGH (HOST): So I just got this note, I just got this note from Bret Baier at Fox News saying that I've conceded the election. He wants to know if that's true. "Did you concede the election? You think that Biden's —"

I didn't say that. I'm dealing in some hypotheticals here, but I've never conceded the election. I've never said that this was over. I've never -- in fact, I just finished saying that Trump's got legal options open to him. I was going to get those here in just a second. I'm sorry if anybody misunderstood me, in speaking in these hypotheticals. But I don't — maybe when I'm talking about how in the world can we win all these seats down-ballot, pick up seats in the House, maybe be 50-50, hold on to the Senate, hold on to the legislature in North Carolina — and Trump loses?

Maybe, maybe when I say that, they think I'm conceding — I'm not. I'm talking about the trend line. I've not conceded anything. All I've said was, is that the cable networks are waiting for Fox to do it.

By the way, I wrote back. I said, "Bret, you guys better be on the lookout, because that's what they're doing. They're waiting for you to do it. They want you to eat crow. They want Murdoch to eat crow. They want you guys to be the ones to repudiate Trump." If anybody out there is thinking I've conceded anything — wrongo. And if I gave that impression, then I take it back, because that was not the intention.

In a later segment, Limbaugh falsely claimed that Biden "got fewer votes in this election" than Hillary Clinton in 2016 and Barack Obama before that "except in Michigan, Pennsylvania, Georgia, and Wisconsin. How the hell does that happen?"
In fact, Biden is on track to receive more votes than those two prior Democratic nominees across all the states, in a historically high-turnout election. (Trump also gained a great number of raw votes. In the red state of Texas, for example, both Biden and Trump will have received over a million more votes each, compared to the Trump vs. Clinton vote totals in 2016.)
Limbaugh also went on another conspiratorial line, reading an article from RedState alleging that Biden was lying about receiving the most votes for president in history. "That's even a bigger lie than Hillary claiming she won the popular vote in 2016," the article said, and Limbaugh agreed that both of these things were purely the result of massive fraud.
"Nothing we were told about the 2016 count was legit, because none of it was," Limbaugh said, offering his own comment, "This year is even worse."
He then read a quote from the article claiming, "The reality is that President Trump probably won in a landslide" — that is, when only counting the legal votes, Limbaugh added.
Continuing to read from the article, combined with his own commentaries, Limbaugh went on to say that it was a lie that Democrats had majority support in the country — not just due to fraud, as Limbaugh maintained, but also as evidenced by looking at a map. "Take a look at the acreage. The Democrats do not dominate this country," he said. "They dominate communities. They dominate a coastal community here, a coastal community there, but they do not dominate the country." It is no secret, of course, that Democrats do better in large cities with dense populations, while Republicans run up the score in rural areas. Limbaugh was confident, however, that Trump would have a plan. "Knowing what we know about the fighter who our president is, what is the likelihood that he, knowing what to expect and telling us he knew it was coming, what's the likelihood he wouldn't do anything about it or what's the likelihood he would not have any plan to counteract and capitalize this?" Limbaugh asked. "The answer is zero. I don't know what he's going to do. I don't know what plans they have. But Trump has been ahead of the opposition, including in his own party strategy-wise, from the moment he announced in 2015."
Finally, though, Limbaugh circled back to Whitlock's piece: "Well, hatred is driving the fraud. Hatred is driving the cheating. Hatred — the unwillingness to accept Trump as a winner — is driving all of this chicanery the Democrats are engaging in. It is hate that is driving it. I understand Whitlock's point, and in quoting his piece and talking about it, people might have heard me say that I was agreeing with him that it's over." But then again, Limbaugh still expressed his disappointment in the way people voted. "What really irritates me more than anything is that people vote for it," he said, and claimed that he was hoping people would vote against Democrats after the party had "finally exposed themselves" via urban "riots" and COVID-19 lockdowns. "I'm saying this has got to open people's eyes. It's got to alert people what we are up against. It's got to alert people to what the Democrat Party is," Limbaugh concluded. "And I don't know if it did or not, because there's too much damn vote fraud in these four states."
So did "people vote for it," as Limbaugh said in disappointment — or was it all just fraud, as he also insisted? "We just don't know," he concluded. "Common sense would tell you the American people do not support this stuff. This stuff is not the majority. It's not how they want their country to operate and proceed." Well, that's his story, and he's sticking to it — even if he doesn't really know.