Russia, Europe Differ On Diplomatic Path Out Of Ukraine Crisis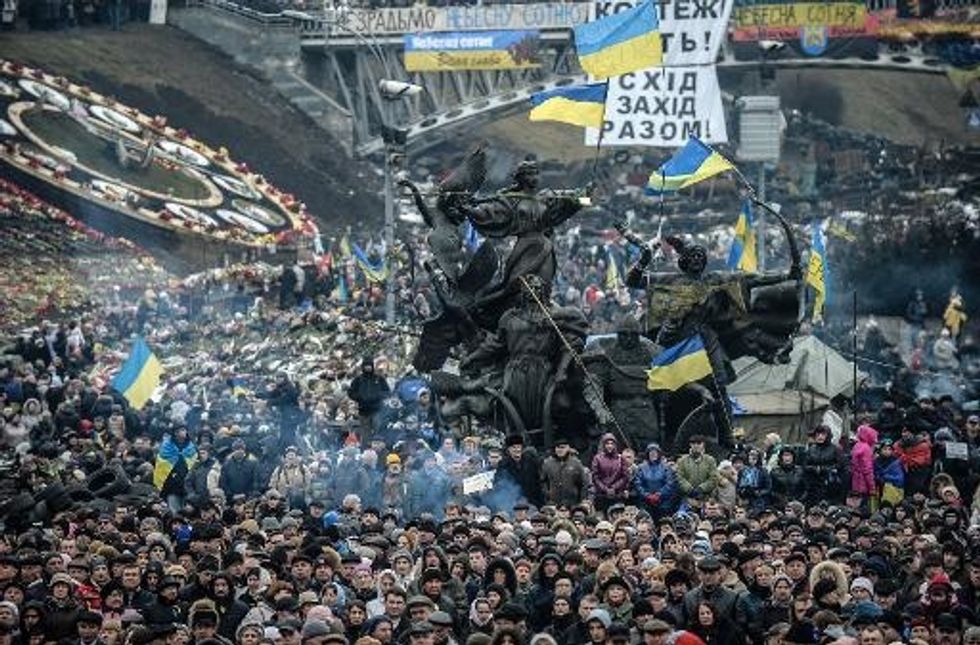 By Carol J. Williams, Los Angeles Times
KIEV, Ukraine — Diplomatic efforts to quell violence in Ukraine hit an impasse Tuesday, with the visiting German foreign minister warning against interference with the country's May 25 presidential election and his Russian counterpart saying there will be no peace until Ukraine's interim leaders agree to negotiate with the opposition.
But the standoff also appears to signal a preference by Russian President Vladimir Putin to resolve the 6-month-old governing crisis in Ukraine through political dialogue means rather than an armed invasion, as occurred in Crimea during the winter.
Nevertheless, deadly confrontations continued Tuesday. Ukraine's Defense Ministry said six soldiers were killed and eight wounded in an ambush outside Kramatorsk. The troops were attacked by at least 30 insurgents armed with grenade launchers and automatic weapons, the ministry said.
Kramatorsk is one of the focal points of clashes between pro-Russia separatists and government forces trying to recover control of key facilities occupied by the militants.
Tensions remain high two days after armed separatists in the Donetsk and Luhansk regions staged votes for independence from Ukraine in referendums widely condemned by the international community. The Kremlin so far has said only that it has "respect" for the expressed will of the Russian-speaking areas of eastern Ukraine.
The instigators of the vote — which was condemned as illegal by Ukrainian leaders in Kiev, the capital, and their Western allies — had promoted it as a first step toward annexation by Russia. Donetsk rebel leader Denis Pushilin said Monday he had already asked Moscow to absorb his proclaimed People's Republic of Donetsk into the Russian Federation.
Putin's spokesman, Dmitri Peskov, told Russian media that the president hadn't decided on a reply to the appeal.
"The recently held referendums in the Donetsk and Luhansk regions of Ukraine should be seen as a clear signal of a deep crisis," the Russian Foreign Ministry said in a statement Tuesday.
Russian Foreign Minister Sergey Lavrov reiterated his warning that only dialogue between Kiev and those in the east rejecting its authority would bring an end to the crisis, not more diplomacy among outside powers. That was a reference to the failed talks in Geneva last month among Russia, the United States, the European Union and Ukraine's acting foreign minister.
"Nothing will work without involving the opponents of the regime in a direct dialogue on solutions to the crisis," Lavrov was quoted as saying by the Itar-Tass news agency.
Ukraine's interim president, Oleksandr Turchynov, told parliament on Tuesday that talks on potentially ceding more autonomy to the regions were to begin Wednesday but that "terrorists" who have seized power by armed force would not be included.
Interim Prime Minister Arseny Yatsenyuk also warned that talks were pointless as long as Moscow supports armed militants thwarting law and order in the occupied regions.
The standoff over who should be included in the talks has delayed work on a proposed "road map" out of the crisis drawn by officials of the Organization for Security and Cooperation in Europe. The 57-member OSCE is the only trans-Atlantic security alliance that includes Russia, Ukraine, all European Union nations and the United States. It is currently chaired by neutral Switzerland, sparing the Kremlin the appearance of submitting to the mediation of Western rivals.
German Foreign Minister Frank-Walter Steinmeier said during a stopover at Kiev's Boryspil airport that the presidential election was essential to restore legitimate leadership in Ukraine and warned against any Russian or separatist efforts to disrupt it.
Ukraine has been in turmoil since November, when European-oriented citizens in western cities were angered by then-President Viktor Yanukovych's decision to scrap an association agreement with the European Union in favor of economic integration with Putin's rival Eurasian Union bloc of former Soviet states.
A three-month rebellion that culminated in deadly clashes Feb. 21 forced Kremlin ally Yanukovych to agree to a power-sharing interim government until new elections could be held, a deal brokered by Steinmeier and two other EU diplomats. But the embattled Ukrainian president fled to Russia later that night, leaving the running of the country to the opposition figures with whom he had agreed to serve in a government of national unity.
Steinmeier said Europe supported Kiev's efforts to pursue formation of a decentralized government with the aim of keeping the disparate regions together in a loose federation.
Russia, which has historic trade and cultural ties with the eastern and southern areas of Ukraine, supports the "federalization" approach as a way to preserve the deeply integrated heavy industries and markets developed during the Soviet era.
Steinmeier said he hoped the talks would make it possible "to bring back occupied buildings and eventually to disarm illegal groups" that were threatening to block the presidential vote in the eastern regions. The separatist leaders of both Donetsk and Luhansk, where about 14 percent of Ukraine's 46 million people live, have said they are now independent and have no need to take part in the presidential election.
The Russian Foreign Ministry statement called for launching the "national dialogue" on regional autonomy before the presidential election in less than two weeks' time.
While initial talks were set for this week, Ukrainian government leaders have said the constitutional changes being considered will take months to draft and that the process will not be accelerated by gunpoint threats.
AFP Photo/Bulent Kilic