Russia Starts Border Army Drill After Ukraine Attacks Rebels
@AFP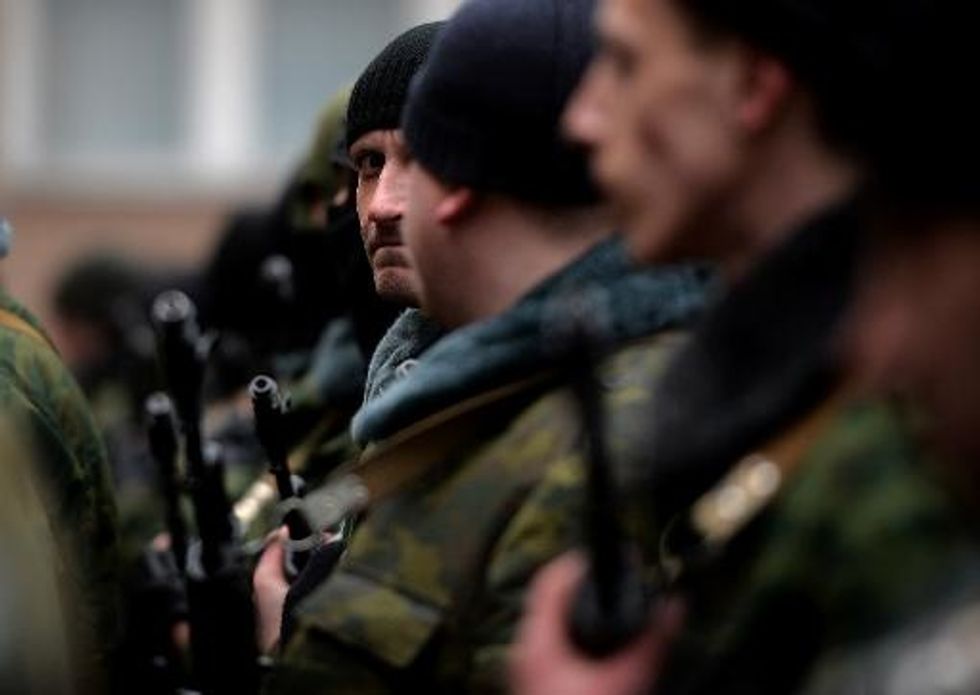 Slavyansk (Ukraine) (AFP) – Russia ordered new military exercises on the border of Ukraine Thursday and warned of "consequences" after Kiev launched a deadly assault against pro-Kremlin rebels occupying the flashpoint town of Slavyansk, in an escalation of the crisis.
But Ukraine's president vowed to see through the military operation, telling Russia to "stop interfering" in the former Soviet republic, and declaring that Kiev would not yield to "the terrorist threat."
The rocketing tensions sent oil prices up, as U.S. President Barack Obama, who has deployed troops to boost NATO's defenses in eastern European states, accused Russia of reneging on an agreement to defuse the crisis.
Russian Foreign Minister Sergei Lavrov in turn attacked the United States and the European Union of "trying to use Ukraine as a pawn in a geopolitical game."
In Slavyansk, a flashpoint eastern Ukrainian town held by rebels, several armored vehicles backed by commandos on foot arrived after shooting was heard on its outskirts, AFP correspondents in the town said.
The vehicles withdrew just a few hours later, leaving the insurgents, who had pulled back, to again assert full control over the town.
No reason was given for the retreat, but Ukrainian authorities had said they wanted to avoid casualties in the town where they said civilians were being used as "human shields."
Ukraine's interior ministry said five militants were killed in the offensive, but the rebels said two of their members died.
The assault on Slavyansk followed two other clashes in east Ukraine.
The defense ministry said an army base in Artemivsk had also repelled an assault by around 100 separatists. One soldier was wounded.
And in the port city of Mariupol, Interior Minister Asen Avakov said special forces retook the occupied town hall with no casualties.
Thursday's violence was the worst to erupt since a deal done in Geneva between Kiev, Moscow and the West aimed at defusing tensions.
Russian President Vladimir Putin warned there would be "consequences" upon learning of the Slavyansk assault.
"If Kiev has really begun to use the army against the country's population…that is a very serious crime against its own people," he said.
Russia's defense minister Sergei Shoigu claimed that Ukraine had mobilized 11,000 troops, 160 tanks and gangs of extremists "against peaceful civilians."
"If this war machine is not stopped today, then it will lead to a large number of dead and wounded," he said, as Moscow ordered tactical battalions among its estimated 40,000 troops massed on Ukraine's border to conduct a new "exercise" in response to the offensive.
The show of force came a day after Moscow said it would respond as it did in Georgia in 2008, if its interests in Ukraine were attacked.
Russia sent troops into South Ossetia in August 2008 after then president of Georgia Mikheil Saakashvili sought to reestablish control over the breakaway region.
But Ukraine's acting President Oleksandr Turchynov vowed to push on with the offensive to put down the rebellion in the east.
"We will not back down from the terrorist threat," Turchynov said in a televised address.
"We demand Russia stop interfering in the internal affairs of Ukraine…and withdraw its troops from the eastern border of Ukraine."
Obama accused Moscow of failing to abide by the Geneva deal, which required militias to disarm and cede control of seized buildings.
"We continue to see malicious, armed men taking over buildings, harassing folks who are disagreeing with them, destabilizing the region and we haven't seen Russia step out and discouraging it," he said.
Kiev, he said, had sought to enact the accord by pledging an amnesty to the rebels, and to protect the Russian language and decentralize power.
The United States has threatened further sanctions against Russia if it further escalates the situation.
While Obama has ruled out sending US or NATO forces into Ukraine, Washington has begun deploying 600 US troops to boost NATO's defenses in nearby eastern European states.
France also said it was sending four fighter jets to join NATO air patrols over the Baltics.
The latest offensive in Slavyansk came after the body of an abducted local politician was found weighted down in a river near the city.
Turchynov said Volodymyr Rybak, whose funeral was held Thursday, had been "brutally tortured" and blamed the rebels, while his wife said he had been stabbed multiple times.
The European Union's top foreign policy official, Catherine Ashton, expressed "grave concern" at the murder of Rybak and other violence.
Meanwhile, the self-styled rebel mayor of Slavyansk said an American journalist being held by pro-Kremlin separatists will soon be freed.
Simon Ostrovsky, a reporter for the U.S. online outlet VICE News, "will be freed as soon as possible — you can meet him then," Vyacheslav Ponomaryov told a news conference.
In Washington, the International Monetary Fund said it would on April 30 make a final decision on a huge rescue plan near-bankrupt Ukraine has requested.
The global crisis lender agreed tentatively last month to lend Kiev $14-18 billion over two years to lead a broader support package for the economy.
The amount is part of a larger $27 billion plan announced on March 28 to help the new government salvage the country's finances while pressing for reforms.
 AFP Photo/Filippo Monteforte