Putin Wastes Massive Sums To Strike Ukraine Civilians While His Army Flops
@LucianKTruscott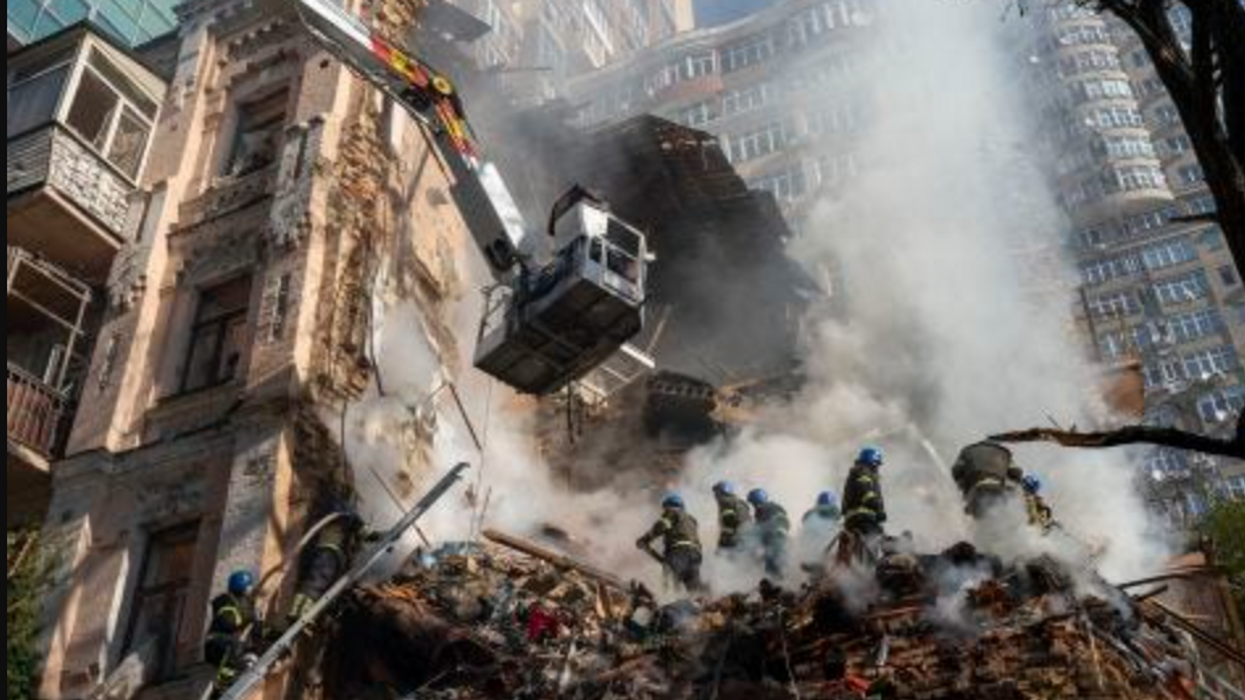 Four hundred to seven hundred million dollars: That is how much Russia's missile attack on Ukraine cost on a single day, October 10. The Ukraine defense ministry announced that Russia launched 84 missiles on that day largely against civilian targets – apartment buildings, offices, shopping areas – they even hit a children's playground in Kyiv.
According to Forbes magazine, the Russian attack included its KH-101 air-launched cruise missile, which costs $13 million; the 3M54 Kalibr cruise missile, $6.5 million; the Iskander ground-to-ground missile, $3 million, the P-800 Oniks air-launched missile, $1.25 million; the KH-22 air-launched missile, $1 million; and the OTR-21 Tochka ground transporter-launched missile, $300,000.
Russia also reportedly fired 24 Iranian-made Shahed-136 kamikaze drones, which cost only $20,000 apiece and carry a 100-pound warhead. According to Ukraine's President Volodymyr Zelensky, Russia has ordered 2,400 Shahed-136 drones from Iran.
The online political news outlet Ukrainska Pravda previously reported that on the evening of October 2, Russia had launched eight cruise missiles at Ukrainian cities. Ukraine's government reported that seven of the Russian missiles were shot down, which probably explains why its attack eight days later involved 84 missiles, some of which were intended to overwhelm Ukraine's air defenses so more missiles could reach their targets. Ukraine shot down 41 of the cruise missiles fired by Russia on October 10.
Today, Ukraine reported that Kyiv was struck by "successive waves of 28 kamikaze drones." The attack struck what the government called "energy facilities" and at least one apartment building, killing four civilians.
While Putin can buy more drones from Iran, replacing his stock of cruise missiles is not going to be so easy. The KH-101 cruise missile employs a contour-matching guidance system that uses radar to match images stored in an onboard computer. Later versions of the missile are equipped with an electro-optical system for correcting the missile's direction while in flight and a TV guidance system used when the missile is at the end of its flight for its final approach to the target. All this stuff takes computer motherboards and chips that Russia is now banned from importing by American sanctions.
The fact that at least some of the later versions of the KH-101 have the TV guidance system that enables identification of specific targets means that the missiles fired at apartment buildings and civilian targets in Kyiv and other population centers in Ukraine are hitting exactly what they were aimed at. Putin wants to knock out city-centers and kill civilians, and the KH-101 is doing just that.
What's going on with the Russian missile and drone attacks on Ukrainian cities? Putin is a desperate dictator who is losing his war against Ukraine.
As Ukraine's military continues to make gains in the country's northeast and the south around Kherson, Putin ordered the launch of almost a billion dollars-worth of missiles and drones against civilian targets in urban areas of Ukraine. I have not read even one report of any members of Ukraine's military forces being killed in the recent missile strikes. Putin is wasting hundreds of millions of his country's rapidly depleting defense budget trying to intimidate the Ukrainian government and its citizens into submission. All he has ended up doing is redoubling their resolve.
Putin, like a certain other wannabe authoritarian leader of a nation with a huge military, has apparently not spent much time reading history or he would have stumbled upon the story of the London Blitz, when the German Luftwaffe systematically bombed London for 57 days and nights. During the entire Nazi bombing campaign of Great Britain, which lasted from June 1940 until March 1941, Germany lost 2,655 combat aircraft, including bombers and fighters. The Luftwaffe lost at least 3,363 fliers; 2,641 were recorded missing, and 2,117 returned from bombing flights wounded.
Hitler launched the Blitz to cripple the British government and create terror and a willingness to surrender in the British public. He failed miserably at both. Winston Churchill remained in London and the capital's citizens spent nights and some days (before the bombing went to night-missions only) in subways and other bomb shelters and emerged victorious over the Luftwaffe when it was over.
The New York Times reported yesterday that Russian recruits are being shipped to an "area of intense fighting in eastern Ukraine just 11 days after their mobilization." One recruit was quoted saying that his entire weapons training consisted of firing three magazines of ammunition on a firing range. In central Russia, recruits are being trained in civilian street clothes. The Times quoted one observer saying that there are, "no machine guns, nothing, no clothes [uniforms], no shoes [boots]." The Times also picked up a report from a news outlet called Samara Online saying, "Elsewhere, scores of relatives of freshly drafted Russian soldiers crowd outside a training center, passing items through its fence to the recruits — boots, berets, bulletproof vests, backpacks, sleeping bags, camping mats, medicine, bandages and food."
The Times reported that "Police and military officers swooped down on a Moscow business center this past week unannounced. They were looking for men to fight in Ukraine — and they seized nearly everyone they saw," including musicians, a "very drunk" man in his 50's with "a walking disability," and men delivering packages. Moscow police and what the Times called "military press-gangs" are grabbing men passing through metro stations, they're going into restaurants and bars looking for men, they're "lurking in apartment lobbies" waiting for men to come home from work.
Listen to this, also from the Times: "At a predawn sweep on the [Mipstroy1 construction company dormitories on Thursday, they took more than 200 men. On October 9, they rounded up dozens at a Moscow shelter for the homeless."
Drunks. Men needed for construction jobs building who knows what. The homeless, bringing into the army all the problems known to be associated with living on the streets.
This is what Putin's draft looks like after a reported 700,000 men have successfully fled the country to avoid conscription. Sufferingmassive military casualties and repeated defeats in Ukraine, Russia has begun cannibalizing its male population," the Times reported.
At the same time Russian missiles and drones were striking in Kyiv and other population centers, Ukraine's army re-took five villages to the west of Kherson as it comes closer and closer to cutting off Russian forces in the east from supply lines coming from Crimea. In Russia there are now days-long lines of trucks, many carrying supplies for the Russian military, waiting to cross the crippled Kersh bridge from Russia to Crimea.
Ukraine is taking the fight into Russia itself, hitting ammunition depots and other military targets with artillery in the area of Belgorod, just across the border from Kharkiv. With the U.S. talking about sending longer-range missiles to Ukraine, one of which has a range of 300-plus miles, Ukraine will soon have the ability to strike deep into Crimea, the furthest eastern region of occupied Ukraine, and into Russia itself.
The Institute for the Study of War, a Washington think-tank that has done excellent analysis of the status of the war in both Ukraine and Russia, on Thursday published a report on Russia's current situation: "The Kremlin continues to struggle to message itself out of the reality of mobilization and military failures.".
The situation has gotten so bad that just over a week ago, Putin met with President Aleksandr G. Lukashenko of Belarus in St. Petersburg and tried to pressure him into joining his war against Ukraine by lending his own forces to Russia. Belarus has already allowed the Russian military to use its territory as a staging ground for its initial invasion of Ukraine in February. Lukashenko made a weak attempt to send a message to Putin by complaining to his own military officials back in Belarus that it wasn't Russia, but NATO, Ukraine, and his neighbor Poland who are "trying to drag us into a fight. We must not let them drag us into a war."
Riiiight, Aleksandr. Got it.
The ISW also reported that "The Kremlin continued its general pattern of temporarily appeasing the nationalist communities by conducting retaliatory missile strikes." What they're talking about here is the fact that Putin has become increasingly squeezed between what amounts to a Russian anti-war movement that essentially consists of men dodging the draft and families helping them, and the Russian hard right which wants him to bomb Ukraine back to the stone age, as the old saying goes.
It's a trap of his own making, and the squeeze on Putin is not just political. His war in Ukraine is now in such trouble that from here on out, he's going to have to make one difficult economic decision after another. Every ruble Putin spends creating craters in the middle of children's playgrounds in Kyiv is not being spent on his soldiers fighting against a well-trained, highly motivated Ukrainian military that is kicking his ass from Kharkiv to Kherson and not letting up.
Lucian K. Truscott IV, a graduate of West Point, has had a 50-year career as a journalist, novelist, and screenwriter. He has covered Watergate, the Stonewall riots, and wars in Lebanon, Iraq, and Afghanistan. He is also the author of five bestselling novels. You can subscribe to his daily columns at luciantruscott.substack.com and follow him on Twitter @LucianKTruscott and on Facebook at Lucian K. Truscott IV.
Reprinted with permission from Lucian Truscott Newsletter