Russian State Media Proposes Inflicting Famine On Ukraine (Again)
@CynicalBrandon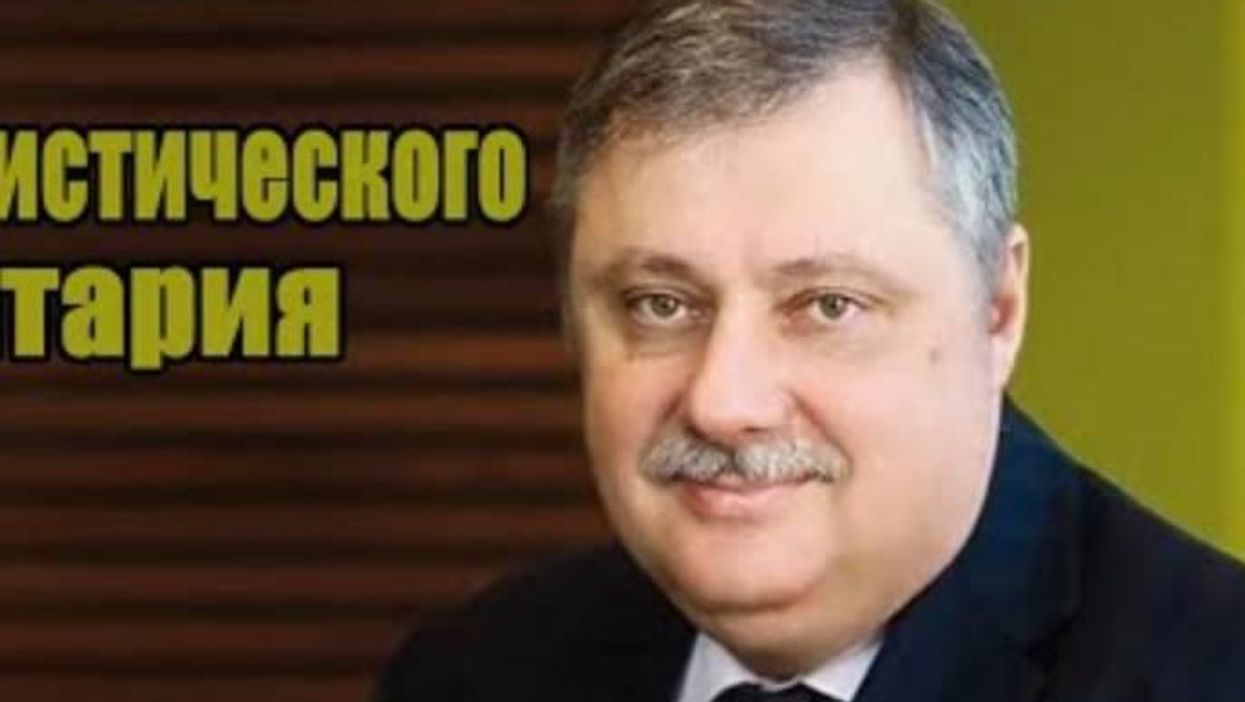 Youtube Screenshot
From 1932 to 1933, millions of Ukrainians died of starvation and disease in a Great Famine engineered by then-Soviet Union dictator Joseph Stalin. The Holodomor – named by combining the Ukrainian words for hunger (holod) and extermination (mor) – was only one example of the unholy atrocities that were inflicted upon the Soviet people by Stalin over his 31-year reign of terror.
The Holodomor was officially recognized as genocide by Ukraine and more than a dozen other nations in 2006.
Today, Ukraine is known as "the breadbasket of Europe," and its agricultural exports account for a significant portion of all of the calories consumed around the world. But Russian President Vladimir Putin's barbaric invasion of Ukraine and his military's indiscriminate slaughter of civilians is stoking fears that hunger could once again be used as a weapon of mass destruction.
Over the weekend, propagandists on Russian state television mused about cutting off Ukraine from its crops and exporting them to China.
"Ukraine's deal with the Chinese and the corn didn't come through," political scientist Dmitry Evstafiev said on Russia 1."If they need it, we'll supply them with Ukraine's corn," host Vladimir Solovyov interjected.
"Certainly, certainly, especially since we have every opportunity to do it," Evstafiev concurred. "Cutting off the former Soviet Republic of Ukraine from the Black Sea, from the croplands, from the breadbasket granary, this is the most dangerous thing, and the corn too."
The Kremlin's goons also fantasized about targeting farms in the United States as a means of strong-arming the Americans into capitulating to Putin's demands.
"And one more thing that is still ahead for us," Evstafiev continued, "we need to find the effective spots of vulnerability for Americans. We need to think, and not discuss it publicly, but we need to identify them and apply pressure to make that the last drop that will force the American elites to recognize that they need to negotiate with us. And that they need to negotiate with us on our terms and not on their terms."
Watch the translated version below courtesy of The Daily Beast's Russia expert and Russian Media Monitor founder Julia Davis:
No, this is not Dr. Evil's lair, just another day on Russian state TV. They are plotting to cut off Ukraine's supply to its own crops and sending their corn to China, and scheming to covertly identify America's vulnerable spots, forcing us to negotiate with Russia on their terms.pic.twitter.com/KnevyjB3NZ

— Julia Davis (@Julia Davis) 1651506709
Davis' followers immediately recognized what Russia is proposing.
JFC. Let's have a talk show to discuss Holodomor Part II. After all the senseless cruelty, after all the brutality, this is ...\n\nThis horrifies me nearly beyond the range of my language to describe it.\n\nThis is EVIL.

— T Still Masks Post-Vaxx (@T Still Masks Post-Vaxx) 1651507038
Preventing Ukraine from exporting their agricultural products by way of the Black Sea will make a lot of people hungry but it sure as hell won't be the Ukrainians.

— Geert Beerens (@Geert Beerens) 1651507279
I'm on your side. Russians are pure evil trying to re-enact a traumatic genocide. But Ukraine is a global giant in wheat production, still control 80% of their land and can now export virtually nothing... Just pointing out this Russian plan is stupidity...

— Geert Beerens (@Geert Beerens) 1651509272
Vital to understand the enemy. A Kremlin guy said once "You think we are playing chess, but the problem for you is we have no rules." I think we in the West find it hard to think as dirty, evil as them... and that can sometimes be a handicap.

— DouglasJCoates (@DouglasJCoates) 1651510585
Sadistic speech both in content as in cutting off most valuable parts of Ukraine territories and in the mannerism of presentation.

— BagLady (@BagLady) 1651511319
Some really dark things are happening to Ukraine right now. I feel so many things I can't articulate. In particular; disgust, horror, passion, fury, outrage, sadness, helplessness. The more I see everyday, the worse it get. Unlike others I have not hardened to this shit yet

— Gianna Turchi \ud83c\uddfa\ud83c\udde6 (@Gianna Turchi \ud83c\uddfa\ud83c\udde6) 1651510195
One person noted that Putin's playbook eerily mirrors the plot of the television show that catapulted Ukrainian President Volodymyr Zelenskyy's rise to power.

All because Zelenskyy made a fictional tv show that inspired the Ukrainian people to TRY to \u201cDrain the Swamp\u201d of Putin\u2019s puppets and Oligarchs in 215.\n\nIt was predicted and the world ignored it.pic.twitter.com/J8wSvqofaL

— George Olivos (@George Olivos) 1651507259
Others, meanwhile, pointed out that Moscow is running out of options to sustain its disastrous operation in Ukraine.
They get more desperate by the day. Looks like our strategy is working.

— Steven A. Ridder (@Steven A. Ridder) 1651507074
It all sounds a bit desperate

— Jonty Fisher \ud83c\uddfa\ud83c\udde6 (@Jonty Fisher \ud83c\uddfa\ud83c\udde6) 1651507635
What else to say after Ukraine humiliated their army. First supersonic shit, then nuclear and now grain war. The bread and circuses keep running on Russian TV.

— Talk is Cheap (@Talk is Cheap) 1651511014
Printed with permission from Alternet.