Russian TV Laughs As Senate Republicans Lift Sanctions On Putin Pal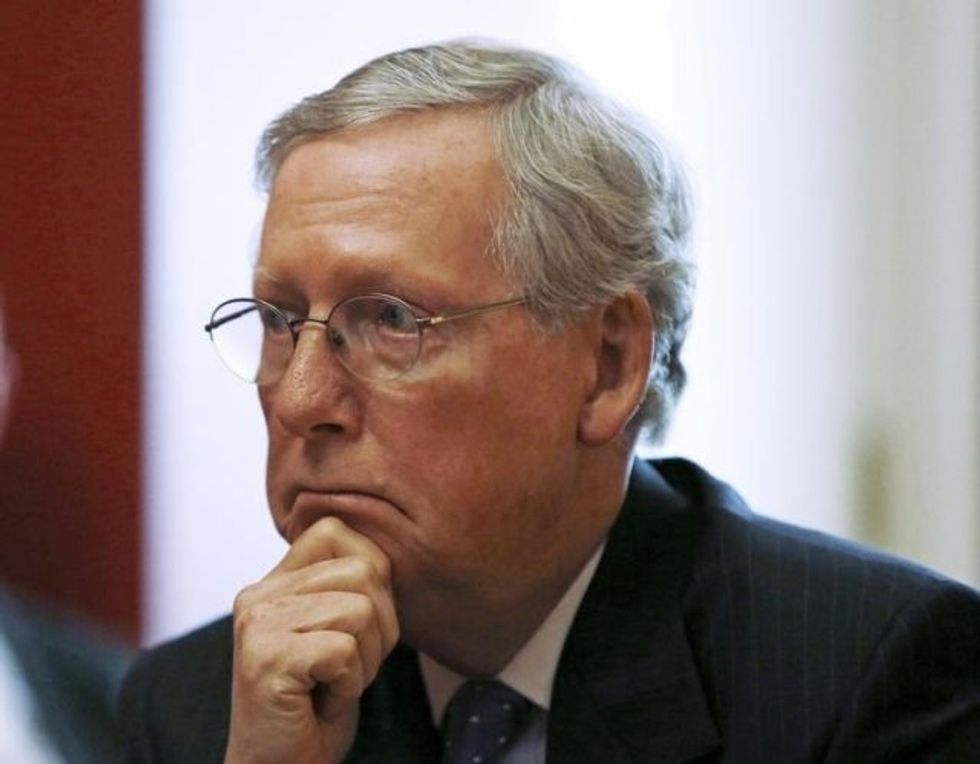 Reprinted with permission from Shareblue.
The GOP-controlled Senate rejected legislation this week that would have required the U.S. Treasury Department to keep sanctions on companies linked to Oleg Deripaska, a Russian oligarch with close ties to Vladimir Putin.
The move is a major win for Putin, whose economy has been hit hard by U.S.-backed sanctions aimed at punishing Russia for its aggression in Ukraine, its involvement in human rights abuses around the world, and its malicious cyber activities including the 2016 influence operation targeting the U.S. presidential election.
While Democrats had mounted an effort to block Trump's Treasury Department from lifting sanctions on the Russian companies, Republicans used their majority in the Senate to hand Putin a victory by easing the sanctions.
Senate Majority Leader Mitch McConnell called the Democratic effort to keep sanctions in place a "stunt." Only 11 Republicans were willing to vote against McConnell and Trump's demands to ease up on Russia.
Not surprisingly, the vote came as welcome news in Russia, where state-run media seized on the development and celebrated the fact that Republicans had enough votes to stop the Democratic effort to keep sanctions in place.
As investigative journalist and Russian media analyst Julia Davis first reported on Twitter, the hosts of the popular Russian state TV program "60 Minutes" used Thursday's episode to highlight the move by Republicans, touting it as the first time since 2014 that the U.S. has lifted sanctions on Russia.
The show's hosts, Olga Skabeeva and Evgeny Popov, "laugh[ed] out loud about the Democrats not getting enough votes to block the effort," Davis reported. The pair then "expresse[d] hope that this is just the beginning" of sanctions relief now that the midterms are over and Republicans have maintained their majority in the Senate.
As Davis has noted previously , Russia experts believe the desire for sanctions removal was a key reason why the Kremlin rooted for Republicans to maintain their congressional majorities in the midterm elections last year.
Russian state media reported before the November election that recent economic sanctions proposed by Trump were likely just for show — a ploy to make him look "tough on Russia" — and that he would likely soften his position after the election.
Russian officials even devised a plan to indirectly influence U.S. sanctions policy by fostering a closer alliance between the two countries, focusing on joint economic and business ventures. The Kremlin reportedly believed that a stronger American economy, or at least the image of one, would allow Trump to go easy on sanctions without political consequences.
Part of that plan, according to multiple Russia analysts , involved touting Trump's supposed economic achievements and cultivating relationships with elected Republicans — many of whom traveled to Moscow last summer and fall.
Russians don't see Republicans as a "viable threat," Davis reported, and they believe they'll capitulate to Trump on foreign policy matters like sanctions. The Kremlin thinks it is particularly promising to promote Trump's nationalist base as part of an effort to pressure elected Republicans into agreeing to policies that are compatible with Russia's national interests and goals.
Clearly, the Kremlin was correct in its assessment.
Despite Trump's frequent claims of being "tough on Russia," his administration has repeatedly slow-walked sanctions and attempted to remove existing sanctions. And while Republicans have previously forced Trump's hand on sanctions, this week was among the first times they gave the green light to Trump to lift sanctions that were initially imposed in response to Russia's election interference.
Sanctions relief has been one of the Kremlin's top priorities for years. With this week's vote, Trump and his GOP allies handed Russia a major win without asking the Kremlin for anything in return — publicly, at least.
Published with permission of The American Independent.