Russian Warplanes Target Insurgents In Syria But Not Islamic State
@reuters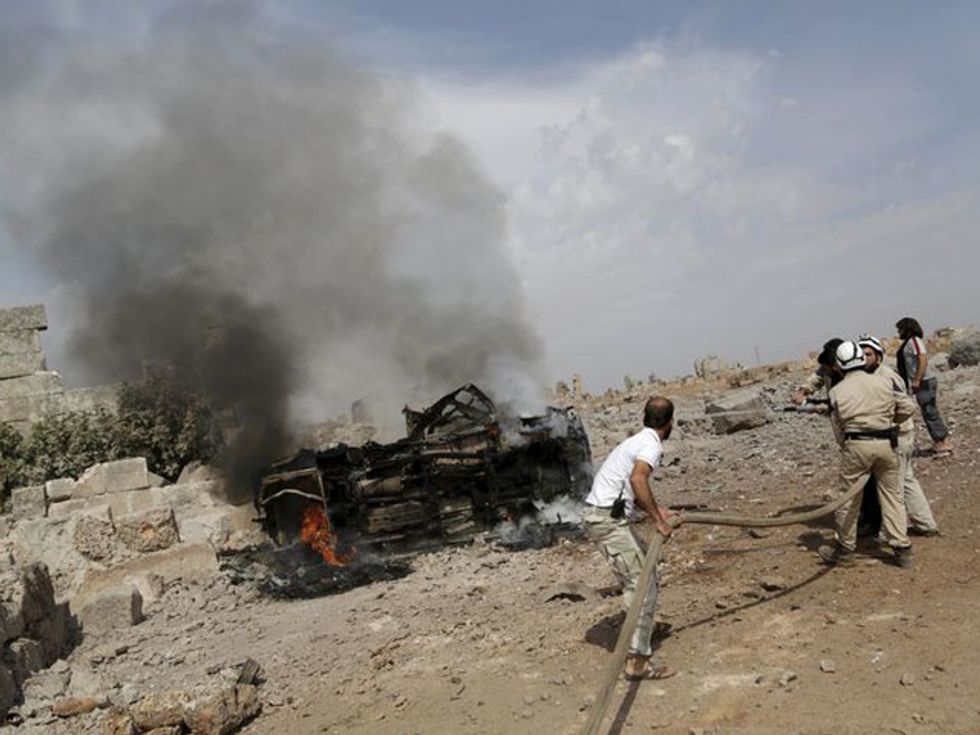 By Sylvia Westall and Andrew Osborn
BEIRUT/MOSCOW (Reuters) — Russian jets launched a second day of air strikes in Syria on Thursday, targeting areas held by an insurgent alliance that includes a group linked to al Qaeda, but not the Islamic State militants Moscow said it had hit.
Russia said it had launched eight air strikes with Sukhoi warplanes overnight, hitting four Islamic State targets. However, the areas where it said the strikes took place are not held by Islamic State.
Al-Mayadeen, a pro-Damascus television channel, said jets carried out at least 30 strikes against an insurgent alliance known as the Army of Conquest. The alliance includes the Nusra Front, al Qaeda's Syrian branch, but not Islamic State, which has declared a caliphate on swathes of Syria and Iraq.
The Army of Conquest has been advancing against government forces in northwestern Syria in recent months, and has support from regional countries that oppose both President Bashar al-Assad and Islamic State.
Russia's decision to join the war with air strikes on behalf of Assad is a major turning point in international involvement in the conflict.
The United States is leading a separate alliance waging an air war against Islamic State fighters, which means the Cold War superpower foes are now engaged in air combat over the same country for the first time since World War Two.
They say they have the same Islamic State enemies. But they also have very different friends, and opposing views of how to resolve a 4-year-old civil war that has killed more than 250,000 people and driven more than 10 million from their homes.
Washington and its allies oppose both Islamic State and Assad, believing he must leave power in any peace settlement. Moscow supports the Syrian president and believes his government should be the centerpiece of international efforts to fight extremist groups.
"BIG CHANGE"
Russia says its air strikes are more legitimate than those of the U.S.-led alliance because they have Assad's blessing, and more effective because they can coordinate with government forces to find targets.
Russia's defense ministry said Sukhoi-24M and Sukhoi-25 aircraft had flown eight sorties, hitting an ammunition depot near Idlib as well as a three-storey Islamic State command center near Hama.
It said a pinpoint strike had destroyed a facility located in the north of Homs aimed at rigging cars with explosives for suicide attacks.
Islamic State, which is based largely in the north and east of Syria, does not have a substantial presence in Hama or Homs.
The Lebanese news channel said the Russian planes bombed rural areas near the northwestern town of Jisr al-Shughour, which is held by the Army of Conquest. The strikes also hit other areas in Idlib province, including the Zawiya Mountain region, as well as areas in Hama province to the south.
The anti-Assad Orient News channel also said Russian strikes had hit rebel positions in the Hama countryside.
The insurgent-held Idlib province is of strategic importance to the Syrian government because it is close to Assad's heartland on the Mediterranean coast, where Russia also has its only Mediterranean naval base.
After years of stalemate on the battlefield, government forces faced major setbacks this year at the hands of a myriad of insurgent groups.
A Syrian military source said on Thursday that Russian military support would bring a "big change" in the course of the conflict, particularly through advanced surveillance capabilities that could pinpoint insurgent targets.
The Army of Conquest has made rapid gains in northwestern Syria alongside other insurgent groups since May. It seized Idlib city and Jisr al-Shughour from government forces and advancing toward coastal areas.
"The Russian strikes are a game changer. Damascus is off the hook," a diplomat tracking Syria said.
(Reporting by Sylvia Westall and Tom Perry in Beirut, Andrew Osborn and Lidia Kelly in Moscow; Writing by Sylvia Westall and Peter Graff)
Photo: Civil defense members put out the flames on a burning military vehicle at a base controlled by rebel fighters from the Ahrar al-Sham Movement, that was targeted by what activists said were Russian airstrikes at Hass ancient cemeteries in the southern countryside of Idlib, Syria October 1, 2015. REUTERS/Khalil Ashawi