Ryan Seacrest Talks 'American Idol,' Kardashians And More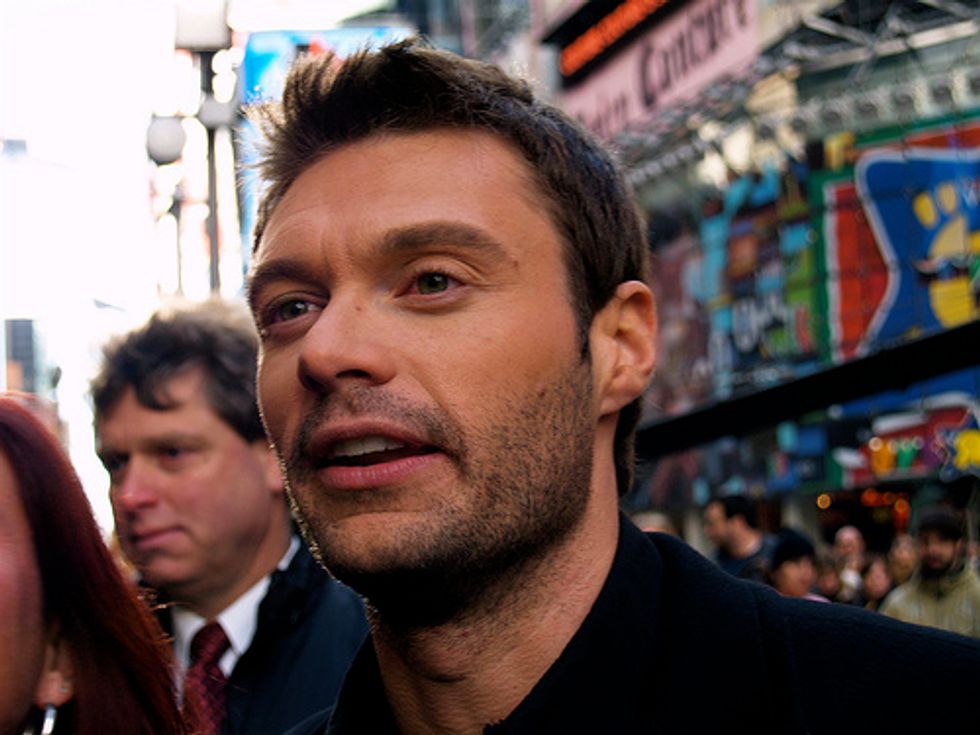 By Neal Justin, Star Tribune (Minneapolis)
MINNEAPOLIS — The forklift carrying one of entertainment's valuable properties began to rise above the masses when a producer brought it to a halt.
"Perfect height!" he barked through a megaphone.
The cargo, also known as Ryan Seacrest, waited a beat before responding: "That's the first time I've ever heard that."
What Seacrest lacks in stature (he's 5 feet 8, if you must know), he makes up for in power. He is paid roughly $15 million a year to host "American Idol," the ground-breaking reality show that drew 2,000 people to the University of Minnesota's Mariucci Arena last week for auditions. He hosts two radio shows, including a morning program on more than 150 stations in North America. As an executive producer, he's quickly bulking up his portfolio, which will include an NBC drama in 2015 starring Jennifer Lopez.
What's annoying is that, despite the challenging schedule, Seacrest, 39, looks like he just got back from a two-week vacation in the Bahamas.
"Look what I get to do," he said, gesturing to the hyped-up crowd after taping some promotional sports and flirting with fans. "I like a Saturday off every once a while, but I get out here and my adrenaline starts to rush. I really enjoy the pace."
Not that everything he touches is destined for greatness.
It was Seacrest who masterminded the Rise of the Kardashians, a family he vehemently defends. Last this week, Fox announced it was canceling his spoof dating series, I Want to Marry Harry, after only four episodes.
"I think like with anything, especially the TV business, you've got to take a lot of swings to get a hit," said Seacrest, dressed entirely in black and wearing a jacket despite the rising humidity. "Selecting what we want to do is always an interesting process. You have to pick something you believe in, that your gut tells you might have a chance. I've also learned to listen to a lot of people around you. I have a great team that's smarter than I am."
One wise thing Seacrest did was remain with Idol, even if it's no longer a juggernaut. Last season drew an all-time low of 12.3 million. Fox president Kevin Reilly has said that the show will be more "streamlined" in 2015 with roughly 37 hours of programming compared to 50-plus in the past. The network has also canceled The X Factor, a move that gives Idol some breathing room.
"We were on the air for so many years without any other singing shows. That was a unique time," Seacrest said. "Then other shows came along and there was a bit of saturation, but what we try to do is focus on making the kind of great show we've always made. That's what we can do and can control."
Photo: Jorge Quinteros via Flickr