Samantha Bee Hilariously Warns Clinton Camp Not to Alienate the 'Basket of Deplorables'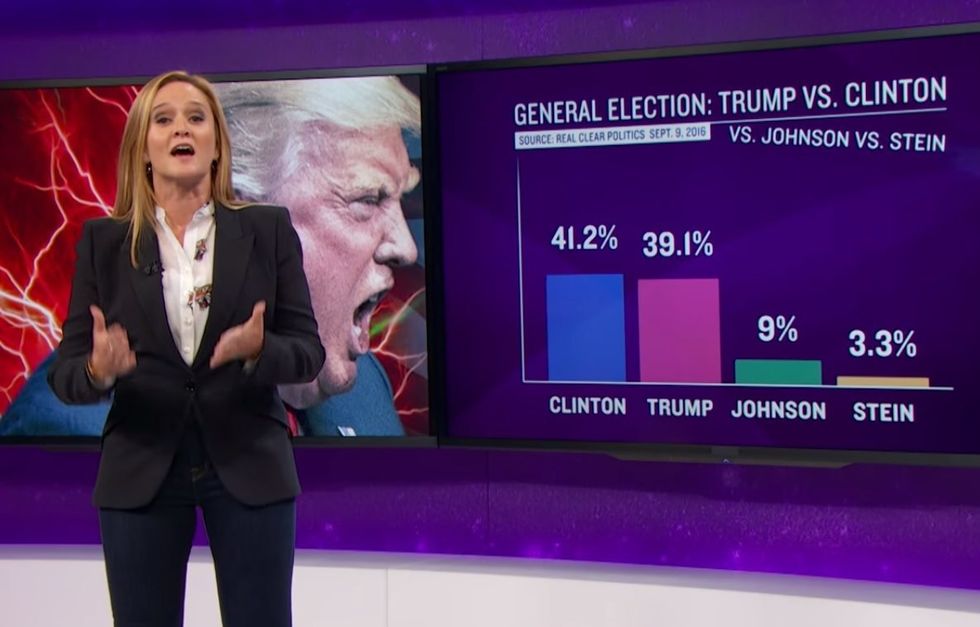 Published with permission from AlterNet
"You can't win a four-way race with just 'plorables!"
Samantha Bee's show "Full Frontal" has been on hiatus for the past five weeks. The big story that's escalated in that time? Hillary Clinton's health crisis.
"I mean, who ever thought that someone with the body of a weak and feeble woman could ever lead a great nation?" Bee asked, flashing to a slide of Elizabeth I of England (September 1533–March 1603).
Clinton's team announced Sunday that the Democratic candidate has been battling pneumonia, as if she wasn't having a hard enough time in the polls already.
"Hillary's death was the culmination of a great month for her," Bee told the audience sarcastically.
Last Monday, Clinton held just a two-point lead, at 42 percent to Trump's 40 percent in a 4-way race.
"Yay, we're back within the margin of terror!" Bee yelped.
And according to Bee, the two "third-party candidates… give Hillary-haters a chance to remain morally pure while also putting Donald Trump in the White House."
"After spending months complaining that we weren't paying enough attention to them, Johnson and what's-her-name finally got us to give them a closer look," Bee said, and then quickly corrected herself. "I'm so sorry, I meant Doctor what's-her-name."
The Green Party candidate, Jill Stein, was issued an arrest warrant for last week, for "petty crime," explained Bee, referring to Stein's vandalization of a bulldozer at the Dakota oil pipeline protest.
"Meanwhile, my workout buddy, Gary Johnson, like so many charming jocks before him, flunked his geography test," Bee said, referring to Johnson's notorious gaffe last week in which he responded, "What is Aleppo?" when asked on MSNBC what he would do about the center of the refugee crisis.
"It's a city in Syria," Bee exclaimed. "You wouldn't like it… It doesn't have many walls left to climb," she continued, mocking Johnson.
"So Lady Nader (Jill Stein) and Pothead Perot (Gary Johnson) have both made the critical mistake of letting voters know who they are. Meanwhile, George Wallace in a wig has yet another campaign manager," announced Bee, turning back to Trump.
"Her job seems to involve crushing a Klonopin into his breakfast McFlurry, pointing him at a teleprompter and begging him to use his inside voice, which unfortunately makes him sound like he's reading the creepiest bedtime story ever," Bee explained, referring to Trump's peppering of his new sotto voce speeches with words like "dead" and "dying."
Still, with Trump up in the polls, her strategy doesn't seem to be half bad. As for Hillary, Bee had some tough love.
"Don't alienate the deplorables," Bee warned, reflecting on Clinton's very true message about "half of Trump supporters" in a campaign speech last Friday. "You can't win a four-way-race with just 'plorables," Bee joked.
Though with 65 percent of Trump supporters believing President Obama is a Muslim, and nearly half of Trump supporters believing African-Americans are "more violent" than whites, Bee had another idea:
"We're going to need a bigger basket."
Watch:
Photo and video via YouTube/Full Frontal With Samantha Bee