#EndorseThis: Samantha Bee Slices Up Trump's Muslim Ban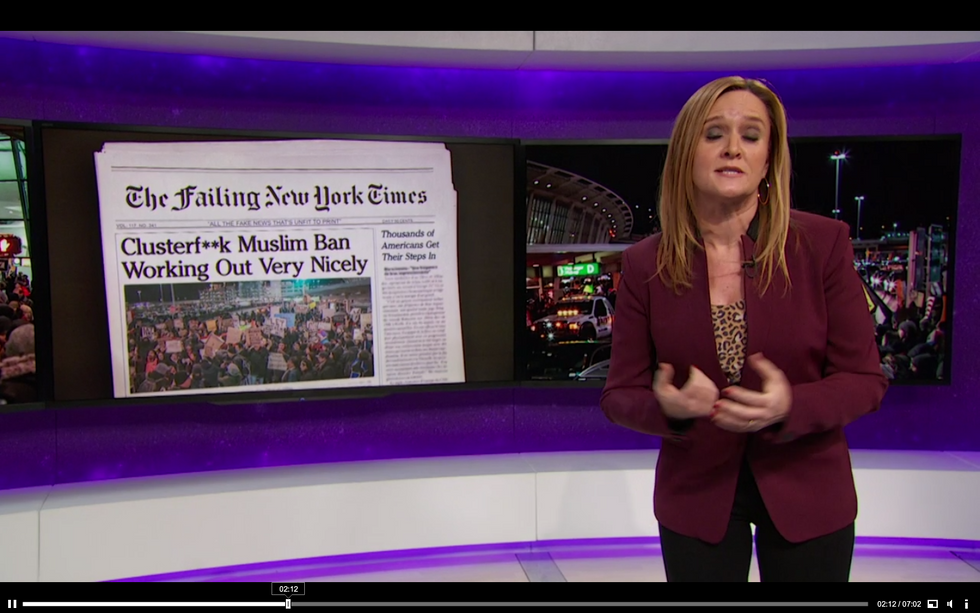 For sheer sardonic firepower trained on Trump, there is nobody on television who sustains comedic outrage more reliably than Samantha Bee — as she demonstrated in her recap of the disastrous debut of his "not-a-Muslim-ban-Muslim ban." Hearing cable news anchors and even House Speaker Paul Ryan describe the travel policy's rollout as "confusing," the Full Frontal host was not mollified.
"Confusing?" she smirked. "This was the healthcare.gov of Islamophobia!" Nor was Bee thrilled to hear Trump himself claim that the ban is "working out very nicely." And she wasn't impressed by Kellyanne Conway's attempt to claim that Obama had done the same thing to Iraqi refugees (a three-Pinocchio lie).
Responding to the national rejection of the ban — whose critics even include the Koch brothers! — Trump told dissenting Senators John McCain and Lindsey Graham to shut up, and mocked Senate Minority Leader Chuck Schumer for shedding tears over a child separated from his mother for several hours.
"But who's the bigger sissy?" asked Sam. "The great-grandson of Holocaust victims, who teared up over families being torn apart? Or the guy who's afraid to walk down stairs?"
And as a coda, she flips off a few idiots for posting mean, obscene tweets about her. It's all funny — and sharp enough to cut a Trump steak.