San Francisco Shout Helped Set Stage For Obama Immigration Action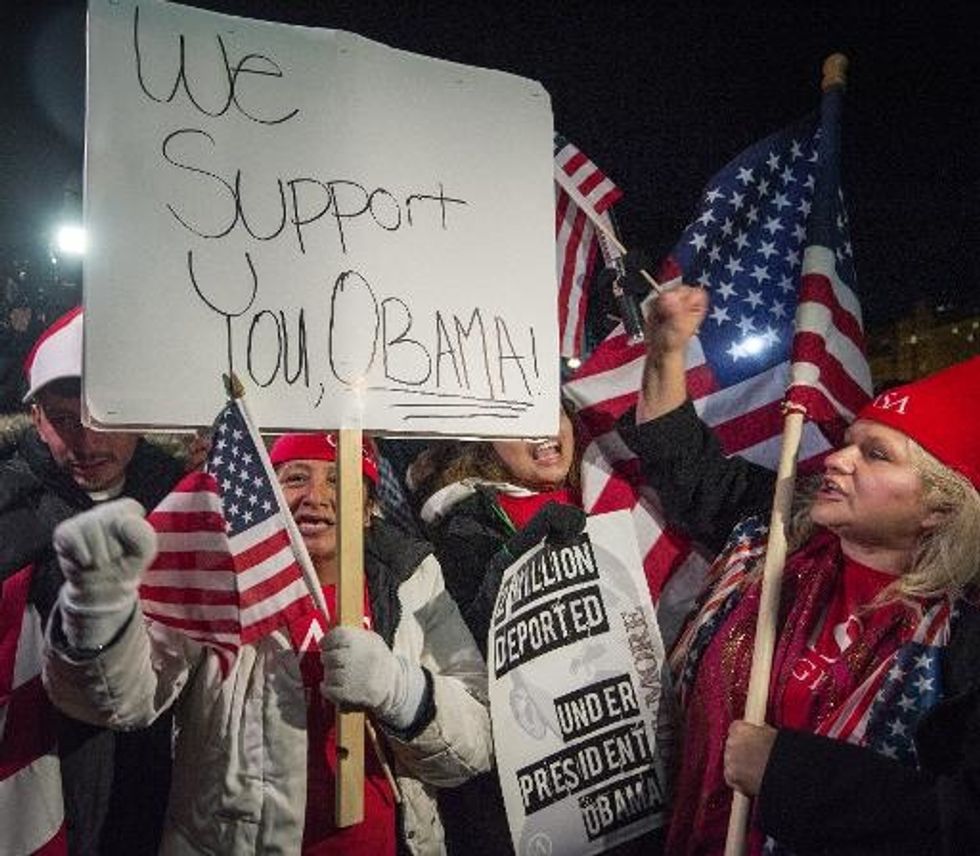 By Matt O'Brien, The Oakland Tribune (TNS)
ALAMEDA, Calif. — Turning from the podium to see a young man in a gray blazer shouting at him from the rafters, President Barack Obama chided Ju Hong for disrupting his San Francisco immigration speech just three days before Thanksgiving last year.
"I need help," Hong had said, cupping his hands around his mouth.
Obama, at first, kept talking. Hong kept shouting.
"Mr. President, please use your executive order to halt deportation for all 11.5 million undocumented immigrants in this country right now."
Obama sternly dismissed the idea, but now, one year later, he has announced a sweeping executive action that comes close to what Hong demanded, though not close enough to help the family members the 25-year-old cares about the most.
It would be naive to say that Hong's civil disobedience — a stunt that turned heads from California and the White House to his native South Korea — was the seminal moment that changed Obama's mind and altered the course of history, but it was undoubtedly one of the most high-profile expressions of a community's mass frustration.
"After the interruption," said Hong, who refuses to call it a heckle, "there was a national debate."
"The entire narrative, the conversation, shifted from Congress to the Obama administration," he said this week. "They got so much pressure that the White House had to answer whether he has the power to do an executive action. A lot of the public who did not know about immigration started having a conversation."
To understand Hong's outburst — a spontaneous protest that was also calculated and debated through text messages among friends in the moments before the speech — it helps to understand where he comes from, and who he did it for.
"At first, I tried to hold you back," said Ju Hong's mother, speaking to her son in Korean during an interview with this newspaper in their Alameda kitchen last year. "Why did you have to step up when there are other kids? I thought we could just let things be the way they are."
It was weeks before Hong's shout-heard-round-the-world, but her son had already earned a reputation for gutsy protests in the Bay Area immigrant rights community, first as a student at Oakland's Laney College, later at the University of California, Berkeley and in graduate school at San Francisco State.
He was briefly jailed and risked being deported in 2011 when he and other activists blocked a street in San Bernardino during an immigration rally. In August 2013, he was arrested again for interrupting the University of California regents as they appointed former Homeland Security Secretary Janet Napolitano as the new UC president.
All of this made Ju Hong's mother, who asked not to be identified by name, incredibly nervous. She said she thought she was doing the best for her family, and did not understand the long-term consequences, when she illegally immigrated to the United States with her 11-year-old son and his older sister because of her country's late 1990s economic crisis and personal troubles.
Like most of the more than 200,000 Koreans believed to be living in the United States illegally, the family didn't trek through deserts or swim across rivers to enter the United States, arriving instead by economy class on a trans-Pacific flight. Their tourist visas expired soon after they arrived.
Ju Hong's mother toiled for years in low-wage restaurant and grocery jobs in the East Bay. She was exploited by supervisors who threatened to turn her in to authorities. Her son, meanwhile, excelled as a student and basketball player in Alameda public schools and quickly adjusted to American life.
By doing well and keeping quiet, his mother thought her children would ultimately find a way to thrive. She learned about the 1980s law that granted citizenship to millions of illegal immigrants, and hoped for another one.
"I was thinking, we just have to wait ten years, so why do you need to get in front of this thing? But then, I kept learning things little by little, and my thinking started to change," she said.
She was not the only one surprised by her son's boldness. Some Korean-Americans resent the sizable presence of illegal immigrants within their community, many more are quietly supportive, but the topic remains an open secret rarely discussed in public, said Nam Hong, executive editor of the Bay Area bureau of the nation's largest Korean language newspaper.
"The undocumented, they tend to hide," said the Castro Valley resident, who is not related to Ju Hong but knows the family. "Even though you see them every day, at the market, at the church, you won't know."
But everyone knows about their plight, he said. His paper, The Korea Times, runs multiple stories about immigration each day.
Ju Hong was one of more than 8,800 South Koreans who sought work permits and deportation protection from the Obama administration's 2012 policy helping young people known as Dreamers who were brought to the country illegally when they were children. His sister did not qualify for the "deferred action" — a precursor to the more expansive policy announced Thursday — because she was too old when she arrived.
Koreans are the fifth largest group, and the largest Asian nationality by far, who sought such relief.
Those statistics surprised some immigration officials and people outside the Korean-American community two years ago. But not if they were paying attention to Ju Hong and his friends, who broke through a wall of community silence to speak out on immigration reform with the goal of shattering a stereotype that it was only a Latino problem.
"The Latino population, they're very vocal, they're on TV when the immigration issue comes up," said Ju Hong's friend and fellow UC Berkeley graduate Terrence Park. "We tend to keep it to ourselves."
Korean immigrants "want to keep it quiet. They may talk to their closest friends about it, but they don't usually share it," Park said.
Park was one of the pioneers who bucked that trend when he revealed his immigration status in a polished multimedia campaign. On Nov. 25 last year, Hong went even farther.
He was invited by the White House to hear Obama speak, but it was not until he arrived at the Betty Ong Chinese Recreation Center in San Francisco that an organizer asked Hong to stand in the rafters, part of the president's diverse human backdrop.
That's when he and friends from a group called ASPIRE, or Asian Students Promoting Immigrant Rights through Education, began plotting what to do.
"Most of the people suggested not to do it," Hong said. "Obviously, it's the president of the United States. We didn't know what to expect. We hadn't planned it at all. There was a lot of anxiety, a lot of fear."
Obama was nearly finished with the speech when Hong, after struggling with himself over what to do, finally interrupted. Others who were following his cue joined him in a cacophony of yells.
"At the end, it was my decision if I would interrupt President Obama or not," Hong said. "He started speaking about spending time with his family. I also thought about my family, and realized his speech was not going anywhere. It was another empty speech with no concrete action."
Hong told Obama his family would be "separated on Thanksgiving." He was referring to his ailing grandmother in Seoul, the South Korean capital, whom he had not seen in 13 years. He finally had the chance to travel to see her this spring, but it was a "bittersweet moment," he said, because his sister and mother could not. The 91-year-old woman died earlier this month.
Last year, as Obama instructed security guards to leave Hong alone, he said he respected the passion of those who "feel deeply about the concerns for their families," but he dismissed the idea he could unilaterally fix immigration law without Congress.
"The easy way out is to try to yell and pretend like I can do something by violating our laws," Obama had said. "And what I'm proposing is the harder path which is to use our democratic processes to achieve the same goal that you want to achieve but it won't be as easy as just shouting. It requires us lobbying and getting it done."
But lobbying a recalcitrant Congress didn't work, Obama now says. On Thursday, nearly one year after Hong's shout, the president is unveiling the kind of order he asked for.
But the administration, while offering relief to parents of U.S. citizens and permanent legal residents, is drawing the line against helping the relatives of Dreamers. Hong's sister and mother will remain in the shadows.
AFP Photo/Paul J. Richards