Sanders And Shine Plan Security Revocations To Distract Media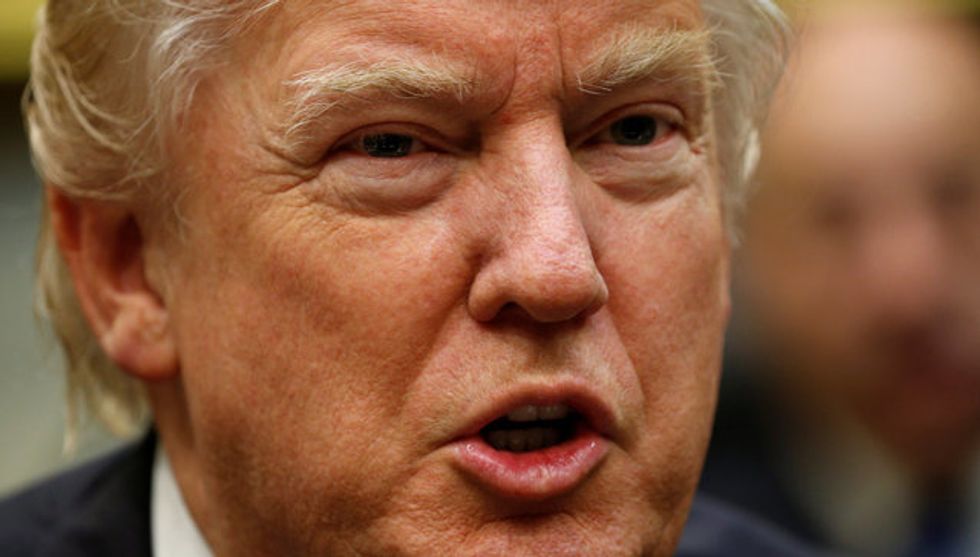 Reprinted with permission from Shareblue.
After revoking the security clearance of former CIA Director John Brennan on Wednesday, the White House reportedly started plotting to do the same to other intelligence leaders and national security officials — and then to strategically announce the decisions in an effort to control the news cycle.
According to The Washington Post, the White House has already drafted documents to strip security clearances from a laundry list of current and former officials associated with the Russia investigation.
A senior White House official told the Post on Friday that press secretary Sarah Huckabee Sanders and deputy chief of staff Bill Shine have discussed when would be the best times to drop the news of the additional revoked security clearances. The plan, according to the Post, is to use the revocations as a distraction from negative news stories.
Trump reportedly intends to sign "most if not all" of the planned revocations for officials including former FBI Director James Comey, former FBI Deputy Director Andrew McCabe, former CIA Director Michael Hayden, former Director of National Intelligence James Clapper, former FBI Agent Peter Strzok, former FBI lawyer Lisa Page, former Obama White House national security adviser Susan Rice, former acting Attorney General Sally Yates, and current Department of Justice official Bruce Ohr.
The announcement that Trump had decided to strip Brennan's clearance on Wednesday came amid an onslaught of negative press, driven in part by a number of damning claims from former White House aide Omarosa Manigault Newman. The timing was not a coincidence. As evidenced by the July date on the declaration about Brennan's clearance, the White House sat on the decision for 20 days before dropping the news when it needed a distraction. 
While Trump's decision to punish Brennan for his criticism by revoking his security clearance was widely condemned by intelligence and defense officials, control of the news cycle — even though it remained negative — was put back in Trump's hands. The White House saw that it could use this process to control the news cycle, and apparently decided to adopt it as a strategy to deflect from damaging stories in the future.
This is far from the first time that the Trump White House has used such a strategy. Trump has abused the pardon power in a similar manner, using pardons to drive the news cycle and deflect from unwanted coverage in other areas. He does the same thing with his ongoing criticism of NFL players who kneel in peaceful protest during the national anthem, and some have even suggested that his desire to knock Comey out of the headlines influenced his decision-making process while considering military action in Syria.
When the news cycle starts to head in a direction that Trump doesn't like, he uses these issues as ammunition, firing them off indiscriminately to drown out the noise he doesn't want you to hear. It's his way of controlling the media from the outside, and it's a strategy that has been used by despots around the world to stifle dissent, manipulate public opinion, and ultimately maintain power.
Trump has not only politicized the security clearance process — he has weaponized it and now he's wielding it to fend off incoming bad news by blowing up the news cycle with a firestorm of his own creation.
This is, in fact, the very thing Alexander Hamilton warned about in August 1792, when he wrote that the despot's "object is to throw things into confusion that he may 'ride the storm and direct the whirlwind.'"
Trump apparently took that warning as an instruction.
Published with permission of The American Independent.