Sanders Campaigns Against The Democrats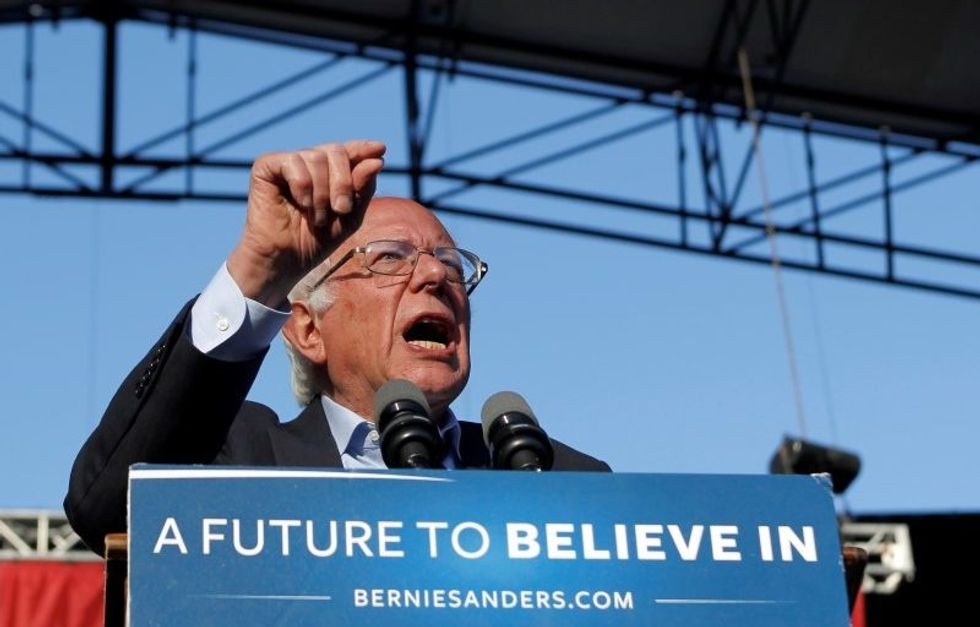 As the primaries come to a close, Bernie Sanders has upped the ante in his fight against the Democratic establishment, leading many Democrats to worry about party unity going into the general election.
This late in the game, it's extremely unlikely that Sanders will manage to wrest the nomination from Hillary Clinton. She's hundreds of delegates ahead, not counting super delegates that have pledged their non-binding allegiance to her, and many in the Democratic establishment have criticized Sanders' decision to stay in the race.
"Bernie made his point," said an unnamed Colorado Democrat to Politico. "It's time to bring the party back together. The longer he waits, the more damage he does. The question is whether or not he cares. The rest of us do."
Sanders knows that, which is why he has begun focus on committee assignments and other minutiae at the Democratic National Convention in July. But that hasn't stopped him from focusing fire on his rival.
"We need a campaign, an election, coming up which does not have two candidates who are really very, very strongly disliked. I don't want to see the American people voting for the lesser of two evils," he said on ABC's This Week on Sunday, describing the low favorability ratings both Clinton and Donald Trump face going into a presidential election match up.
Comments like that have signaled Sanders' increasing investment in a divided Democratic Party as the primary calendar runs down to its last six contests. "The 'burn it down' attitude, the upping the ante," wrote Josh Marshall on Talking Points Memo, "seems to be coming from Sanders himself. Right from the top." While blame was initially cast on Jeff Weaver, Sanders' fiery campaign manager, commentators started placing blame more directly on Sanders himself after his statement following the supposed scuffles that took place in the Nevada Democratic convention — Sanders placed most of the blame for his delegate's rowdiness on "Democratic leadership us[ing] its power to prevent a fair and transparent process from taking place."
Sanders has also been outspoken in his criticism of Debbie Wasserman Schulz, chair of the Democratic National Committee, who has been accused of tilting the nomination process in Clinton's favor, primarily by scheduling what few debates the Democrats had early in primary season on odd days and over long weekends. Sanders has even endorsed Tim Canova, a Democrat currently fighting a Sanders-style insurgent primary campaign against Wasserman Schulz in South Florida.
"Clearly, I favor her opponent," Sanders said in an interview with CNN's Jake Tapper. "His views are much closer to mine than as to Wasserman Schultz's." He also said that if he were elected president, he would not reappoint Wasserman Schultz as chairperson of the DNC.
Nevertheless, Sanders has been able to extract concessions from the party. It was announced earlier today that Sanders would be given more seats in the party's convention platform committee, a key body that decides party positions and policies. The agreement was part of a strategy advocated by both Sanders and Clinton allies to ameliorate the party divide and give a stronger voice to the substantial following Sanders now commands.
While Sanders initially wanted the committee to be split evenly between his and Clinton's delegates, with one neutral appointment by the DNC chair, the announced changes were a victory in themselves for Sanders. The original rules allowed Schulz to appoint all 15 members of the committee — a move that likely could have led to a repeat of the chaos at the Nevada Democratic convention, but in Philadelphia on primetime television. One can only imagine the ways in which Donald Trump would try to use such a display to his advantage.
Clinton has been forced to tack further left in this election than most predicted she would, incorporating parts of Sanders' message into her stump speeches. Following her surprise defeat in the Michigan primary, Clinton gave a concession speech that sounded remarkably like Sanders's speeches, tapping into a growing anger over the behavior of American corporations outsourcing jobs and abusing the tax code.
We are going to stand up to corporations that seems have absolutely no loyalty to this country that game them so much in the first place. Look at Nabisco laying off 600 workers in Chicago and moving a production line out of the country.They have no problem taking taxpayer dollars in one and giving out pink slips with the other. Look at the Eden Corporation in Ohio. They get millions of dollars in tax credits and government contracts to make electrical equipment. But that has not stopped them from using accounting tricks to move their headquarters overseas and avoid paying their fair share of taxes here at home. Now they are shutting down a factory, eliminating more than 100 jobs, moving that work out of the country. And to top it off, they gave their CEO a payout worth more than $11 million. Now, we should make corporations pay for these so-called inversions with a new exit fare.
Her pivot towards anti-corporatism could be explained by the overblown fear that Trump will peel off white, working class Sanders supporters who espouse his anti-free trade, protectionist economic policies
In a comprehensive analysis by The Washington Post, a quarter of Sanders supporters had strongly unfavorable views of Clinton. Meanwhile, three quarters of respondents held negative views of the all-but-coronated Republican presidential candidate. More Sanders supporters said they would vote for an unnamed third party candidate than for Trump, effectively saying they would vote for literally anyone over the repeatedly-bankrupt businessman. Like much of what the racist billionaire says, his claims that independent voters will flock to him once Sanders is out of the race are more bluster than substance.
Photo: U S. Democratic presidential candidate Bernie Sanders speaks at a campaign rally in Irvine, California U.S. May 22, 2016.  REUTERS/Alex Gallardo