Bernie Sanders Makes Powerful Case For Continuing The Revolution — Under A Clinton Administration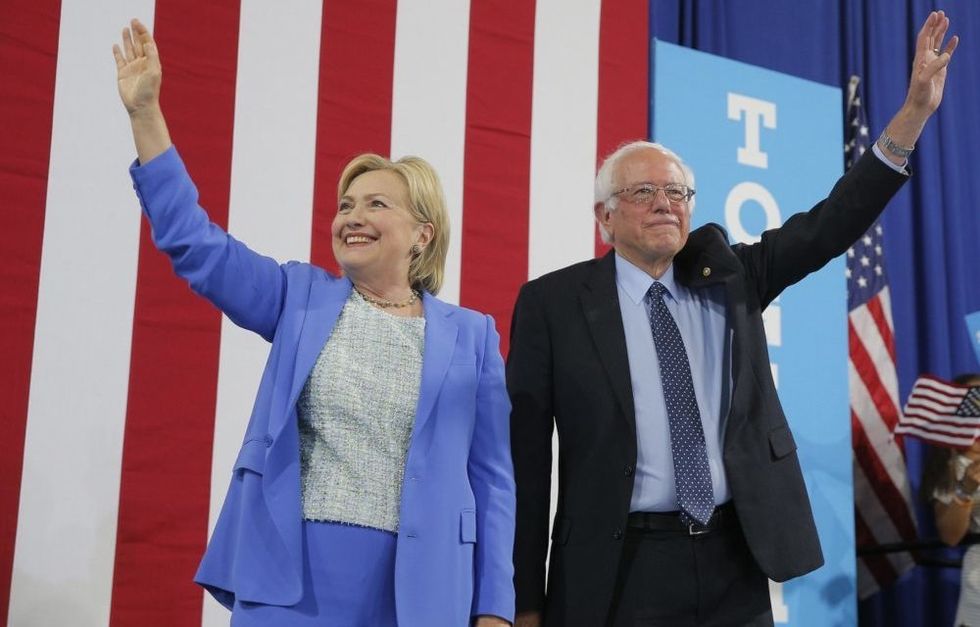 Former Democratic presidential candidate Bernie Sanders offered a compelling argument this week to those of his supporters still hesitant about a Hillary Clinton presidency. He explained that the success of the revolution relies not on who is president, but on the people continuing to fight for progressive ideals.
Armand Aviram—who said his personal rise from unemployed Sanders campaign volunteer to NowThis election producer is a "direct result" of the Vermont senator's political revolution—asked the former Democratic candidate to explain "how your political revolution continues under a Hillary Clinton administration."
"It's not my political revolution; it's your political revolution," Sanders began, calling his supporters' efforts during the Democratic primary "perhaps the most consequential campaign in the modern history of America."
"Ideas that at one point were thought to be crazy and fringe are now incorporated in the Democratic National Platform," Sanders said. "You did that."
Holding up a copy of the Democratic National Platform, Sanders noted that at least 80 percent of the policies are "what we believe in."
"Where do we go from here?" he asked. "We implement this."
Sanders' historic run as a registered Independent vying for the Democratic Party's nomination rallied progressive voters, particularly millennials, who overwhelmingly supported the Vermont senator over Clinton. After conceding the primary, Sanders worked to ensure the Democratic platform would include many of his progressive policy proposals, withholding his endorsement of Clinton for almost a month.
"There was a significant coming together between the two campaigns and we produced, by far, the most progressive platform in the history of the Democratic Party," Sanders said at the Democratic National Convention in July. "Our job now is to see that platform implemented by a Democratic Senate, a Democratic House and a Hillary Clinton presidency. And I am going to do everything I can to make that happen."
Asked what he would say to voters who plan on casting their ballots for a third-party candidate in order to "send a message" to the Democratic Party, Sanders, the longest serving Independent in the history of Congress, told Aviram, "people have to vote their conscience." But he added that he hopes his supporters "understand Donald Trump would be a real, real disaster for this country. He stands in opposition to everything that we believe in."
Sanders urged his supporters not to see a Clinton presidency as an end to the political revolution. "The day after the election, we don't sit back and say, well, Clinton is president," Sanders said. He insisted the next step is to "mobilize our people" and make sure the government "moves forward with an agenda that helps transform this country."
"I want to see Clinton become president," Sanders continued. "And the day after that, I and the progressive members of Congress, and hopefully millions of other people will say, President-elect Clinton, here is the Democratic National platform, it is a progressive document. We are going to be introducing legislation piece by piece by piece—on trade, on raising the minimum wage, on making public colleges and universities tuition-free, on a Medicare-for-all single-payer program, on rebuilding our crumbling infrastructure."
Sanders said those who still don't believe Clinton will follow through with the progressive party platform are "going to have to work with [him] to make sure that it happens."
"This is not trust," Sanders argued. "We're not here to trust. It is the very opposite of what I am saying: To say, oh sit back, elect Clinton and then trust."
"No," he continued. "Mobilize. Educate. Fight."
And if (worst case scenario) our elected leaders don't follow through?
"Let them know how you feel about it," Sanders said.
Watch the interview below, via NowThis.
BernieSanders answers the most important question: Why should his supporters vote for Hillary Clinton? https://t.co/mous0dK8in

— NowThis (@nowthisnews) October 18, 2016
Reprinted with permission from Alternet. 
Photo: Democratic U.S.  presidential candidate Hillary Clinton and Sen. Bernie Sanders stand together during a campaign rally where Sanders endorsed Clinton in Portsmouth, New Hampshire, U.S., July 12, 2016.  REUTERS/Brian Snyder