Sanders Trashes FBI, Even As Flynn Admits He Knowingly Lied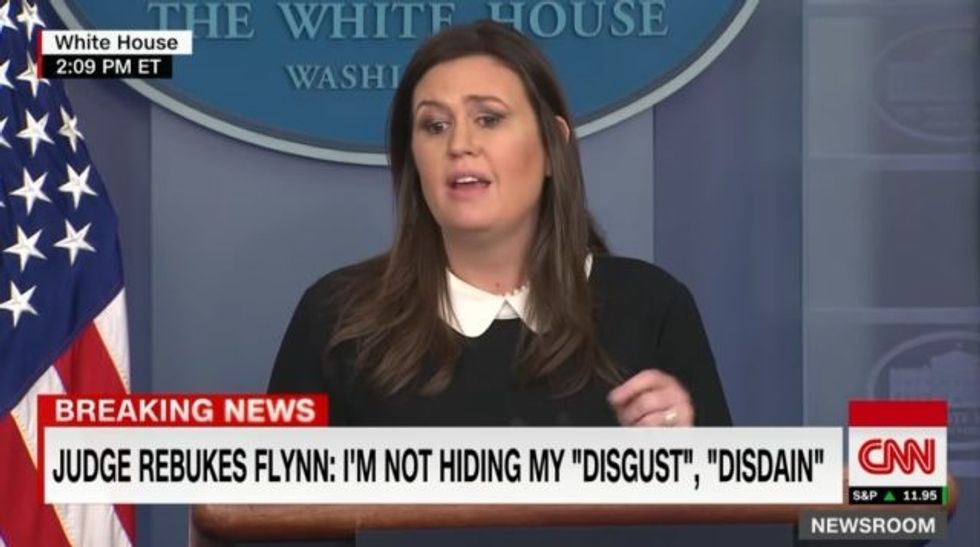 Reprinted with permission from Shareblue.
Sarah Sanders emerged from hiding and used an extremely brief press briefing to attack the FBI and to promote absurd conspiracy theories about the prosecution of Trump's criminal former national security adviser, Michael Flynn.
The White House press operation has been in hiding since November 27, the date of the last briefing — nearly a month ago. In total the Trump administration has only held four such briefings since September.
They have avoided questions on the growing evidence that Trump stands at the center of a criminal enterprise, directing the commission of federal crimes and covering them up.
Sanders spent only about 15 minutes with reporters before she quickly ended the event and ran off.
In that time, she managed to attack the FBI and promote a defensive conspiracy theory meant to further cover for Trump.
Just before the briefing, Flynn attended his sentencing hearing where he admitted before a judge that he was guilty of lying to the FBI, a federal crime.
Despite this admission from the man who was an integral part of the Trump campaign and Trump's choice for national security adviser, Sanders aimed her ire at America's premier law enforcement agency, falsely claiming the FBI "broke standard protocol in the way that they ambushed General Flynn and in the way that they questioned him and in the way that they encouraged him not to have White House counsel's office present."
Sanders also lied when she said former FBI director James Comey claimed the agency entrapped Flynn "because it was the Trump administration and they thought they could get away with it."
Just minutes before Sanders said this, Flynn was asked in federal court by Judge Emmet Sullivan if he wanted to challenge the circumstances under which he was questioned by the FBI. He replied, "No, your honor."
The exchange debunked the argument that has often been forwarded by Fox News in service of Trump and by Trump himself. Nevertheless, Sanders decided to invoke it at the briefing anyway.
Before the 2016 election Sanders infamously exposed the hollowness of her current position, writing, "When you're attacking FBI agents because you're under criminal investigation, you're losing."
Sanders, acting on behalf of Trump, used her position to spread lies and misinformation while severely limiting the time in which journalists can hold the administration accountable.
Unfortunately for Sanders and Trump, polls show America sees through the lies and are not interested in allowing Sanders' sad attempt at disinformation to succeed.
Published with permission of The American Independent.