Sanders: Trump Demand To End Mueller Probe 'Just An Opinion'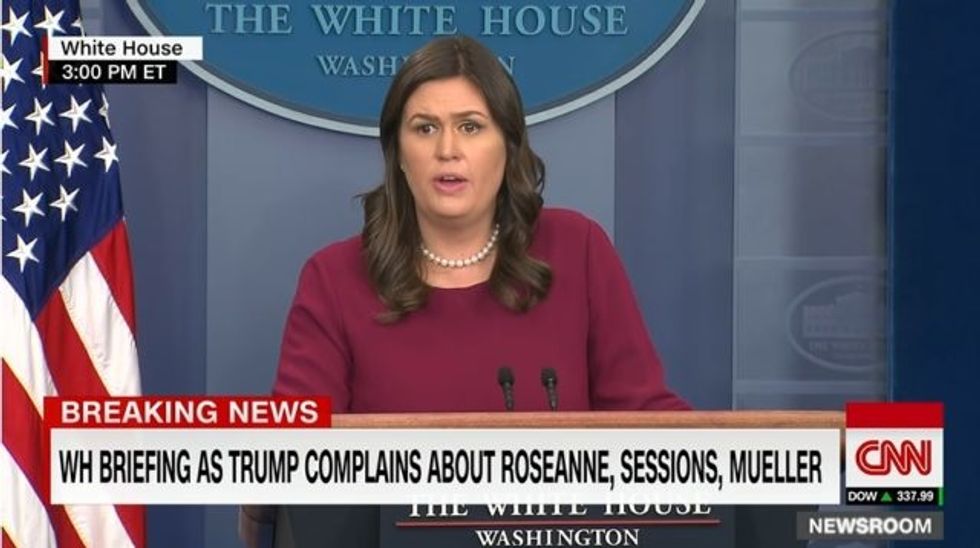 Reprinted with permission from Shareblue.
After Trump made his most explicit public attempt to obstruct the Mueller investigation to date, White House press secretary Sarah Huckabee Sanders tried to dismiss it as Trump merely "fighting back" and expressing an "opinion."
On Wednesday morning, Trump explicitly urged Attorney General Jeff Sessions to end the Mueller investigation, an "attempt to obstruct justice hiding in plain sight," according to Rep. Adam Schiff (D-CA). The tweet and fallout became a popular topic at Wednesday afternoon's White House press briefing.
Sanders was repeatedly pressed about Trump's statement, and she responded by insisting the statement "is not an order, it's [Trump's] opinion."
After another reporter read the legal definition of obstruction to Sanders, she told him that Trump "is not obstructing, he's fighting back" and "stating his opinion."
When other reporters followed up, Sanders kept repeating her talking point that Trump was merely expressing his "opinion."
Unfortunately for Sanders, the word "opinion" does not possess the magical properties that she thinks it does. An opinion can also be a directive when expressed to a subordinate, as when Trump told then-FBI Director James Comey that he "hoped" Comey would drop the investigation into Michael Flynn.
And if Trump decided to express the "opinion" that his supporters should commit violent acts against reporters, for example, raising such a distinction would make him no less liable for the results. If Trump expressed the opinion that Sessions should stop the Mueller investigation "right now" for a corrupt purpose, he could similarly be guilty of obstruction of justice.
Trump has both committed and admitted to obstruction of justice with alarming openness and frequency, but Wednesday morning's outburst marks his most explicit attempt to end the Mueller investigation, which has resulted in 35 indictments and five guilty pleas.
Sending Sarah Sanders out to draw a meaningless distinction between a directive and an opinion may satisfy Trump's fans and enablers, but it's not going to help Trump when Mueller comes calling.
Published with permission of The American Independent.