Santorum Plots Gingrich Exit As Romney Looks To November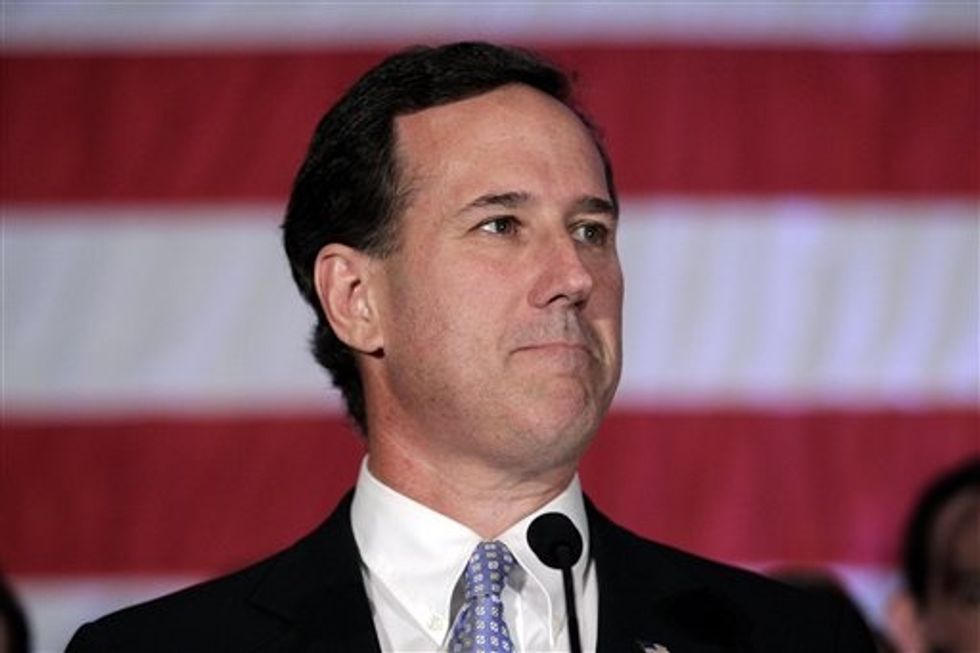 Former Pennsylvania Senator Rick Santorum met with conservative leaders determined to stop Mitt Romney's march to the Republican presidential nomination Thursday, just as a new poll showed Romney poised to upset Santorum in his home state primary later this month.
The conservatives reportedly talked about how to persuade Newt Gingrich, the former Speaker of the House who once seemed a real contender only to collapse after his victory in South Carolina in January, to quit the race, as Romney's margin of victory in recent primaries has been narrow enough that a unified conservative vote might be able to stop him in the remaining contests.
But his trio of victories in Wisconsin, Maryland, and Washington, D.C. on Tuesday, coupled with a steady stream of endorsements from congressional Republicans and calls from party leaders to unify for the coming struggle to unseat Obama, has made Romney the presumptive Republican nominee.
"The right thing for us, I think, is to get a nominee as soon as we can and be able to focus on Barack Obama," the former Massachusetts governor told Fox News Tuesday.
Many establishment Republicans seem to agree with him, even as Evangelical and Tea Party leaders try to find a way to put Santorum back in the game.
"The leaders told us that they wanted to stop Romney, defeat Barack Obama and unite conservatives behind Rick," an aide to the Santorum campaign toldThe New York Times.
Public Policy Polling released a survey Thursday showing Romney pulling ahead of Santorum in Pennsylvania by a margin of 42 to 37 percent.
"The momentum in Pennsylvania is moving completely against Rick Santorum," said Dean Debnam, President of Public Policy Polling. "Mitt Romney has a great chance to deliver a final crushing blow to his campaign on April 24th. A home state loss would be incredibly embarrassing for Santorum."
And though technically a Gingrich exit could make the math a lot easier for Santorum when it comes to racking up delegates, Newt has promised to stay in the race until the Republican convention in Tampa this August.