Saving Black Bears So Hunters Can Kill Them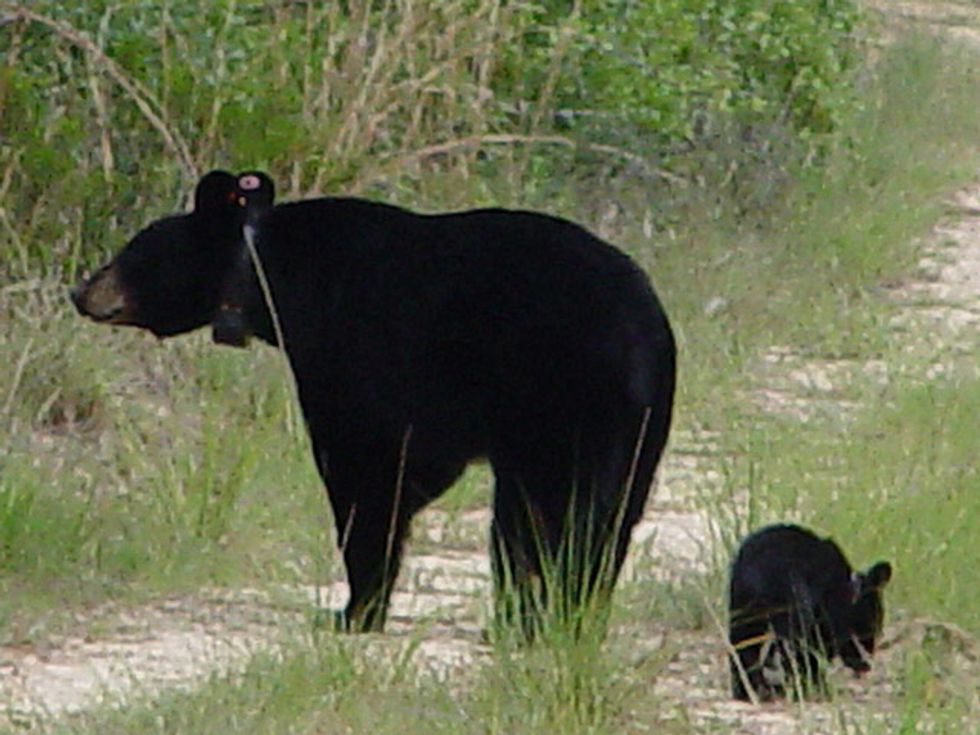 What's the point of saving a native creature from extinction if we can't start shooting the darn things again?
That's the unspoken philosophy of the Florida Fish and Wildlife Conservation Commission, which after two decades of protecting the black bear has decided the time has come to open fire.
Despite a loud public outcry, the panel approved a one-week hunt for the last week of October. Because there's no limit on the number of permits being issued, the chances are good that the hunters will actually outnumber the bears.
What could possibly go wrong?
FWC commissioners cite an increase in human-bear encounters and road kills to justify thinning the bear population, which it estimates at about 3,100. Overdevelopment, habitat loss and hunting had nearly wiped out the animals, which until 2012 were listed as a state endangered species.
Now the goal is to "harvest" more than 300 bears in four management areas from the eastern Panhandle to South Florida. The central part of the state has the most, and will likely attract the most hunters.
It must fairly be said that the FWC did cut the bears a break or two when it set the rules.
Traditionally the animals are tracked by groups of fast dogs, which chase the bear up a tree or into a hollow and keep it there until the hunter arrives.
This isn't much of a "hunt" on the part of the human, since the dogs are doing all the work. As for marksmanship, shooting a treed bear is about as challenging as shooting a stalled Volkswagen.
However, dogs won't be allowed on the Florida hunt unless they're kept on leashes, and only then used to trail a bear that's been wounded. That restriction won't placate animal-rights activists, but the absence of dog packs on the scent definitely gives bears a better chance of staying hidden.
Another rule prohibits baiting the animals, a method commonly used in some places. Tasty treats are put out at secluded feeding stations, where the hunters hunker down and watch.
This is like waiting outside a barbecue joint for the bowling team to show up. You know it's only a matter of time.
During the October hunt, though, bears aren't supposed to be shot within 100 yards of a game-feeding station, and the stations are supposed to be stocked only with feed for deer and wild hogs.
Again, those opposed to hunting might think that's not a big deal, but it will make a difference. The reason that dogs and bait are often used is that it's extremely difficult for one person with a gun to sneak up on a full-grown bear in the woods — which is what pure hunting would be.
If dogs and bait had been banned going back to the 1950s, Florida's bear population probably wouldn't have fallen to such low levels. That's not to say the October hunt is wisely planned, because it's not.
"Harvest objectives," a term used by the FWC, implies an overabundance of bears, which is a ludicrous concept in a state this vast. Moreover, the hunt is being staged in remote areas and will do nothing to stem the problem of nuisance bears, which have been responsible for several attacks on persons in suburban neighborhoods.
Those incidents were used to promote the need for a hunting season, but there's no good science behind that argument. Killing a bear in rural Wakulla County won't discourage the dumpster-diving rogue in Naples.
Many hunters are active in conservation movements, and let's hope that holds true for those going for bear. Still, there's a perverse irony in declaring a species recovered from near-elimination as an excuse to start killing it again.
Perhaps the weirdest part of the FWC's plan is that it offers an unlimited number of permits. While hunters are allowed to kill only one bear, there are no restrictions on how many hunters go out. (The season will end early if the bear quota is reached.)
Many states tightly regulate the number of hunters, frequently using a lottery system. Not Florida, which will keep cranking out permits until the day before the hunt.
By mid-August more than 1,400 people had already signed up, a trend that would put more armed humans than bears in the woods on Oct. 24.
Among the first hunters to get a permit was Ted Nugent, the gun-slinging rock musician from Detroit.
It might be a good day for all of us to wear orange.
(Carl Hiaasen is a columnist for The Miami Herald. Readers may write to him at: 1 Herald Plaza, Miami, Fla., 33132.)
Photo: Florida black bear mother and cub. Florida Fish and Wildlife Conservation Commission, via Flickr.