Scotland Tense Ahead Of United Kingdom Elections This Week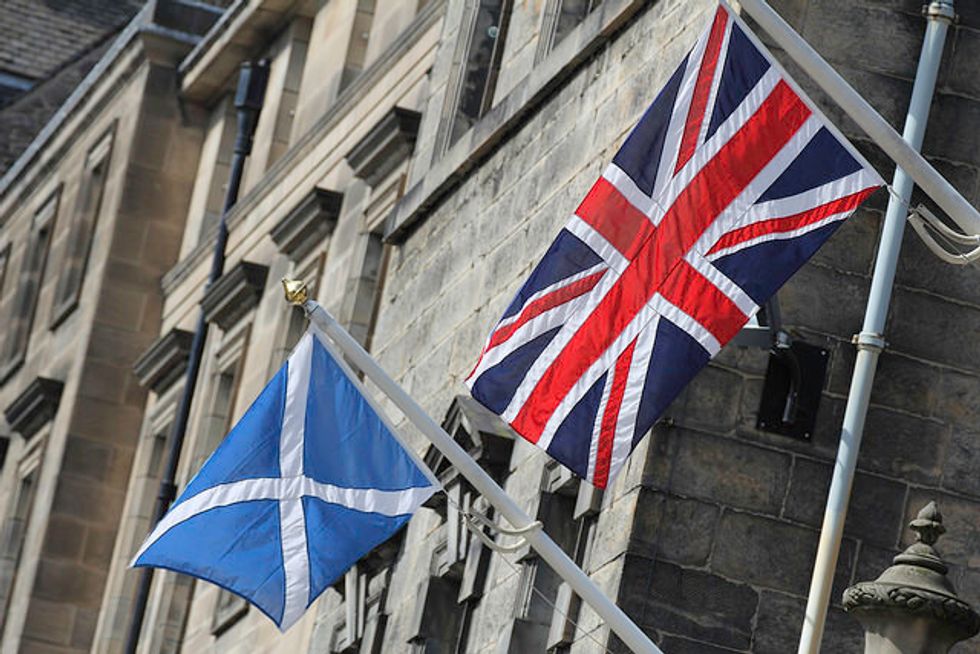 By Steven Zeitchik, Los Angeles Times (TNS)
EDINBURGH, Scotland — With only a few days to go until the United Kingdom's national elections, tensions were simmering in Scotland.
The heads of the two leading parties in Scotland — battered Labor and the ascendant Scottish National Party — took shots at each other Sunday night in their final debate before U.K. polls open Thursday, exposing how much bad blood has arisen between two parties that, in fact, agree on a number of key economic issues.
"(British Labor leader) Ed Miliband said he would rather see the Tories back in office than work with the SNP," Scottish National Party leader Nicola Sturgeon said, in one of several sharply worded statements. "I think that's pretty appalling." Sturgeon later called Labor "desperate."
For his part, Scottish Labor leader Jim Murphy accused the SNP of reckless politics, saying it was "willing to bring down a Labor budget" to advance its own cause.
The campaign fight between Labor and the SNP in Scotland has highlighted a division that many thought was put to rest when a referendum on Scottish independence was defeated in September.
But the battle has larger implications. If the SNP gains many seats at Labor's expense Thursday, it could play kingmaker in the new British government, since neither Miliband's center-left Labor nor Prime Minister David Cameron's center-right Conservative Party are expected to win a majority of seats on their own.
That means Scotland, despite accounting for only about five million of the U.K.'s 64 million residents, could swing an election that many believe will determine Britain's future in the European Union and on the world stage for years to come.
The nationalist SNP has undergone a remarkable rise since the "Yes" movement it helped lead lost in September. Under Sturgeon, who took over from Alex Salmond after the defeat, the SNP has more than quadrupled its membership — fueled in part by a sense among Scots that post-referendum promises from London over greater autonomy have gone unfulfilled.
As a result, the SNP, which holds only six seats in the British Parliament, is forecast to win at least 50 of the available 59 seats from Scottish districts when final ballots are counted.
Meanwhile, Labor, which has long maintained a stranglehold on Scottish politics, has unraveled. Come Thursday, the party is expected to lose most if not all of the 41 British Parliamentary seats it holds in Scotland, according to TNS and other polling firms.
The new math has set off a political chess match.
In her bid to lure Labor supporters, Sturgeon has said the SNP wants to work with Labor (although not as part of a formal coalition).
But Miliband and Murphy have sought to put distance between themselves and the SNP, fearing that any association with a Scottish nationalist movement would hurt them with English voters. At Sunday's debate, Murphy took aim several times at Sturgeon, seeking to pin her down on a five-year moratorium for a new independence referendum as Sturgeon equivocated.
Cameron and the Tories, meanwhile, have sought to capitalize with English voters on the rise of the SNP, telling them that, essentially, flipping the lever for Labor means voting for the Scottish nationalist group.
"The fact is that Labor cannot win a majority on their own. They can only get into Downing Street with the support of the SNP," Cameron said in a campaign speech last month. Scottish Conservative leader Ruth Davidson, who remains personally popular in Scotland, even though her party is a non-factor, also hammered the point at Sunday's debate.
Despite the "Better Together" unity campaign that won by a margin of about ten percentage points in September, the issue of Scottish independence remains at the fore. The fact was highlighted last week when the Scottish and English editions of Rupert Murdoch's Sun newspapers atypically diverged on their election endorsement, with the former recommending the SNP and the English edition pushing for the Tories.
At a Labor rally in Glasgow on Monday, Murphy and the comedian Eddie Izzard, who supports the party, were heckled by a small number of nationalist supporters, forcing the pair to abandon the event early. Sturgeon condemned the hecklers.
On the streets of Edinburgh, there has been less fanfare than during the referendum vote, with fewer signs and overt campaigning. Still, the effects wrought by a post-referendum nationalist surge could be felt.
On Leith Walk, a main thoroughfare in the city's northeastern neighborhood, candidates from the Liberal Democrats and other parties pumped hands with voters on the street, hoping to attract those fleeing Labor but unsure about the SNP.
And as bikers and joggers made their way through the city's Hollyrood Park later in the evening, many said they were doing something they never expected a few months ago: looking toward the nationalists.
Lisa Webb, an environmental worker who was raised in Edinburgh, encapsulated the feelings of many Scots as she exercised.
"I voted no on the referendum, but I think might vote for the SNP now," she said. "The way Labor has carried itself has really not appealed to me. And I'd never vote for the Tories."
Photo: Lawrence OP via Flickr