Scott Brown For Senate In New Hampshire? Democrats Should Say 'Bring It On'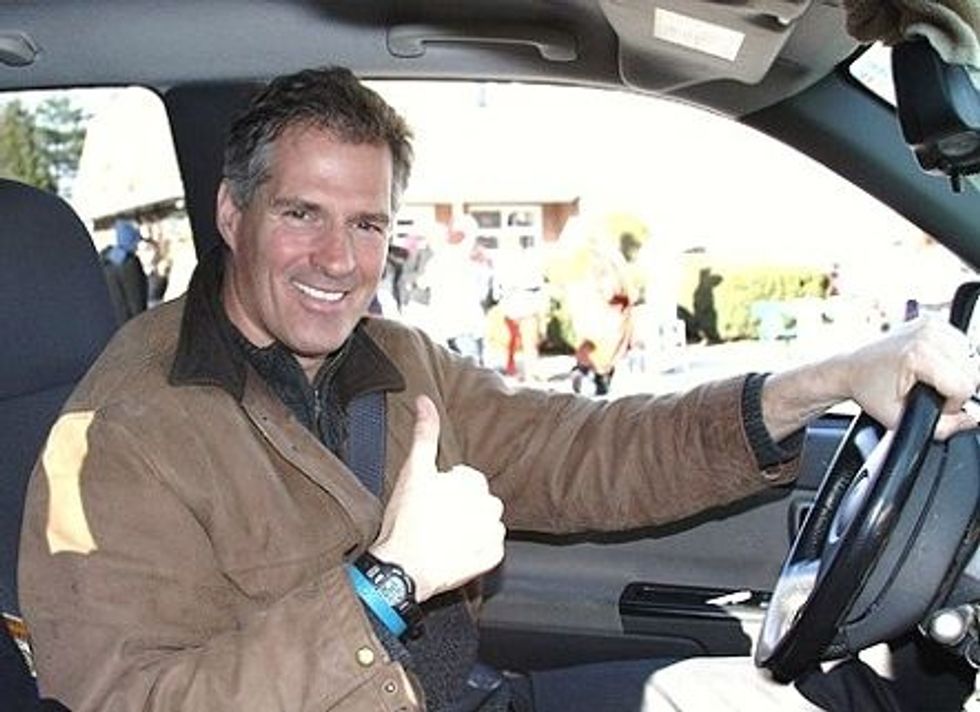 On Tuesday, the New Hampshire Republican Party announced that former Massachusetts senator Scott Brown will headline its annual holiday party. In an op-ed that was published on FoxNews.com earlier in the day, Brown repeatedly mentioned New Hampshire as he ripped the Affordable Care Act. Although he did not mention Senator Jeanne Shaheen (D-NH) by name, the majority of the piece is devoted to criticizing the "Democratic senators who forced this fiasco on the American people."
The day's news represented the latest in a long series of signals that Brown is seriously considering a run in New Hampshire against Senator Shaheen. Over the past several months — perhaps in an effort to distance himself from his native Bay State — Brown has sold his family home in Wrentham, Massachusetts, and changed his Twitter handle from "ScottBrownMA" to simply "ScottBrown." Additionally, when reporters asked him in April if he was considering a run against Shaheen, he pointedly declined to shut down the speculation.
"I don't think I'm done with politics, but I'm not going to rule out anything right now because I really haven't thought a heck of a lot about it," he said at the time.
At this point, all signs point towards a Senate run — but New Hampshire Democrats shouldn't exactly be quaking in their boots.
Brown's supporters imagine that he could pull off a repeat of his stunning 2010 victory, when he rode a wave of Independent and moderate Democratic support to shock then-state attorney general Martha Coakley in a low-turnout special election to fill the seat vacated by the late Ted Kennedy.
Unfortunately for Brown, it's not 2010 anymore.
Upon joining the Senate, Brown quickly proved that he was not the independent-minded moderate that he purported to be. At the time that Elizabeth Warren began her challenge to Brown's re-election, he had voted with a majority of his Republican colleagues 95 percent of the time. Massachusetts voters noticed; in the 2012 election, exit polls found that Warren won 89 percent of Democrats on the way to an easy 8 percent victory. That margin wasn't nearly good enough for Brown to win in Massachusetts, and, although a it is more conservative state, it won't be good enough in New Hampshire.
And Brown didn't just lose in 2012; he lost ugly. The embarrassing conclusion to his campaign, which included racist chants and a cringeworthy incident in which homeless men were paid to pretend to support Brown, probably did not go unnoticed by New Hampshire's politically savvy citizens — and certainly won't be forgotten by the press if Brown runs in 2014.
In 2010, Coakley was widely considered to be a weak candidate who was unable to match Brown's relentless retail campaigning throughout the state. Shaheen, who has won three gubernatorial elections and a Senate race in the Granite State, has no such problems. The battle-tested senior senator is relatively popular, with a 49 to 42 percent approval rating according to a September poll from Public Policy Polling.
Brown's biggest issue, however, would be fending off accusations that he is a carpetbagger. Such complaints wouldn't be without merit; although Brown owns a vacation home in Rye, NH, he has lived in Massachusetts for nearly his entire 54 years. And if you need evidence of how damaging such accusations can be, look no further than Brown himself; he utilized a similar line of attack against then-Rep. Ed Markey (D-MA) when he was considering jumping into Massachusetts' 2013 special election for U.S. Senate.
"I'll tell you what… they're making it awfully tempting," Brown said when a local radio show asked him if he was considering entering the race. "You've got Ed Markey: Does he even live here anymore?"
"You've got to check the travel records. I've come back and forth [from Washington to Boston] every weekend, almost, for three years, and I see, you know, most of the delegation, and I have never seen Ed on the airplane—ever," he added.
Does he even live here? That's a question that Brown should get used to hearing from New Hampshire residents who last saw Brown delivering a defiant concession speech in which he promised that "defeat is only temporary." Few of them likely believed that the comeback trail would begin in their state.
In fairness, Brown may be the strongest candidate that the Republican Party can muster. In September, PPP found Shaheen leading Brown 48 to 44 percent, making him the only Republican to poll within single digits of the incumbent. As Brown found out in 2012, however, those numbers could change in a hurry once Democrats begin attacking his pro-Wall Street, anti-choice record. (Indeed, as the conservative New Hampshire Union Leadernoted in an October editorial, "Every time Brown comes to — or even talks about coming to — New Hampshire, Shaheen's fund-raising machine spins into overdrive.")
Of course, it's possible that Brown's drawn-out flirtation with a New Hampshire Senate bid is merely a publicity stunt. Given that Brown currently works as a Fox News pundit and a lawyer specializing in "governmental affairs" (i.e. lobbying), it couldn't hurt to keep his name in the news.
But if Brown is serious about running, then his campaign will likely end up a lot more like his 2012 defeat than his 2010 upset.
Photo via Wikimedia Commons