Scott Walker Wants To Make It Harder To Vote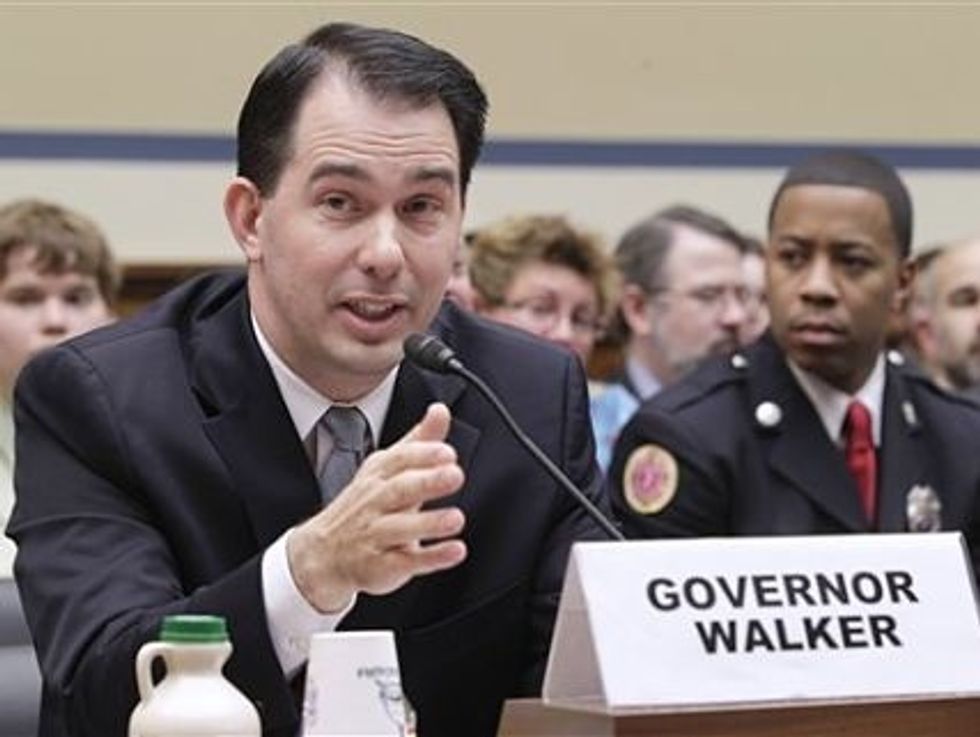 Senator Marco Rubio (R-FL) has already made a foray into Iowa and pandered to the religious right by implying he might embrace New Earth Creationism. Now, Wisconsin's Tea Party hero Governor Scott Walker (R-WI) seems to be positioning himself for 2016 by pursuing a goal that unites the Republican Party—making it harder to vote.
In a speech at the Ronald Reagan Library in Simi Valley, California, Walker called for an end to Wisconsin's same-day registration. What reasoning does he possibly have to discontinue a tradition that has made it easer to vote in the Badger State for generations?
He says that he's concerned about poll workers:
States across the country that have same-day registration have real problems because the vast majority of their states have poll workers who are wonderful volunteers, who work 13-hour days and who in most cases are retirees. It's difficult for them to handle the volume of people who come at the last minute. It'd be much better if registration was done in advance of election day. It'd be easier for our clerks to handle that. All that needs to be done.
Sure, Walker is concerned about conditions for workers, not the fact that the GOP lost Wisconsin by more than 6 percent, even though Wisconsinite Rep. Paul Ryan (R-WI) was on the ticket. It couldn't be, as MSNBC's Steve Benen points out, that the turnout rate in Democratic Milwaukee hit 87 percent.
(A commenter on Benen's post won the internet with this response: "To further ease the burden on these elderly 'volunteers,' Walker proposed the elimination of elections altogether, substituting a Lifetime Appointment Decree in its place. It was unanimously passed by the Republican Legislature on Monday.")
Of course, other Republicans are skipping over Walker's justification of the law and going straight to crying wolf, AKA voter fraud, claiming it's difficult to verify addresses for same-day registration.
Again the GOP is creating a problem that doesn't exist in order to justify making voting more difficult.
"To date, no Republican has been able to show that there is any impersonation voter fraud and every study shows that there is no rampant voter impropriety in the state of Wisconsin or around the country," Scot Ross, head of the liberal group One Wisconsin Now, said.
Walker became a household name in 2010 by pushing a law that stripped state workers of the right to bargain collectively. His agenda also includes corporate tax cuts and cutting regulation for business. Across the nation, the GOP's official stand seems to be that regulation is terrible –unless it prevents workers from organizing, women from making their own health care choices and voters from voting.
In other Scott Walker news, Kelly Rindfleisch, Walker's deputy chief of staff when he was Milwaukee County Executive, was sentenced to 6 months in jail and 3 years of probation for campaigning for Walker while on the clock as a county employee.
Six people including Rindfleisch have been charged as a result of a secret investigation into Walker's gubernatorial campaign. The governor is not one of them, as of yet.
Photo credit: AP Photo/J. Scott Applewhite, File