Scott Walker's Foreign Trade Missions Cost Taxpayers $150,000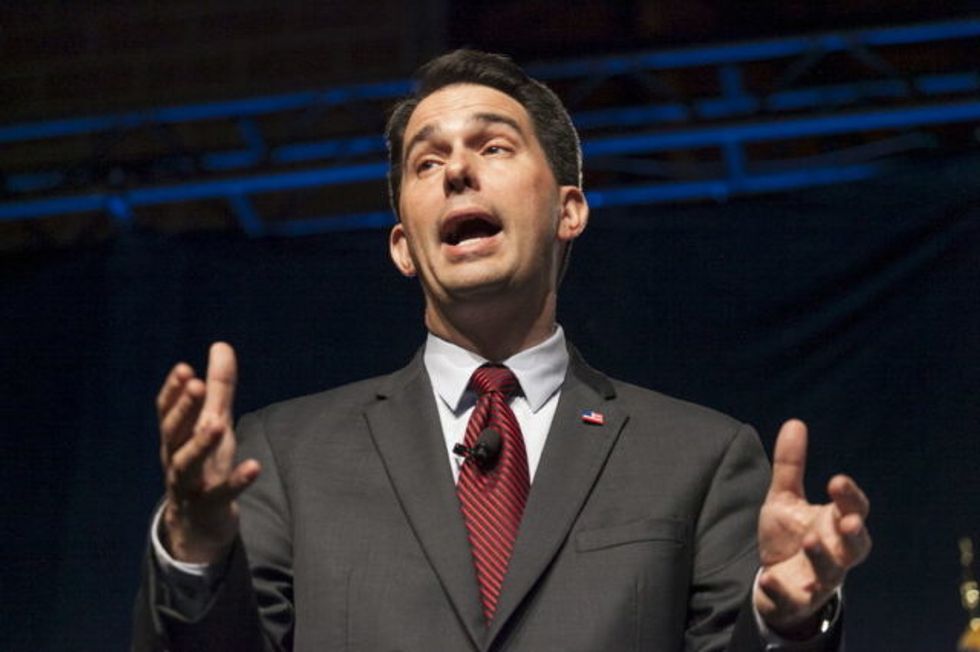 By Patrick Marley and Jason Stein, Milwaukee Journal Sentinel (TNS)
MADISON, Wis. — A pair of international trade missions headed by Wisconsin Gov. Scott Walker this year cost taxpayers nearly $150,000, and Walker's political groups are reimbursing the state $125,000 for separate costs for his security team's travel while he pursued the presidency.
Documents released Friday under the state's open records law give the best accounting yet of travel expenses for the Republican governor as he jetted around the country in preparation for his now-abandoned White House bid.
The state is being reimbursed by Walker's political operations for the costs of the security team's hotel, airfare, meals and use of state vehicles while Walker was campaigning. But taxpayers are bearing the cost of the trade missions to Canada and Western Europe.
Taxpayers are also paying for the salaries and benefits for the state troopers who protect the governor, first lady Tonette Walker, Lt. Gov. Rebecca Kleefisch and visiting officials.
Those costs have exploded since Walker became governor, rising from about $561,000 in the year before Walker became governor to more than $2 million last year. The hike in cost is due in part because of enhanced security since huge labor protests in 2011 that included expanding full-time protection to the lieutenant governor.
Kleefisch's predecessor, Democrat Barbara Lawton, didn't get the kind of round-the-clock protection that she received for years.
For the first three months of 2015, taxpayers spent nearly $500,000 on wages and benefits for the security team — nearly as much as they paid in all of 2010 for then-Gov. Jim Doyle. More recent figures were not available.
The salary costs do not appear to include back pay for overtime that the U.S. Department of Labor recently determined must be paid to the troopers who work long hours guarding public officials. That could tack on as much as $1 million to the total.
A spokeswoman for the State Patrol could not be reached late Friday to say whether the overtime figures were included. But as of earlier this week the State Patrol had not calculated those costs, making it appear they were not included in figures released Friday.
Walker began exploring a presidential run soon after he was re-elected in November and formally announced his candidacy in July. The campaign lasted just 71 days before he abandoned it last month after his polling numbers cratered.
Historically, taxpayers have picked up all the costs for security for Wisconsin governors and some other officials, even when they are engaged in purely political work or on vacation. Walker's team announced in April his political operations would pick up the costs for airfare, hotel and meals for his security team for campaign travel — but not for salaries and fringe benefits.
In all, the political operations are committed to paying back about $125,000 for travel costs for the first half of the year. Of that, they have paid about $58,000 and are expected to pay the remaining amount of just over $67,000.
The reimbursements are being made by Walker's gubernatorial campaign, his presidential campaign and Our American Revival, a political group he set up as he mulled running for president.
(c)2015 Milwaukee Journal Sentinel. Distributed by Tribune Content Agency, LLC.
U.S. Republican presidential candidate Scott Walker speaks at the the Iowa Faith and Freedom Coalition Forum in Des Moines, Iowa, September 19, 2015. REUTERS/Brian C. Frank