Scottish Government Burns Trump In 'Reverse Emoluments' Case
@alexvhenderson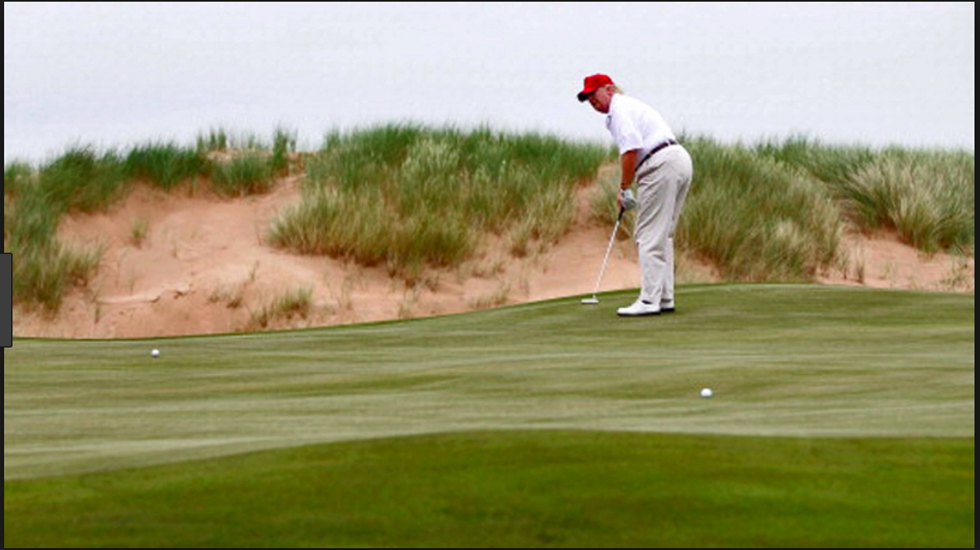 Reprinted with permission from Alternet.
In Scotland, President Donald Trump battled the government over a wind power development that, he complained, would alter the view from his golf course in Aberdeenshire. But he lost that battle. And a court in the U.K. has ruled that the Trump International Golf Club Scotland must pay all of the legal costs that the Scottish government incurred fighting Trump.
In late 2015—before Trump was president—the U.K. Supreme Court rejected the Trump Organization's legal challenge to the wind farm. Former First Minister Alex Salmond asserted that the ruling left Trump a "three time loser." And the Trump Organization had a characteristically Trumpian response: "Does anyone care what this man thinks? He's a has-been and totally irrelevant."
The wind farm, which contains eleven turbines altogether, generated its first power in July 2018 and was developed by the Swedish energy group Vattenfall.
According to the BBC, the exact sum that the Trump Organization will owe the Scottish government has not been disclosed.
The Washington Post's David Fahrenthold commented on the ruling on Twitter, posting, "Here's a reverse-emoluments case that the Founding Fathers didn't plan for…what happens when @realDonaldTrump owes a large debt *to* a foreign government?  In Scotland, it's happening."
The U.S. Constitution's emoluments clause restricts presidents and other federal politicians from receiving payments or gifts from foreign powers.
Here's a reverse-emoluments case that the Founding Fathers didn't plan for…what happens when @realDonaldTrump owes a large debt *to* a foreign government? In Scotland, it's happening. https://t.co/WqS91m4ou0

— David Fahrenthold (@Fahrenthold) March 1, 2019