Searching For Integrity In Trumplandia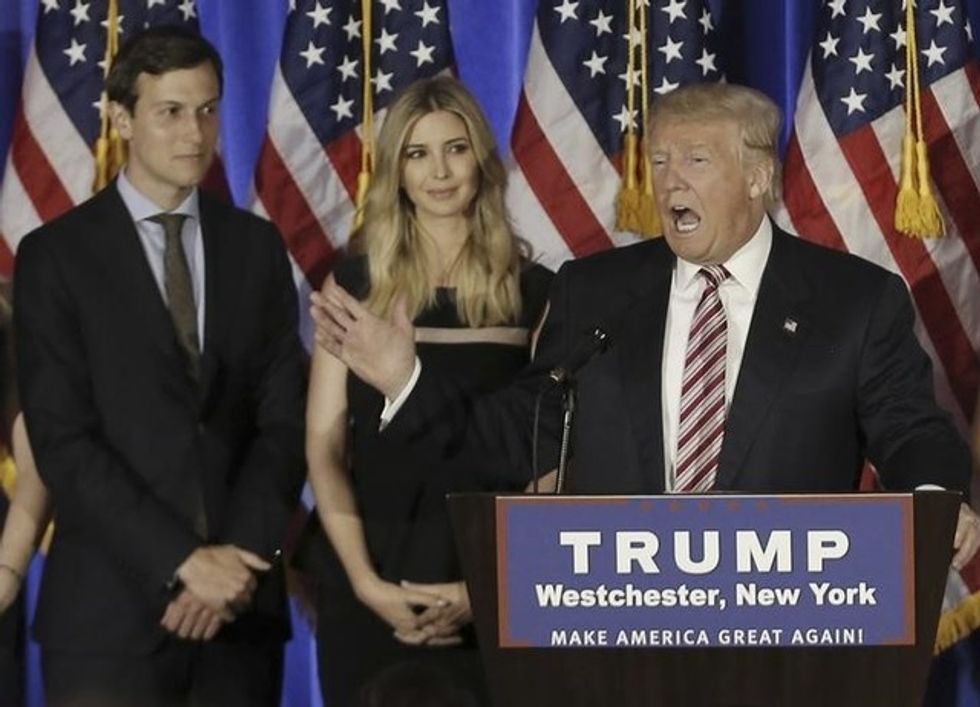 It's about time America has a president who will stand up to those greed-headed corporate executives who keep hauling our middle-class jobs out of country. Bring those jobs back home, Donald Trump bellowed, or I'll slap you with a huuuge tariff when you try to sell your foreign-made products here.
Great stuff, Donnie. And to prove you mean business, I know just the CEO you should target first: Her name is Ivanka. Yes, your daughter!
Ivanka's multimillion-dollar line of clothing and accessories are sold through major national retailers, ranging from Macy's to Amazon, and she pitches her Ivanka Trump-branded dresses, handbags, boots, blouses, etc. to America's working women. Yet, practically all of her products are made on the cheap in factories anywhere but America, with most coming from the low-wage bastions of China, Indonesia and Vietnam. Imagine the message it would send to runaway corporations and the integrity it would establish for The Donald if he slapped his first tariffs on Ivanka's goods!
But neither Daddy Trump nor his daughter wants to discuss the embarrassing conflict between his political bluster and her ethic of runaway capitalism. Instead, she's tried to dodge the issue by saying it doesn't matter, since she'll "separate" herself from the business if she becomes a White House advisor.
Nice try, Ivanka, but the stench of hypocrisy will only grow nastier if you're at your father's side while he castigates and punishes other corporations that have absconded from America. The only way to salvage even an iota of moral virtue is to repatriate the manufacturing of your brand-name apparel. And bringing those middle-class jobs home to the good ol' US of A would also make a powerful political statement.
But no, showing that money trumps both political savvy and the morality of simply doing what's right, Ivanka says her corporate brand will stay offshore. As a spokeswoman put it: "We want to make responsible business decisions."
Really? How does that "Make America Great Again?"
But take heed, for I have good news, folks: our new president says he's planning a tax holiday for you!
Well… not directly for you. Trump's trillion-dollar whopper of a tax break will go to only a handful of multinational corporations, such as Apple, GE, Johnson & Johnson and Microsoft. However, Trump and Congress will push for cuts in your name, insisting that the trickle-down effect will be to create thousands of new jobs for America's hard-hit working stiffs.
Here's the deal: The giants of Big Pharma, Silicon Valley and other global industries have dodged paying the taxes they owe to our country by stashing about $2-trillion worth of their profits in offshore bank accounts. Now they want to bring this pile of loot back here to their homeland — yet they want to be rewarded for doing so by having the taxes they owe to us slashed. Enter The Donald, who has delighted those scofflaws by offering a better deal than even they'd proposed: an income tax rate of only 10 percent, versus the 30 percent you and I pay for America's upkeep. Trust me, exclaims The Donald. They'll expand their business here and generate jobs for you!
I was born at night, but it wasn't last night. We've been suckered with this tax holiday scam before. In 2004, George W. Bush pulled it on us — and instead of creating jobs, the corporate tax-dodgers eliminated thousands more of our jobs!
Why'd that happen? Because they put their "repatriated" profits not into expanding business, but by buying back their corporation's stock, which jacks up the payout to top executives and the richest shareholders, and by shrinking the number of businesses by buying up competitors and firing duplicate workforces.
The way to know whether or not Trump's tax holiday will benefit workers is to see if it requires that corporations actually create the thousands of good jobs promised before they get the tax break. Anything less is just another swindle.
To find out more about Jim Hightower, and read features by other Creators Syndicate writers and cartoonists, visit the Creators Web page at www.creators.com.
IMAGE: Donald Trump speaks as his son-in-law Jared Kushner (L), daughter Ivanka listen at a campaign event at the Trump National Golf Club Westchester in Briarcliff Manor, New York, U.S., June 7, 2016.  REUTERS/Mike Segar/File Photo