Second Dallas Nurse With Ebola Should Not Have Taken Flight, CDC Says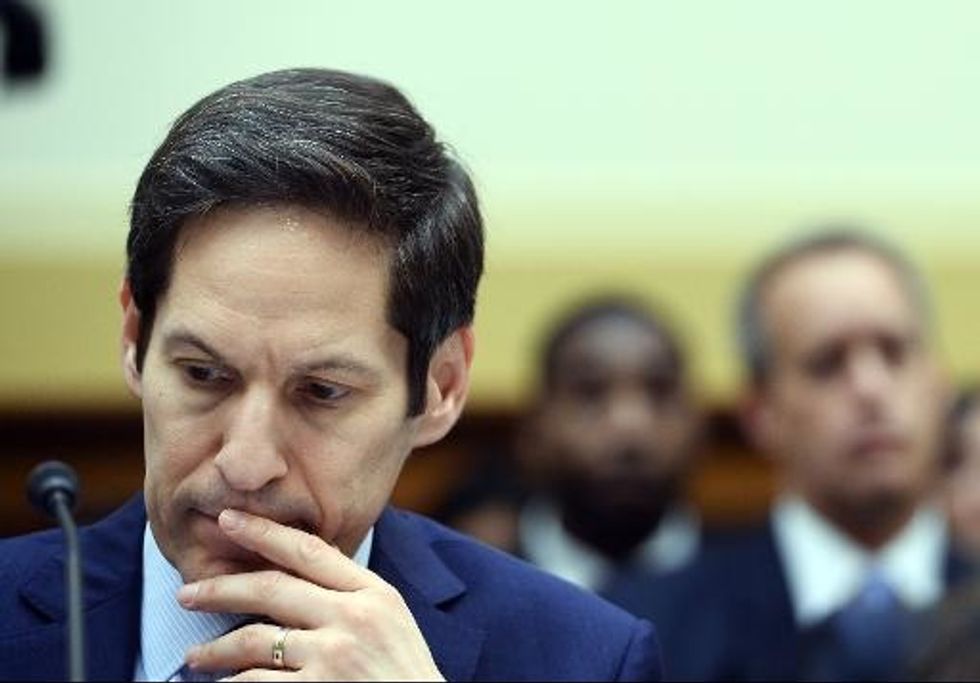 By Molly Hennessy-Fiske, Geoffrey Mohan and Michael Muskal, Los Angeles Times
DALLAS — The second of two nurses at a Dallas hospital who tested positive for Ebola should not have flown on a commercial airline and is being sent to Emory University Hospital in Atlanta for treatment, officials said Wednesday.
The nurse, who had treated Ebola patient Thomas Eric Duncan, flew Frontier Airlines flight 1143 from Cleveland, arriving Monday night in Dallas, according to the Centers of Disease Control and Prevention. The woman reported symptoms of Ebola on Tuesday morning and was placed in isolation.
"She should not have traveled on a commercial airline," CDC director Tom Frieden told reporters during a news briefing. The nurse was among a group of about 76 health care workers being monitored for symptoms of Ebola.
Frieden said the agency would work to make sure no other health care workers involved in Duncan's treatment would be traveling.
The nurse was identified as Amber Vinson, working at Texas Health Presbyterian Hospital, where Ebola patient Duncan was treated and died.
Laura Smith, secretary for Vinson's father, Ronald Schuler of Akron, Ohio, confirmed that Vinson is the nurse being treated for Ebola in Dallas. She said the family was informed by the hospital and did not have any comment.
Frieden, at the news conference, said the nurse did not show any symptoms at the time of the flight, but asked the 132 passengers on the plane to contact the agency to be interviewed. Experts have said that only someone with symptoms could spread the virus, which has killed more than 4,400 people in West Africa.
Passengers were asked to call the CDC at (800) 232-4636.
"Individuals who are determined to be at any potential risk will be actively monitored," the CDC said.
In a statement, the airline said the plane remained overnight at the airport having completed its flying for the day. At that point, "the aircraft received a thorough cleaning per our normal procedures which is consistent with CDC guidelines prior to returning to service the next day. It was also cleaned again in Cleveland last night," the airline said.
"The safety and security of our customers and employees is our primary concern. Frontier will continue to work closely with CDC and other governmental agencies to ensure proper protocols and procedures are being followed."
The report of the second infection, announced early Wednesday, raises new concerns about the spread of Ebola, which has already killed more than 4,000 people in West Africa. It also raises questions about the protocols, practices and training given to doctors, nurses and laboratory technicians in the U.S. to deal with the virus.
Officials said they are still investigating how the two health care workers contracted the virus, both of whom had treated Duncan, the first person to be diagnosed with Ebola in the United States.
Officials quickly sought to calm residents.
Judge Clay Jenkins, the top elected official in Dallas County, said local authorities are now fighting a "two-front war" against Ebola in the wake of the second case.
"At the hospital, we have a situation, where two tested positive for Ebola. We have prepared contingencies for more," he said at a Wednesday morning news conference.
"You can imagine the anxiety of these people. You can imagine the gut shot that this is to the hospital that has taken care of the community for many, many years."
City officials deliberately announced the new case in time to alert and reassure people as they were waking up, Mayor Mike Rawlings told reporters at the televised briefing.
The city has already begun decontamination efforts at the home of the woman most recently infected, Rawlings said. She lives alone and has no pets, he said.
Outside the massive complex of two-story, stucco apartment buildings called The Village Bend East where the woman lives, residents jogged and snapped photos of news crews and helicopters circling. Dallas police guarded the entrances.
Neighbor James Coltharp, 50, said this was the second time he was awakened by helicopters related to an Ebola case. The first was when Duncan was diagnosed.
On Wednesday morning, Coltharp, who works in real estate, took his two Boston terriers for a walk and stopped at the police tape barricade.
"Obviously they're on high alert. Hopefully they're able to contain it," he said, "I'm just worried about other healthcare workers, that maybe they can contain it. I see a lot of people in scrubs here. We're near the hospital, a lot of them live over here."
Rawlings said officials went door to door at the apartment complex, and were handing out information to apartments nearby. A reverse 911 call went out at 6:15 a.m.
"We want to minimize rumors and maximize facts. We want to deal with facts, not fear," he said.
"I believe Dallas is anxious about this but we are not fearful," the mayor said. "It may get worse before it gets better, but it will get better."
Dr. Daniel Varga of Texas Health Resources, which runs Texas Health Presbyterian Hospital, where the cases were reported, discounted the possibility that the second case indicated a systemic problem at the facility.
"Today's development, while concerning and unfortunate, is continued evidence that our monitoring program is working," he told reporters.
In statements, the Texas Department of State Health Services and the CDC said the newly diagnosed unnamed health care worker helped treat Duncan, who was diagnosed with Ebola after arriving in Texas from Liberia last month.
Duncan was initially sent home from Texas Health Presbyterian with antibiotics, only to be rushed back three days later on Sept. 28. He died Oct. 8.
"A lot is being said about what may or may not have occurred to cause some of our colleagues to contract this disease, but it is clear there was an exposure somewhere sometime in their treatment of Mr. Duncan," Varga said.
"We're a hospital that may have done things different — with the benefit of what we know today, but make no mistake, no one wants to get this right more than our hospital, the first to diagnose this insidious disease that now has attacked two of our own," he said.
The newly diagnosed worker is in isolation at the hospital, as is Nina Pham, 26, a nurse who treated Duncan and was diagnosed with Ebola over the weekend. A contact of Pham was also in isolation but has not had been diagnosed with the virus, officials said.
A preliminary Ebola test on the second health care worker was conducted late Tuesday at a state public health laboratory in Austin, Texas, and came back positive during the night, officials said. The CDC will conduct additional tests, it was announced.
The CDC also said its experts had taken part in interviewing the second health care worker to identify any contacts or potential exposures in the community.
On Tuesday, Dr. Tom Frieden, head of the CDC, acknowledged that the government wasn't aggressive enough in managing Ebola and containing the virus as it spread from the infected patient in Texas.
The CDC plans to launch a top-flight response team, which will go to any hospital that reports an Ebola case, he said. It will include health care workers with experience in Ebola outbreaks, he said.
"I wish we had put a team like this on the ground the day the first patient was diagnosed," he added, referring to Duncan. "That might have prevented this infection. But we will do that from this day onward."
Although the CDC sent infectious disease specialists to Dallas after Duncan's diagnosis, Frieden said, "with 20/20 hindsight," he might have sent "a more robust hospital infection control team and been more hands-on" at the hospital.
At least 76 people at the hospital might have been exposed to Duncan, and all are being monitored for fever and other symptoms daily, Frieden said.
That group is in addition to the 48 others who had some contact with Duncan before he was admitted to the hospital.
The original group includes 10 people who are friends and family of Duncan, who stayed with his fiancee in the Ivy Apartments in Dallas when he arrived in Texas on Sept. 20.
Nurses at Texas Health Presbyterian have described a confused and chaotic response to Duncan's arrival in the emergency room, alleging in a statement Tuesday that he languished for hours in a room with other patients and that hospital authorities resisted isolating him.
In addition, they said, the nurses tending him had flimsy protective gear and no proper training from hospital administrators in handling such a patient.
The allegations, made under unusual circumstances, provided the first detailed portrait of Duncan's second trip to the emergency room, where he arrived by ambulance days after doctors had sent him home with a fever, a headache, abdominal pain and a prescription for antibiotics.
Tuesday's claims about the initial response came during a conference call with reporters in which none of the nurses from Texas Health Presbyterian spoke directly or were identified to reporters.
A statement outlining a litany of critical assertions was read by Deborah Burger, co-president of National Nurses United. The nurses union does not represent the Dallas nurses, who are non-unionized, but has been vocal about what it says are hospitals' failures to prepare for Ebola.
Pham became the first person in the United States to contract the disease on U.S. soil as she cared for Duncan.
In a statement released Tuesday, she said she was doing well. The hospital listed her condition as good.
She also received a plasma transfusion from a doctor who recovered from the virus, and the hospital's CEO said medical staff members remain hopeful about her condition.
Mohan reported from Dallas and Muskal from Los Angeles. Staff writer Nicole Charky contributed to this report.
AFP Photo/ Jewel Samad