Secret Service Chief Grilled For 'Unacceptable' White House Breach
@AFP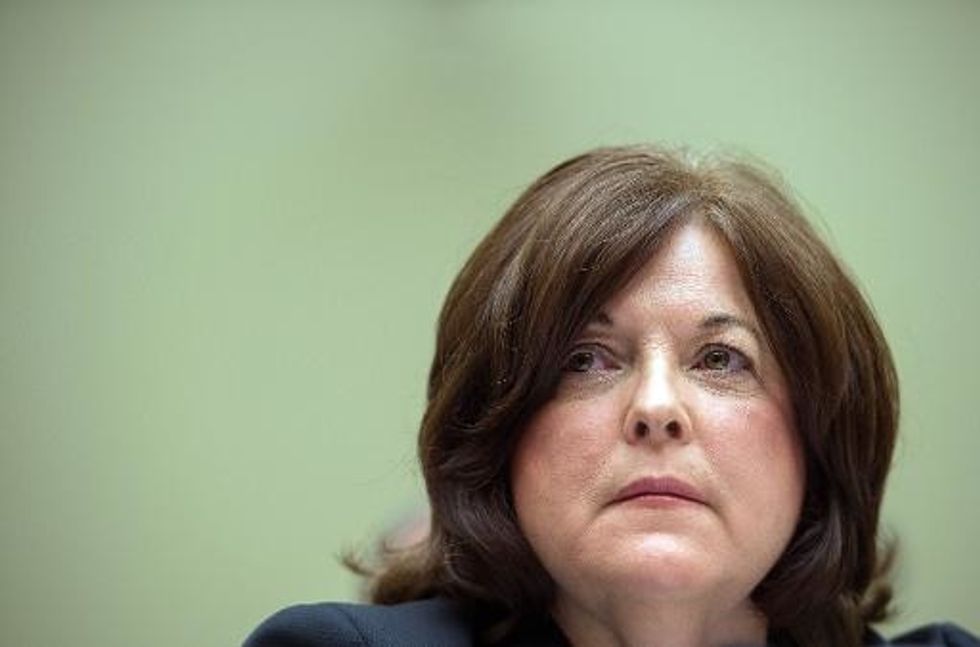 Washington (AFP) – The U.S. Secret Service chief endured withering criticism Tuesday from lawmakers outraged over security lapses at the White House, but she pledged to revamp the agency to prevent such lapses from recurring.
"This is unacceptable. I take full responsibility and it will never happen again," Secret Service director Julia Pierson told U.S. lawmakers.
The grilling came after a man carrying a knife jumped the fence at the White House on September 19 and made it deep into the presidential mansion before being stopped — the latest in a string of scandals involving the Secret Service.
House Democrat Gerald Connelly called it "a cascading set of mistakes" that put President Barack Obama and his family in jeopardy.
Lawmakers wanted to know how the latest intruder, a U.S. Army veteran, could scale the 7-foot, 6-inch (2.3-meter) fence, race across the lawn, dash through the unlocked front doors of the White House and run into the ceremonial East Room without being stopped.
Pierson, who has been the agency's chief since March 2013, said a thorough investigation had been launched and she acknowledged that the elite service has had its "share of challenges" in recent years.
"I intend over the coming months to redouble my efforts, not only in response to this incident, but in general to bring the Secret Service to a level of performance that lives up to the vital mission we perform," she told the House Government Oversight Committee.
Committee chairman Darrell Issa said it was "amazing and unacceptable" that an intruder made it into the White House, and blasted the Secret Service for its "history of misbehavior and security failures."
"Inexplicably, Omar Gonzalez breached at least 'five rings' of security on September 19th," Issa told Pierson.
"The fact is, the system broke down on September 19 as it did when the Salahis crashed a state dinner in November 2009, or when Oscar Ortega-Hernandez successfully shot at the White House on November 2011," Issa said.
He also noted other embarrassing lapses by Secret Service agents, including a prostitution scandal in Colombia in 2012 ahead of a visit there by Obama, and an episode of heavy drinking in the Netherlands last March.
The 2011 incident was the subject of an explosive Washington Post report last weekend that highlighted how long it took for the Secret Service to determine that that the White House was struck by gunfire while one of Obama's daughters was inside.
Under questioning, Pierson acknowledged that while witnesses saw a man firing shots toward the White House, it was not until "three to four days later" that the Secret Service discovered the mansion had been hit.
Some lawmakers suggested that Pierson, who served for decades as a Secret Service officer before becoming chief, had tried to cover up several agency lapses that ultimately led to the September 19 breach.
"I wish to God you protected the White House like you protected your reputation here today," House Democrat Stephen Lynch boomed. "I have very low confidence in the Secret Service under your leadership."
The committee's top Democrat, Elijah Cummings, also expressed outrage at the latest breach.
"I hate to even imagine what could have happened if Gonzalez had been carrying a gun instead of a knife when he burst inside the White House," Cummings said.
"This recent incident unfortunately causes many people to ask whether or not there is a much broader problem with the Secret Service."
Republican Jason Chaffetz, who heads the panel's national security subcommittee, told Pierson that "overwhelming force" — not "restraint" — should be used on a White House intruder.
"If the would-be intruder cannot be stopped by a dog or intercepted by a person, perhaps more lethal force is necessary," Chaffetz said.
Issa peppered Pierson with questions about how the intruder managed to get so far into the presidential mansion before being subdued.
"Why didn't security dogs stop him in his tracks? What about the SWAT team?" Issa said. "And why was the door left unlocked?"
"The front door at the time did not have an automatic locking mechanism," Pierson acknowledged. Such a system has since been installed, she said.
Several lawmakers noted that authorities knew Gonzalez had a history of mental problems.
Virginia state police had apprehended him earlier this year with several weapons in his car, and Secret Service agents had discovered him walking past the White House with a hatchet in his belt in August. And yet, they said, Gonzalez was not put under tighter restrictions.
"This is the Secret Service against one individual with mental illness — and you lost," Lynch said.
AFP Photo/Jim Watson