Secret Surveillance Court Judges Oppose Reform Ideas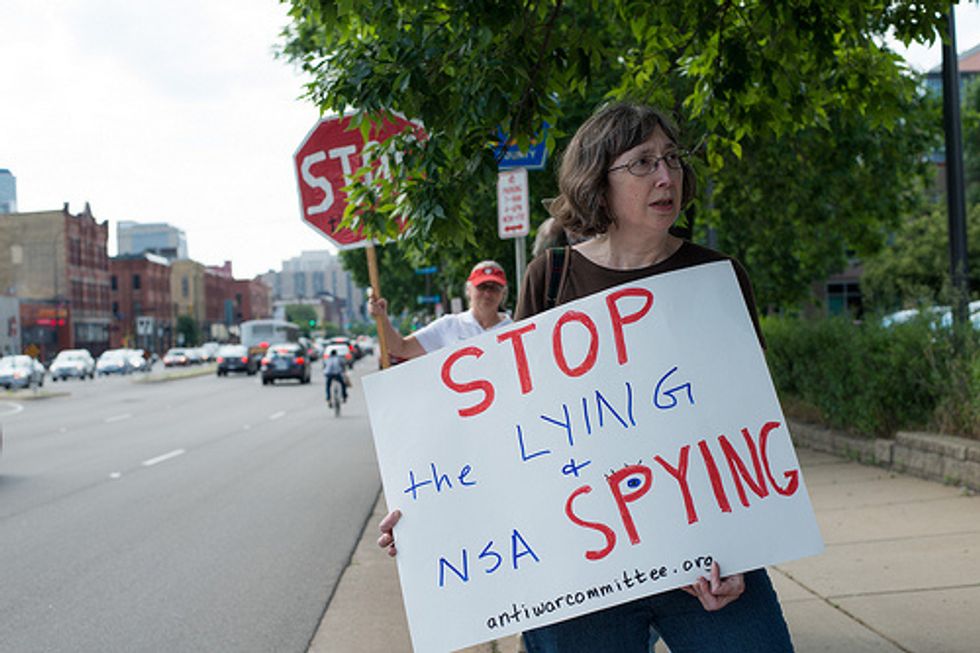 By Ken Dilanian, Tribune Washington Bureau
WASHINGTON — Judges on the federal government's secret surveillance court have strongly rejected any proposed changes to their review process, putting unexpected pressure on the White House on Tuesday as President Barack Obama prepares a speech aimed at bolstering public confidence in how the government collects intelligence.
In a blunt letter to the House and Senate intelligence and judiciary committees, U.S. District Judge John D. Bates made it clear that the 11 judges on the Foreign Intelligence Surveillance Court are united in opposition to key recommendations by a presidential task force last month aimed at increasing transparency and judicial oversight, including at least one that Obama has tentatively endorsed.
The surveillance court judges have not previously gone public so it is difficult to gauge how much weight their opposition carries. But their skepticism adds to a list of hurdles for those advocating significant reforms following former National Security Agency contractor Edward Snowden's massive disclosures of domestic and foreign surveillance programs.
Most surprisingly, Bates said the judges opposed adding an independent advocate for privacy and civil liberties to the court's classified hearings, saying the proposal was "unnecessary, and could prove counterproductive."
Obama and some intelligence officials have publicly signaled support for creating an adversarial legal process in the court, which now hears only from government lawyers, and aides have suggested the president will create an advocate's position or call for legislation to do so in a speech scheduled for Friday morning at the Justice Department. The proposal was widely viewed as among the least controversial of the changes under consideration at the White House.
But Bates disagreed sharply, arguing that "the participation of an advocate would neither create a truly adversarial process nor constructively assist the courts in assessing the facts, as the advocate would be unable to communicate with the target or conduct an independent investigation."
Adding an advocate to "run-of-the-mill FISA matters would substantially hamper the work of the courts without providing any countervailing benefit in terms of privacy protection," he added.
Bates is the former presiding judge of the court, which was created under the 1978 Foreign Intelligence Surveillance Act and reviews applications from intelligence and law enforcement agencies for classified surveillance warrants and programs. He now serves as liaison for the federal judiciary on FISA issues.
Bates said he had consulted with current and former judges on the secret court and one above it that reviews its decisions, and thus speaks for them. His three-page letter was accompanied by 15 pages of judicial comments and legal footnotes.
The judges were uniformly against making the secret judicial review more transparent, a practice that Obama has espoused. "Releasing freestanding summaries of court opinions is likely to promote confusion and misunderstanding," Bates wrote.
His letter said the judges also opposed broadening the selection process of FISA court judges, who now are chosen only by the chief justice of the Supreme Court. Obama has not signaled whether he is considering changing that system to add diversity to the FISA court.
Not unexpectedly, the judges announced their reluctance to drastically expand their caseload by being required to review and approve so-called national security letters. The FBI currently uses the letters and needs no warrant to issue administrative subpoenas to gain access to customer records from telephone, credit card and other companies more than 20,000 times a year.
Even if they were given extra resources, requiring a judge's approval for each subpoena "would fundamentally transform the nature of the (court) to the detriment of its current responsibilities," Bates wrote.
Senior FBI and intelligence officials already had lined up in opposition to requiring warrants for the national security letters, and Obama has shown no sign of planning to upend that system.
The most sweeping recommendation by the presidential task force would force the NSA to stop collecting and archiving Americans' telephone toll records, and shift responsibility for the vast database back to the telephone companies or a private entity. White House aides have said Obama is strongly considering some variation of the proposal, which would require action by Congress.
But telecommunications officials and some members of Congress are sharply opposed to ordering private companies to hold records of billions of American telephone calls for government use because of potential legal liability and the cost.
At a Senate Judiciary Committee hearing Tuesday, some lawmakers worried whether the records would be secure in private hands.
Among those who testified was Cass Sunstein, a former Obama adviser who served on the task force. Asked about Bates' opposition to naming a privacy advocate, Sunstein told the committee: "We respectfully disagree with that one…. In our tradition, the judge doesn't decide whether one (side) or another gets a lawyer."
Privacy activists don't expect Obama to announce major reforms in his speech Friday, said Fred Cate, a law professor at Indiana University.
"I don't think anyone is expecting this to be good news," he said. Given that Snowden's leaks to the media have caused an uproar overseas, "I don't see that this is likely to get him out of hot water with Europe or with the privacy community."
Photo: Fibonacci Blue via Flickr