Secretary Of State Pompeo Debunked Trump's 'Deep State' Conspiracy Theory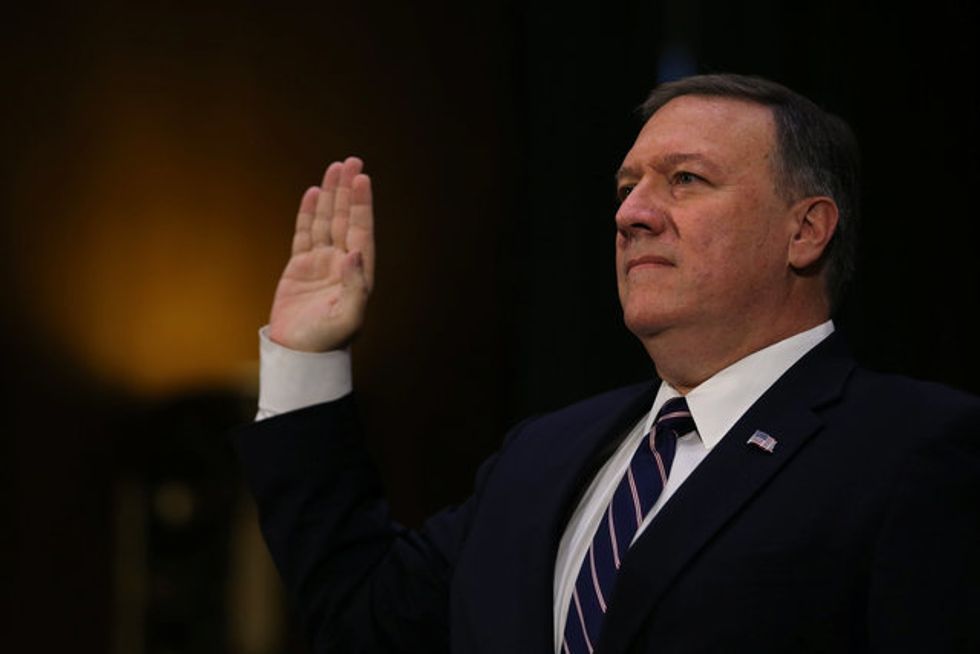 As part of his absurd "deep state" conspiracy theory about U.S. intelligence agencies being out to get him, Trump has ordered an investigation into how the CIA handled its investigation of Russian election interference. Specifically, Trump is hoping that an investigation led by one of his loyalists, Attorney General William Barr, will cast doubt on the CIA's conclusion that Russia wanted Trump to win the race.
There's just one problem, as Politico reported Friday. Trump's own secretary of state, Mike Pompeo, already debunked this theory — two years ago, in a thorough inquiry he led when he was the head of the CIA.
The inquiry, which Politico noted was conducted at the CIA's "highest levels," verified that the CIA did nothing improper in its investigation.
Pompeo "ultimately found no evidence of any wrongdoing, or that the analysts had been under political pressure to produce their findings," the outlet reported.
The investigation was more extensive than simply a briefing.
"Pompeo asked the officers tough questions about their work and how they determined Putin's specific objectives," a source familiar with the process told Politico.
Despite Pompeo's investigation and its conclusions, however, Barr has brought in U.S. attorney John Durham to re-investigate the CIA.
The CIA investigation is just one part of Durham's inquiry, which many in the national security community find to be inappropriate and alarmingly broad, Politico notes.
"The Justice Department's job is to see whether a crime has been committed, not to assess the quality of intelligence analysis," former acting CIA director Michael Morell told Politico. "They have no training or experience in that."
Former CIA analyst Jeffrey Edmonds told the outlet that he fears the Barr inquiry "is a political attempt to undermine the intelligence community's assessment."
House Republicans allied with Trump have also tried to attack the agency's work on the Russia investigation — even though the inquiry led by Senate Republicans affirmed the CIA's findings.
The U.S. intelligence community has very clearly found that Russia intended to help Trump when it interfered in the 2016 presidential election. Even Trump's own secretary of state came to the same conclusion.
Yet Trump is still pushing his loyalists to find another explanation that makes him look better.
Published with permission of The American Independent. 
IMAGE: Mike Pompeo testifies before a Senate Intelligence hearing on his nomination to head the CIA on Capitol Hill in Washington January 12, 2017. REUTERS/Carlos Barria