Select Committee Mulls Criminal Referral Of Trump For January 6 Coup Plot
@next2godwin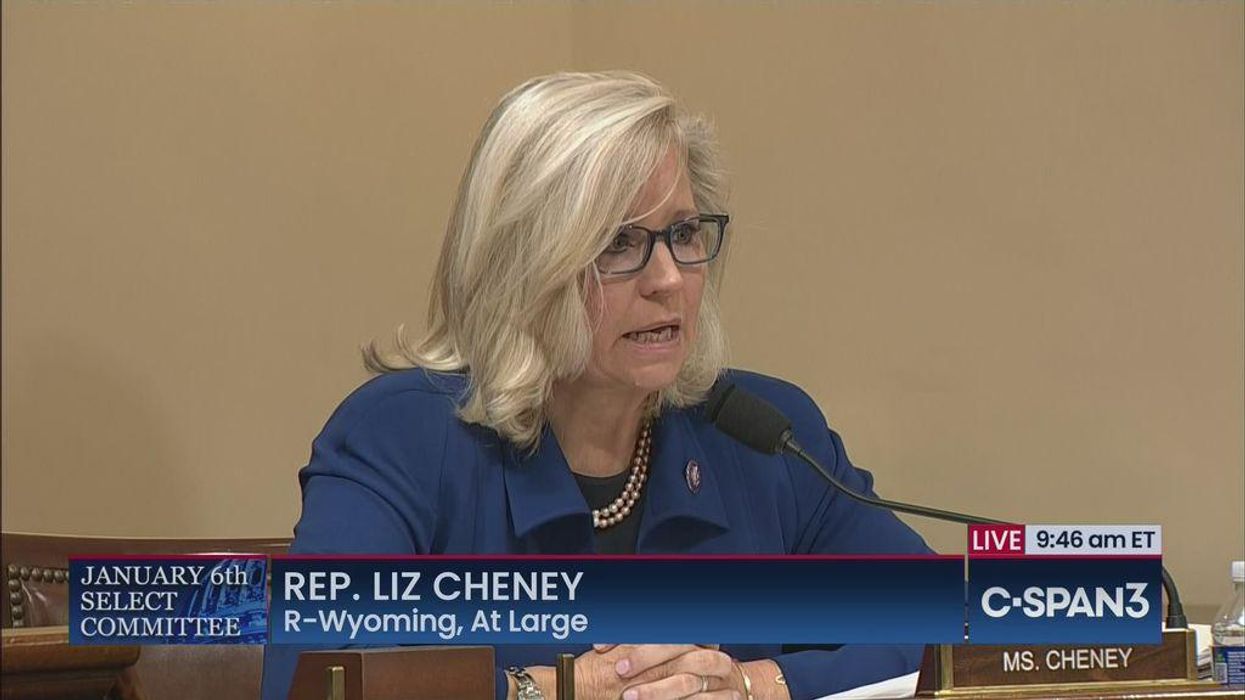 Liz Cheney
The leaders of the House Select Committee on the January 6 Insurrection, a bipartisan panel probing the U.S. Capitol riot, are debating whether to send Attorney General Merrick Garland a criminal referral for former President Trump, despite having enough evidence to do so,according to the New York Times..
A criminal referral is only a notification to the Department of Justice about possible criminal conduct. Yet members of the committee are concerned that issuing one for former President Trump would politicize an ongoing Justice Department investigation into the Capitol attack and the events that preceded it. This effort has yielded over 775 arrests nationwide.
Since last summer, a group of ex-federal prosecutors working for the committee has been investigating the riot, what led up to it, and former President Trump and his allies' roles in inciting it.
The committee has conducted over 800 depositions, obtained nearly 90,000 documents relating to the investigation, and even issued criminal referrals for top Trump allies — notably Steve Bannon, former White House chief strategist; Mark Meadows, former chief of staff; and, most recently, Peter Navarro and Don Scavino, two of then-President Trump's top advisers.
Rep. Liz Cheney (R-WY) told CNN that Trump and his allies knew their actions preceding the insurrection were "unlawful," but "they did it anyway." She added that the committee had yet to decide on issuing a criminal referral.
Cheney's remarks came after the Times reported that the committee was confident it had obtained enough evidence to send the DOJ a criminal referral for former President Trump.
"The committee has … a tremendous amount of testimony and documents that I think very, very clearly demonstrate the extent of the planning and the organization and the objective, and the objective was absolutely to try to … interfere with that official proceeding," Cheney told the CNN's State of Union. She also cited U.S. District Court Judge Carter's ruling in March that former President Trump "more likely than not" obstructed Congress in efforts to stop the certification of the Electoral College results.
According to the Times, committee members and staffers believe this ruling holds more weight than a criminal referral — which could be construed as a Democratic vendetta against former President Trump, who has been teasing a re-run in 2024 — ever could.
Rep. Zoe Lofgren (D-CA), a member of the House panel, didn't see the need for a referral. "If you read his decision, I think it's quite telling," she said of Judge Carter's ruling, according to the Times.
Rep. Elaine Luria (D-VA), another member of the House panel, called for the committee to issue referrals for crimes it uncovers, telling MSNBC, "I would say that I don't agree with what some of my colleagues have said about this."
Cheney played down reports of a divide in the committee. "I wouldn't characterize there as being a dispute on the committee. I think that it is the single most collaborative committee on which I have ever served. I'm very proud of the bipartisan way in which we're operating," she told CNN.
The committee is wrapping up its 10-month-long investigation and aims to publish its final report in September, with public hearings held sometime during the summer.