Sen. Chris Murphy Leads Democrats Filibustering For Gun Control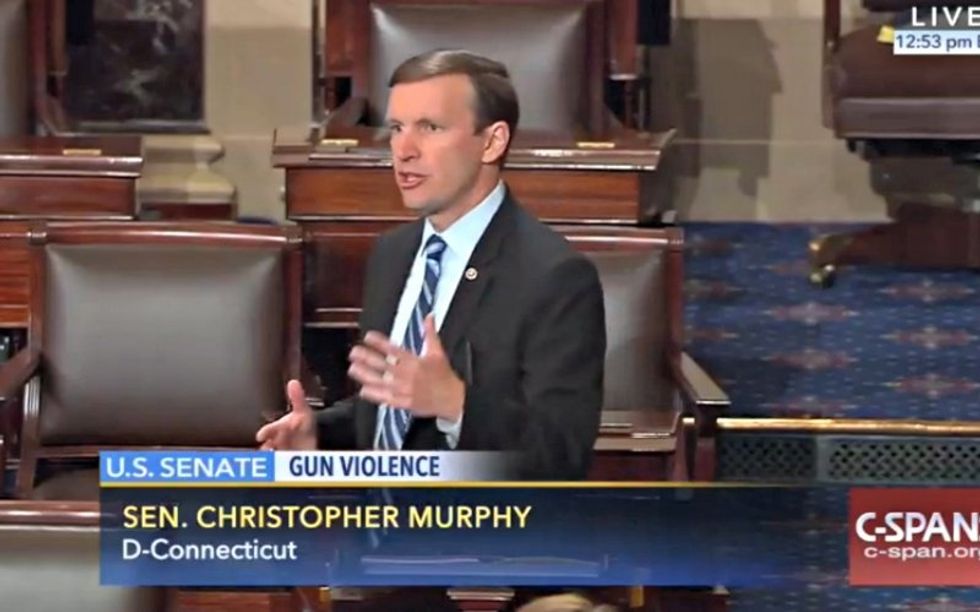 In the wake of the Orlando shooting that left 49 dead, Senator Chris Murphy launched a filibuster on the Senate floor Wednesday at 11:20 a.m.
Murphy is calling on Republicans and Democrats to act towards closing the "terror loophole," which would require legislation that stops suspected terrorists from buying firearms and requires universal background checks.
This morning Chris Murphy announced the filibuster on Twitter:
I am prepared to stand on the Senate floor and talk about the need to prevent gun violence for as long as I can. I've had #Enough

— Chris Murphy (@ChrisMurphyCT) June 15, 2016
The senate was scheduled to debate a spending bill, but Murphy is making a stand for gun control, stating that the senate should "not proceed with debate on amendments to this bill until we have figured out a way to come together on, at the very least, two simple ideas."
Senator Chris Murphy has been a strong advocate for gun control since the 2012 Sandy Hook Elementary school tragedy, which took the lives of 6 adults and 20 children in his home state of Connecticut.
Democratic Senators Richard Blumenthal and Cory Booker have joined Murphy's effort and took to Twitter to pledge their support.
Today's effort is more than about just words—we're seeking action. Action that has been too long delayed on preventing #GunViolence. #ENOUGH

— Richard Blumenthal (@SenBlumenthal) June 15, 2016
I'm just off Sen floor with @ChrisMurphyCT to say #ENOUGH of business as usual. We must pass common sense gun safety. We will hold Sen floor

— Cory Booker (@CoryBooker) June 15, 2016
Senator Bernie Sanders also tweeted his support for Chris Murphy:
I stand with @ChrisMurphyCT to demand common sense gun safety. We can't allow guns to fall into the hands of people who shouldn't have them.

— Bernie Sanders (@SenSanders) June 15, 2016
More Democrats are expected to join in on the filibuster in the coming hours.
The Orlando shooting, the largest casualty mass shooting in U.S. history, has provoked several other gun control efforts. Donald Trump is reportedly meeting with the National Rifle Association to discuss the "terror loophole" and Michael Bloomberg's gun control group Everytown for Gun Safety has confirmed that they are working with Republican Senator Pat Toomey on the same issue.
You can watch Murphy's filibuster live here.