Sen. Graham Blames FBI For Trump Campaign's 'Improper' Russian Contacts
@EricBoehlert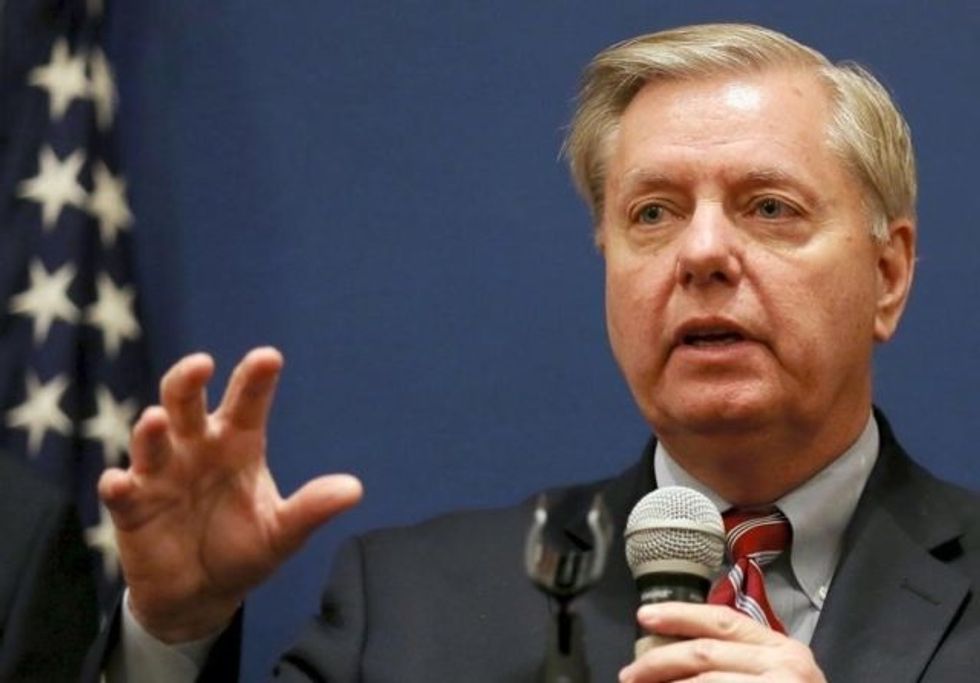 Reprinted with permission from Shareblue.
Sen. Lindsey Graham (R-SC) is troubled that staffers on Trump's 2016 campaign had "inappropriate ties" with Russia, and he knows just whose fault that is: the FBI.
In a strange and clumsy attempt to cover for the White House, Graham sent a letter to FBI Director Christopher Wray, wanting to know why the FBI didn't try to protect the Trump campaign from possibly colluding with Russia.
"Upon developing concerns that Trump campaign staffers George Papadopoulos, Carter Page, Michael Flynn and Paul Manafort had improper ties to the Russian government, what defensive briefings did the FBI provide to then-candidate Trump or the Trump campaign of the potential threat?" Graham wrote.
"Given the continuing efforts by Russia and other bad actors to infiltrate American elections, what policies does the FBI have in place to warn current and future candidates of foreign efforts and attempts to infiltrate their campaigns?"
The reality is that the FBI did try to warn Trump. He just didn't care.
"In the weeks after he became the Republican nominee on July 19, 2016, Donald Trump was warned that foreign adversaries, including Russia, would probably try to spy on and infiltrate his campaign," NBC News has reported.
Counterintelligence specialists from the FBI led the briefing. Candidates were urged to alert the FBI about any suspicious overtures to their campaigns.
Incredibly, that warning came two months after Trump and his campaign had already colluded with Russian adversaries by meeting with them at Trump Tower to discuss campaign dirt they promised to deliver on Hillary Clinton.
That meeting did not come to light until Trump was already in office, and the story from Trump and his inner circle about that meeting has continued to change.
Trump himself insists there was never any collusion or improper ties. Graham now seems to concede that there was, but blames the FBI for not stopping it.
Last year, when George Papadopoulos, a foreign policy adviser on Trump's campaign, was indicted by Robert Mueller's prosecutors on charges of lying to the FBI — and subsequently pleaded guilty— one former Trump campaign adviser famously dismissed him as nothing more than a "coffee boy." But now Graham is demanding to know why the FBI didn't focus its attention on him.
The attempted blame-shifting is equally strange because prior to Trump's 2016 campaign, no other presidential campaign in U.S. history had ever been shown to have openly colluded with a foreign adversary, the way the Republican nominee did.
Graham seems to be beseeching the FBI to fix a rampant problem — foreign actors infiltrating U.S. campaigns — that only applies to Trump.
Meanwhile, the idea that Trump would have cared about more specific FBI warnings about his advisers and their possible Russian connections doesn't pass the laugh test.
We know that because in January 2017, just days into the Trump presidency, then-acting Attorney General Sally Yates went to the White House and told lead counsel, Don McGahn, that Trump's then-national security adviser Michael Flynn had most likely lied about his previous calls with Russia's ambassador to the U.S., Sergey Kislyak.
The White House was further advised that Flynn could be compromised.
Days later, Yates was fired by Trump.
In December 2017, Flynn pleaded guilty to lying to the FBI about those conversations with Kislyak.
Trump also ignored a warning directly from President Obama, in November 2016, not to hire Flynn. President Obama had fired Flynn, who was head of the Defense Intelligence Agency, in 2014.
A former Obama official said that the warnings were not just about Flynn's egregious behavior at DIA, but the fact that "Flynn's name kept popping up" in the investigation into Russia's election interference in 2016.
Trump ignored President Obama's advice, however, and hired Flynn anyway.
Today, Graham's trying to argue the FBI dropped the ball with regards to Russia's improper contacts with the Trump campaign. In truth, the Trump team was hiding the ball the whole time.
Published with permission of The American Independent.