Sen. Graham: Let's Investigate Democrats, Not Kavanaugh's Boozing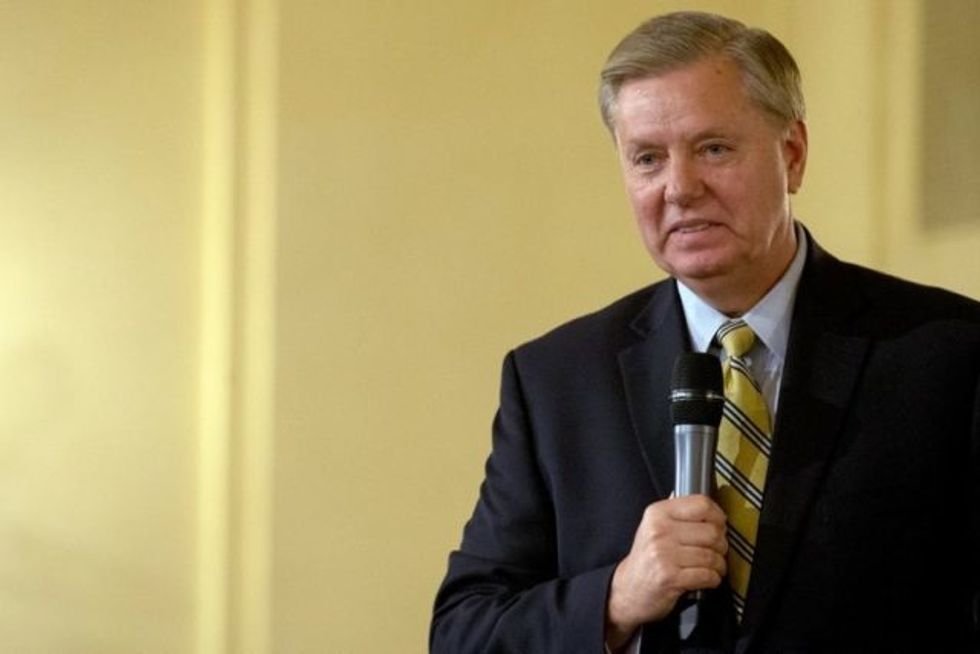 Reprinted with permission from Shareblue.
Sen. Lindsey Graham (R-SC), who has been a steadfast attack dog for Supreme Court nominee Brett Kavanaugh, said he doesn't think the FBI should investigate whether Kavanaugh lied under oath — and that Senate Democrats are the ones who should be investigated instead.
On Sunday morning's edition of "This Week," host George Stephanopoulos asked Graham about reports that the FBI's newly reopened background investigation into Kavanaugh won't include interviews with witnesses who remember seeing Kavanaugh frequently drinking to excess.
"It appears that the FBI will not be questioning those college witnesses who contradict Brett Kavanaugh's testimony about his drinking," Stephanopoulous said. "Now, isn't that relevant, given that there clearly was drinking going on, at least it's alleged, at the party?"
"No," Graham replied. "I think you're trying to portray him as a stumbling, bumbling, drunk gang rapist who, during high school and college, was Bill Cosby."
It's shocking that Graham would so flatly deny the possible relevance of Kavanaugh's drinking habits.
The scope of that reopened FBI background investigation is unclear, but as Stephanopoulos pointed out, Kavanaugh's drinking is extremely relevant. During his unhinged and belligerent testimony under oath, Kavanaugh repeatedly denied drinking heavily enough to have even partially lost memories of his actions.
But several of Kavanaugh's former classmates came forward last week to describe his excessive drinking in college — and one even used the word "stumbling." Kavanaugh himself even boasted of his heavy drinking during a 2014 speech, as well as in his own high school yearbook.
Questioning witnesses about Kavanaugh's drinking could provide support for Dr. Christine Blasey Ford's testimony that a "visibly drunk" Kavanaugh tried to rape her. And it could also verify what already seems apparent: that Kavanaugh lied under oath about his drinking, among other things.
But instead of defending Kavanaugh based on the evidence, Graham chose to act outraged on Kavanaugh's behalf just because the allegations against him are so serious.
And instead of investigating whether Kavanaugh really was a "stumbling, bumbling, drunk gang rapist," Graham said he wants to investigate his Democratic colleagues on the Senate Judiciary Committee — who have done everything in their power to make sure that Christine Blasey Ford's story could be heard and properly investigated — for a dubious laundry list of alleged offenses related to Ford's allegations being made public.
"We're going to do a wholesale, full-scale investigation of what I think was a despicable process to deter it from happening again," Graham said.
Republicans on the Senate Judiciary Committee voted unanimously to advance Kavanaugh's nomination to the Supreme Court on Friday, but Sen. Jeff Flake (R-AZ) joined Democratic calls for an FBI investigation after two women confronted him on an elevator with their own stories of surviving sexual assault.
Americans don't deserve a Supreme Court justice who routinely lies under oath — and they don't deserve senators who are willing to send a possible perjurer to sit on the highest court in the land.
Published with permission of The American Independent.