Sen. Graham Now Encouraging Trump To Fire Sessions
@EricBoehlert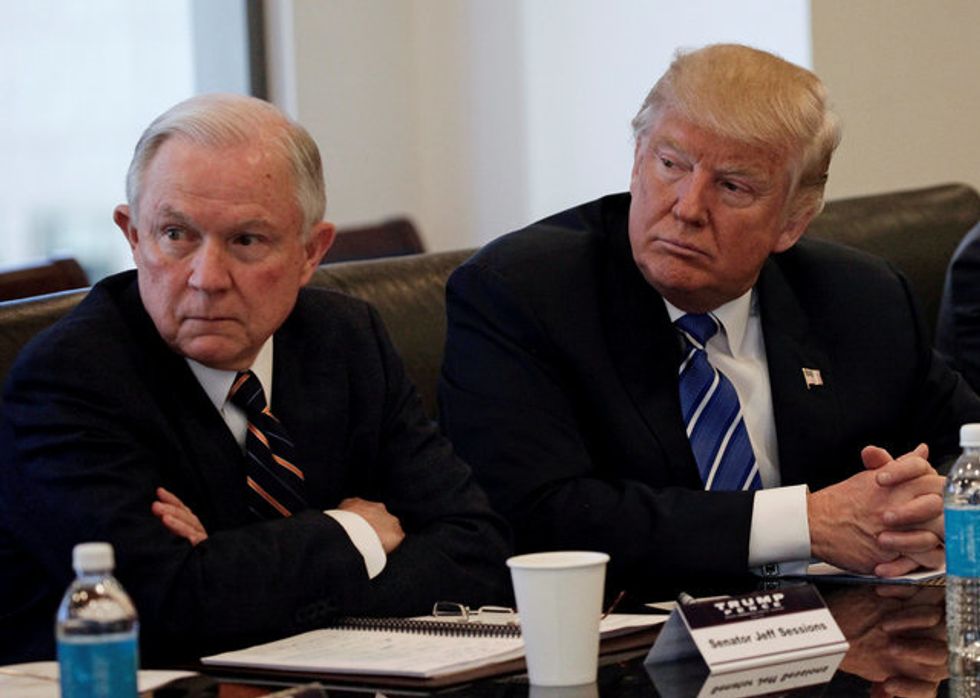 Reprinted with permission from Shareblue.
Embattled Attorney General Jeff Sessions is facing a new threat to his job security, and it's coming from a fellow Republican and former Senate colleague.
Sen. Lindsey Graham (R-SC) on Thursday said it's "very likely" Trump will replace Sessions, and suggested Trump has every right to make what would be a wildly controversial Cabinet change.
"The president's entitled to an attorney general he has faith in, somebody that's qualified for the job, and I think there will come a time, sooner rather than later, where it will be time to have a new face and a fresh voice at the Department of Justice," Graham told Bloomberg News. "Clearly, Attorney General Sessions doesn't have the confidence of the president."
Graham counseled the White House not to fire Sessions before the midterm elections in November, because if Sessions is dismissed too soon it would complicate GOP efforts to get Brett Kavanaugh confirmed to the Supreme Court.
Thirteen months ago Graham was emphatic that Trump not fire Sessions.
"I'm 100% behind Jeff Sessions," Graham said in July, 2017. "If Jeff Sessions is fired, there will be holy hell to pay."
Bloomberg notes that Graham himself would likely be a candidate to become the next attorney general if Sessions were dismissed.
Sessions has moved aggressively to help implement Trump's agenda, particularly his racist anti-immigration agenda.
Still, Sessions remains a favorite punching bag of Trump's, who appears to be furious his attorney general isn't actively containing the Russia scandal from within the Department of Justice.
"He took the job and then he said, 'I'm going to recuse myself,'" Trump told Fox News in an interview that aired on Thursday. "I said, 'What kind of man is this?' And by the way, he was on the campaign. The only reason I gave him the job, I felt loyalty. He was an original supporter."
Another Republican Senator sending signals to the White House this week about Sessions is Sen. Chuck Grassley (R-IA). Last year, the chairman of the Judiciary Committee stressed he wouldn't have time to hold hearings for a new attorney general if Trump fired Sessions.
Now, Grassley tells Bloomberg the committee would be able to accommodate the White House in terms of possible new confirmation hearings.
A White House move against Sessions would likely spark a full-blown crisis.
That's because if Trump fired Sessions, the new attorney general would be able to take direct oversight of special counsel Robert Mueller's Russia investigation and could, in theory, cripple it. The new attorney general could even fire Mueller outright.
And Democrats might be powerless to stop the GOP attempt to ransack the Russia probe.
"Trump wouldn't need to wait until his new choice for attorney general was confirmed by the Senate, which would be a difficult fight," Bloomberg notes. "He could install an interim attorney general directly after ousting Sessions, although some legal experts argue that the powers of such an interim appointee would be limited."
Graham is now sending a crucial message he would support Trump's authoritarian move to oust Sessions.
Published with permission of The American Independent.