Sen. Grassley Calls Trump Tariffs 'Catastrophic' For Iowa Farmers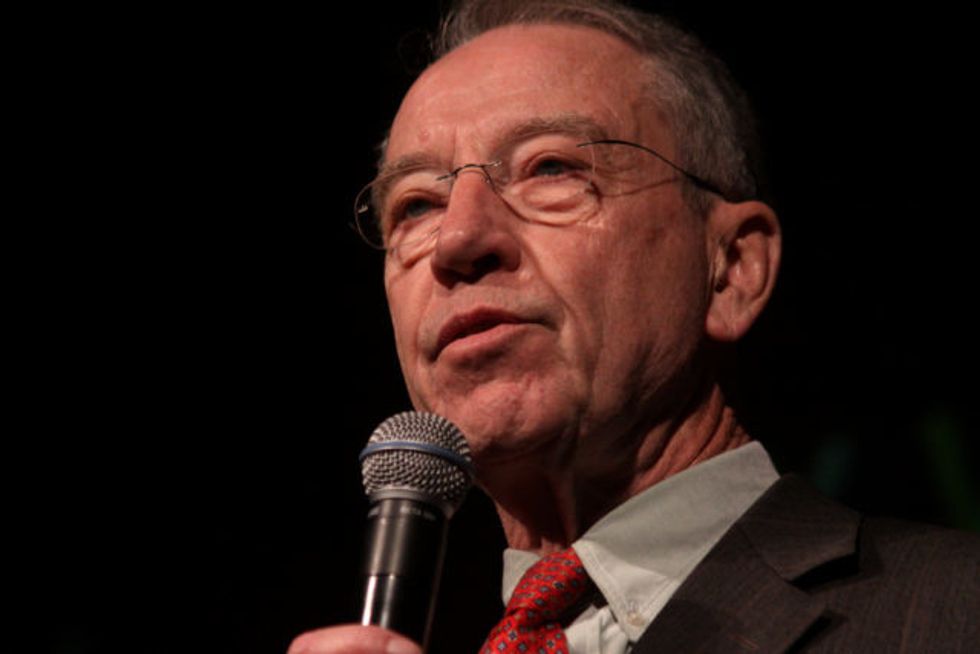 Reprinted with permission from Shareblue.
One of Trump's strongest supporters in the Senate is admitting Trump's ill-considered trade war is hurting American farmers.
Appearing on CNN, Sen. Chuck Grassley (R-IA), told the network that Trump's tariffs have been "very, very detrimental" to Iowa and he is "very, very nervous" about the effect the trade war will have on his constituents.
"Right now, on soybeans and corn in my state, it is catastrophic with the dramatic drops in prices that we've had," he continued.
Grassley has been a consistent Trump supporter and has a record of backing his agenda 91.9 percent of the time in Congress.
Trump chose to ignore an internal White House assessment that his decision to pursue an international trade war would hurt the U.S. economy, and went ahead with imposing tariffs on goods imported from China.
In retaliation, the Chinese government has put new tariffs on goods they receive from America, most notably on soybeans that come from farmers based in many of the states that backed Trump in 2016.
The effect of the tariffs is that it makes American goods cost more to foreign buyers, so they move their business elsewhere on the global market. American farmers lose business when that happens, and the devastating effect ripples through the entire chain of businesses and individuals connected to the soybean market.
Grassley's comments, despite his enabling behavior when it comes to legislation, echoes concerns on the ground in his state from Iowa farmers.
Recently, the Iowa Soybean Association said the tariffs could cost farmers there over $600 million in profit.
Morey Hill of the Iowa Soybean Association said the use of soybean tariffs as "a weapon in the trade war" meant that "everybody is going to lose."
Trump as usual has continued to deny reality.
As Grassley was speaking, Trump tweeted that he is "always thinking about our farmers" and declared he is "fighting for a level playing field for our farmers, and will win."
But they're not winning.
BMW recently announced that they would build more cars overseas to be sold in China to offset the tariffs imposed by Trump. That decision means there will be less cars produced at the BMW plant in South Carolina, and business there will suffer as well.
The Trump trade war is already hurting the country across several industries. Grassley and his fellow congressional Republicans have done little beside issue a few mild disagreements in public.
Meanwhile American businesses are being stabbed in the back, even as many of those same workers provide electoral support for Trump and other Republicans.
Published with permission of The American Independent.