Sen. Hagan, Tillis Begin Campaign Inveighing Against Rival's State Legislative Record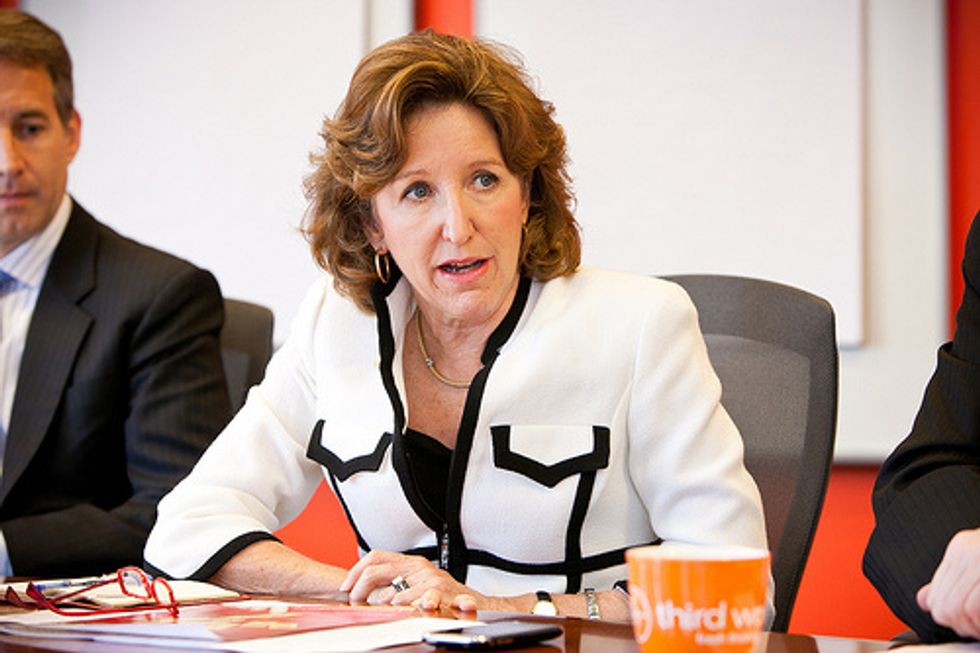 By John Frank, The News & Observer (Raleigh, NC)
RALEIGH, NC—Instead of talking Washington, Republican Thom Tillis and Democratic incumbent Kay Hagan launched the U.S. Senate race Wednesday with attacks on each other's state legislative records.
A day after winning the Republican primary, Tillis criticized Hagan's five terms in the state Senate more than her five years in the U.S. Senate, saying she added sales taxes and regulations in her tenure as a state budget writer.
He called it a clear contrast with his record since he became House speaker in 2011, touting tax-cutting legislation under the Republican leadership and efforts to ease rules on businesses.
"If you take a look at what we've done over the last three years, much of what I've been doing is cleaning up Kay Hagan's mess in North Carolina," Tillis said in an interview on MSNBC.
Hagan, in turn, blasted Tillis' legislative record by pointing to a comment he made in October 2011 that suggested the state needed to "find a way to divide and conquer" those most in need from others who receive public assistance.
She used it to add weight to her criticism of the Republican legislative agenda that cut money for teaching assistants and benefits for unemployed workers.
"We should be working together to improve people's lives, not pitting people against each other with the politics of division," Hagan said in a statement. "Unfortunately, Speaker Tillis' comment is not an isolated incident, and more than anything, his damaging legislative agenda that has been wrong for our state shows that his comments were no mistake."
In the TV interview, Tillis said he regretted the word choice but stood by his assertion of waste and abuse in public assistance programs. "When we explain what we are talking about, I believe the citizens of North Carolina agree with it," he said.
Likewise, Hagan's campaign pushed back against Tillis' statement about her state Senate record, saying she pushed against her own party at times to advocate tax cuts in 2006 and 2007, the two years before winning her U.S. Senate seat.
The verbal jousting a day after the November ballot took shape reflects the tight race for a seat that may determine partisan control of the U.S. Senate. The Rothenberg Political Report, a key Washington forecaster, moved the North Carolina Senate race to the "tossup" category Wednesday after previously ranking it as tilting slightly Democratic.
And the state legislative focus showcases the political tightrope Tillis will walk as the legislative session starts Wednesday with even more politicization than normal.
"This is an election year. The Senate race is going to play through the session," said Carter Wrenn, a Republican strategist. "…(If) he stays as speaker and you're a Democrat, you're going to politicize the session to stake Tillis out on positions he doesn't want to take."
How Tillis — who has said repeatedly he will keep his post — positions himself is under a microscope from both ends of the political spectrum.

To win the Republican primary, fending off two more conservative challengers, Tillis shifted his stance to the right. He often trumpeted himself as the leader of the "conservative revolution" in Raleigh after Republicans took complete legislative power from Democrats for the first time in a century three years ago.
But in his victory speech Tuesday, Tillis didn't mention the word "conservative" once. He instead bashed Hagan and linked her to President Barack Obama and Senate Democratic Leader Harry Reid.
Asked about it later, Tillis suggested it was an oversight. He maintained he would run on the Republican legislative record, despite the polarization it spurred in recent years in protests and lawsuits.
"That is a conservative agenda I'm proud of," he told reporters in Charlotte. "It's one that clearly resonates with the citizens of North Carolina."
Tillis is walking a fine line if he tries to move to more moderate ground, as political observers expect.
David McLennan, a political expert at William Peace University, said Tillis will want to avoid "the Mitt Romney label," a reference to the former presidential candidate's evolving positions.
"He's staked out his positions in the primary and he's got to live with them," McLennan said. "If he runs to the center he runs the risk of tea partiers and social conservatives not coming out" to vote in November.
Bill Bostic, a 62-year-old from Asheboro, worked eight hours at the polls Tuesday supporting Tillis' rival Greg Brannon, who aligned himself with the tea party and finished second in the primary.
Skeptical of Tillis, Bostic said he is considering voting for the Libertarian Party candidate, Sean Haugh. If he sticks with the Republican Party, he won't do so with enthusiasm.
"There's casting a vote and there's having passion for a candidate," Bostic said Wednesday. "They are different things."
"If I had to choose between not-so-good and rotten," he continued, referring to Tillis and Hagan respectively, "I'll choose not-so-good."
Photo: Third Way via Flickr
Want more analysis of the 2014 midterms? Sign up for our daily email newsletter!