Senate Approves Chao To Lead Transportation Department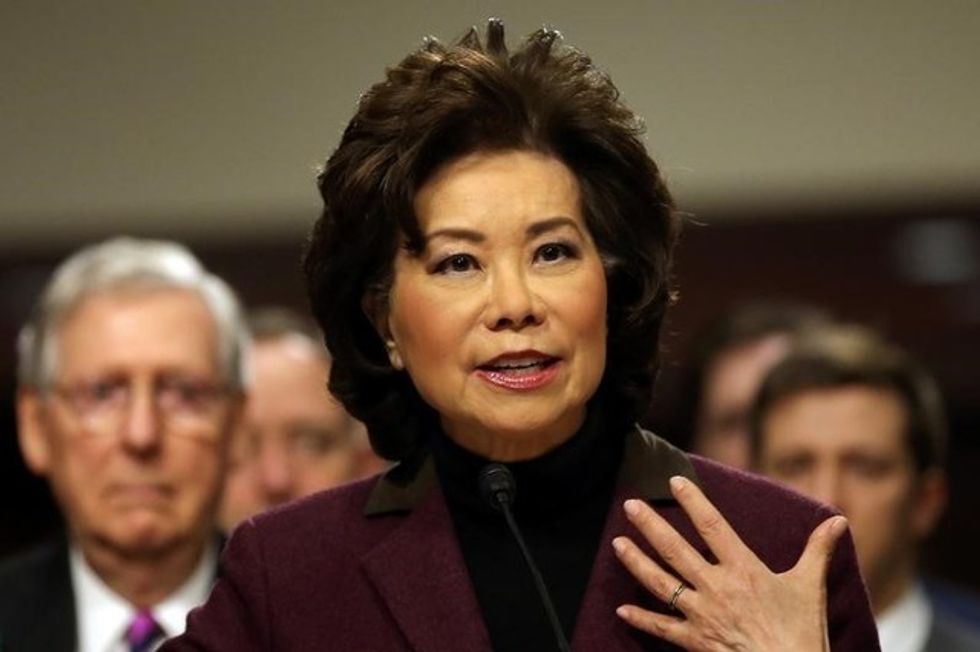 WASHINGTON (Reuters) – The U.S. Senate voted 93 to 6 on Tuesday to confirm Elaine Chao as head of the U.S. Transportation Department, which overseas aviation, vehicle, train, and pipeline safety.
Chao, a former U.S. labor secretary and deputy transportation secretary, will face key decisions on how to regulate the growing use of drones and automakers' plans to offer self-driving cars.
She will also be a key player in President Donald Trump's Cabinet if his administration pushes ahead with a major infrastructure spending program, as the businessman-turned-politician promised during last year's presidential campaign.
The Transportation Department has a $75 billion annual budget and about 60,000 employees. It includes the Federal Aviation Administration, which handles air traffic control.
Chao, the wife of Republican Senate Majority Leader Mitch McConnell and the first Asian-American woman to hold a Cabinet position, also will have to decide whether U.S. fuel efficiency standards should be revised, as some automakers have sought.
There are dozens of other pending regulatory issues facing the next administration, including railroad safety and staffing rules, whether to set rules requiring airlines give more passengers with disabilities seats with extra leg room, and whether to ban or restrict personal phone calls on U.S. flights.
At her confirmation hearing earlier this month, Chao declined to take positions on a number of issues, including whether air traffic control jobs should be privatized, concerns over the safety of shipments of crude oil by rail, foreign airlines' push to move into the U.S. market, and regulation of developing technologies.
AAA, the largest U.S. auto club with more than 50 million members, praised Chao's confirmation. AAA CEO Marshall Doney said the group "firmly believes that significant, additional investments are needed to maintain existing infrastructure and to enhance the nation's (transportation) system."
The Alliance of Automobile Manufacturers, which represents major U.S. and foreign automakers, said that from "autonomous vehicles to safety to fuel efficiency to infrastructure, Secretary Chao's leadership will profoundly impact our sector and many others."
(Reporting by David Shepardson; Editing by Paul Simao)
IMAGE: Elaine Chao testifies before a Senate Commerce Science and Transportation Committee confirmation hearing on her nomination to be transportation secretary on Capitol Hill in Washington, U.S., January 11, 2017. REUTERS/Carlos Barria