Senate Candidate In Kansas Is A Serial Business And Political Entrepreneur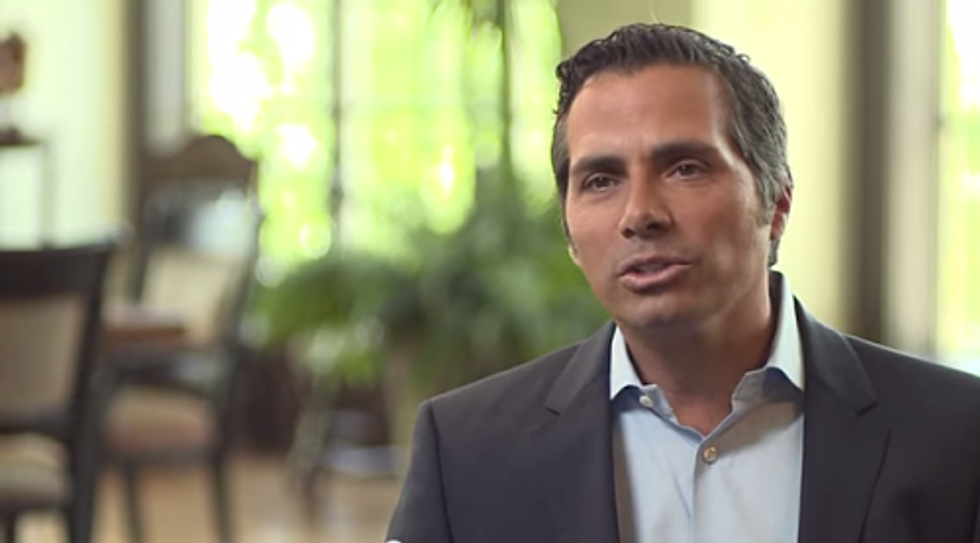 By Dave Helling, The Kansas City Star
Greg Orman once lent money to actress Debbie Reynolds.
Reynolds and her son wanted to turn her large collection of Hollywood memorabilia into a museum in Tennessee. Orman liked the idea and lent their company more than $1.6 million in 2002.
But the project foundered and the company fell behind on the debt. In 2009, Orman sued, seeking full payment of a balance calculated at more than $6 million.
He eventually settled for $5 million.
Two months ago, Orman's loan habits may have mattered to a handful of political junkies, and perhaps his family. Now, his improbably competitive independent campaign for a U.S. Senate seat in Kansas has electrified the political world — and brought a sharp focus to his 24-year business career.
It turns out Orman's loan to an obscure museum project was not unique. The independent candidate has invested in dozens of firms over the years, records show, from a local boxing equipment company to a scoreboard graphics design firm in Kansas City.
Some of those investments ended up in court. Most have not. But friends and former associates say they all reflect the candidate's strong entrepreneurial itch.
"He's a risk-taker," said Drue Jennings, the former Kansas City Power & Light Co. executive who worked closely with Orman. "But he's not a riverboat gambler. … He's very disciplined, and very studious, and never just took a flier at something. He had it thought through."
Kansas voters will soon determine if that approach can be exported to the U.S. Senate. He faces veteran Republican Sen. Pat Roberts in a race now considered too close to call.
Orman, 45, is the son of Tim Orman, who runs a furniture store in Stanley, Kan., and Darlene Gates, a retired nurse now living in Minnesota, where Orman was raised.
The elder Orman remembers his son as smart and hardworking.
"He's the real thing," he said. "I hope Kansas sees that."
After working his way through Princeton University, Orman joined McKinsey and Co., a business consulting firm, in 1991. While there, he founded Environmental Lighting Concepts, which designed and installed energy-efficient lighting.
The company caught the eye of Kansas City Power & Light in 1996. The utility bought controlling interest in Orman's firm and eventually enlisted him to run KLT Inc., a subsidiary that oversaw some of the parent company's businesses in telecommunications, natural gas and retail energy sales.
It was, in essence, a venture capital firm inside the utility.
Orman left Great Plains Energy/KCP&L in 2002 and launched a venture capital fund, Denali Partners.
"I wanted go back out on my own and start working with small businesses," Orman said.
Denali's website says the company usually spends between $1 million and $5 million on small businesses, spin-offs and joint ventures. The fund invests in real estate and energy and once bought a car wash equipment firm.
One of Denali's fund managers is Mark Schroeder of Minneapolis, a friend who helped set up Orman's lighting company and worked with him at KLT. Denali, Schroeder said, now has roughly 30 individual investors and is worth "under $100 million."
He said that the fund is actively involved in the companies it owns, but that Orman has played a diminished role in it for several years.
Orman also invests individually. He owns 75 percent of Combat Brands, which is now embroiled in a $29.6 million trademark dispute with Everlast World's Boxing Headquarters Corp. of New York over a contract involving sales of boxing gear and security equipment.
An Orman spokesman called the case "without merit."
Orman's income and assets have yet to be disclosed. He has until Sept. 21 to file a required personal financial disclosure statement with the Senate.
Orman has contributed to his own campaign. Through mid-July, he had spent $46,749 of his money on the race, according to the Center for Responsive Politics.
He had raised $671,322 by that date.
Orman said he's giving to his own campaign to avoid taking donations from political action committees.
"Would you rather someone going to Washington only beholden to you," he said, "or someone going to Washington beholden to PACs and special interests?"
Roberts accused Orman of dodging questions about his political beliefs.
"What are his principles?" Roberts asked. "We're going to have to discover that."
Orman has given to other candidates, mostly Democrats, in the past. Records show contributions to Barack Obama's campaign, as well as former U.S. Reps. Dennis Moor (D-KS) and Nancy Boyda (D-KS); Sen. Al Franken (D-MN) and Democratic congressional candidate Kay Barnes in Kansas City, Mo.
He also gave $2,000 to former Sen. Scott Brown, a Massachusetts Republican, and $2,000 to former U.S. Rep. Todd Akin in Missouri in 2006. Orman says that donation was made after a request from a friend.
"I've made contributions to lots of political candidates over time," he said, "and I've generally been disappointed with the results."
Orman's budding interest in a political career first became public in 2008, when he ran a brief campaign, as a Democrat, against Roberts.
He raised more than $450,000 for that race, and then quietly withdrew. After Saturday's debate, he was asked why he backed out.
"I don't wear party labels well," he said.
In 2010, Orman started a nonprofit called the Common Sense Coalition for Change Inc., designed to "increase understanding of public policies and their effects on everyday Americans," according to its initial tax return.
Orman lent the group $22,000 to get it started, which he said has since become a contribution. The group is now being retooled.
But the idea of an independent Senate candidacy had started to grow. In Olathe, Kan., where he lives with wife, Sybil, Orman began work last year on assembling a campaign team for what was then considered an improbable effort to reach Washington.
Not now. Orman's campaign has drawn national attention — partly because Democrat Chad Taylor's withdrawal from the campaign seems to have significantly increased the odds for an independent candidate to upset Roberts.
He says he's ready for the scrutiny he'll receive.
"I am asking a lot of voters," he said. "Learn who I am."
Todd Fisher, Debbie Reynolds' son, says he can help. His family's dispute with Orman, he said, is over.
"We did get into litigation with Greg," he said in an email.
"In the end, he and I have always settled our issues in person amicably," Fisher said. "We remain friends to this day."
Screenshot: Orman for Senate/YouTube
Want more political news and analysis? Sign up for our daily email newsletter!