Senate GOP Presidential Hopefuls Take On D.C.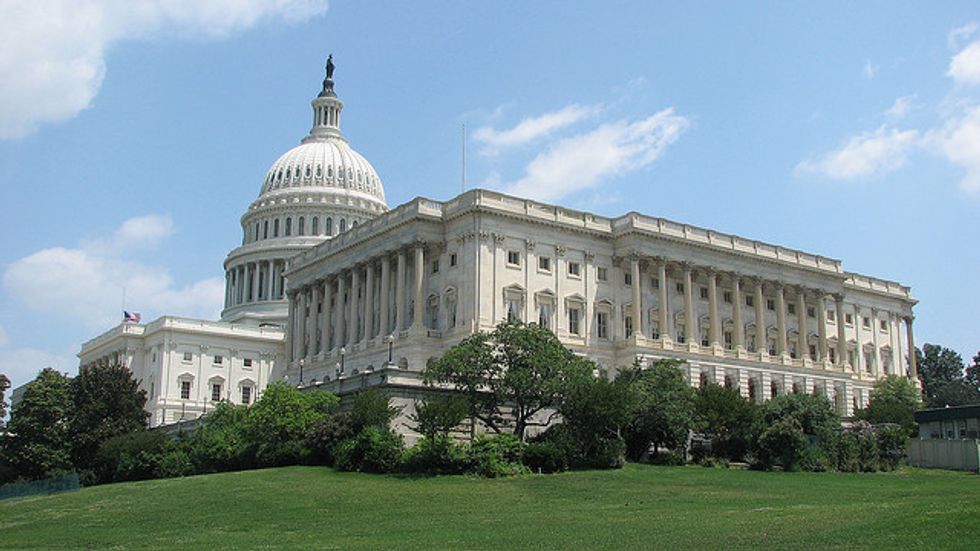 By Bridget Bowman, CQ-Roll Call (TNS)
WASHINGTON — In the course of eight days, two Senate Republicans eyeing the presidency introduced measures to strike down District of Columbia laws, causing local officials and activists to accuse them of using the District for their own political gain.
"I think it's no accident that both of these senators just before announcing (their interest in running for president), try to use the District as the fallback for their base," Delegate Eleanor Holmes Norton (D-DC), said in a March 27 phone interview. "It's not as if we have the right to keep people interfering with our local laws. So why not pick on us?"
On March 18, five days before Senator Ted Cruz (R-TX) announced he was officially running for president, he introduced resolutions of disapproval to strike down two D.C. laws he argues violate religious freedom. Eight days later, on March 26, Senator Marco Rubio (R-FL) introduced a bill that proposes loosening D.C. gun laws, some of the strictest in the nation, and stripping the D.C. Council of its ability to enact gun legislation. And they are not the only likely Senate GOP presidential candidates who have taken aim at the District. Senator Rand Paul (R-KY), unsuccessfully worked to overturn D.C. gun laws in the 113th Congress.
D.C. officials say the actions are an effort by Republicans to boost their national profiles and bolster their conservative credentials ahead of a hotly contested primary.
At-large D.C. Councilwoman Elissa Silverman said on WAMU's "The Kojo Nnamdi Show" last week the lawmakers are "using our city to score political points for the Republican presidential primaries."
But Republicans say it is about policy, not politics. When asked to respond to local criticisms last week, Rubio said his bill was about protecting the Constitution.
"I favor local control as well, but local control cannot supersede our Constitution," Rubio said. "The Second Amendment isn't an opinion, it's a constitutional right."
Sean Spicer, the spokesman for the Republican National Committee, also pushed back against the notion the measures are part of a campaign strategy, pointing to the motives for why they introduced the measures in the first place: protecting religious freedom and the Second Amendment.
"I would take them at their word," Spicer said. "I don't agree that it's a strategy."
But District officials and activists say the timing and the issues point to political motivations, and note D.C. is an easy target due to congressional oversight over the District.
"To say it's not a strategy, I think, is almost laughable when you think about the fact that these came back-to-back with two potential candidates and they're targeting readily identifiable parts of the Republican primary base," said James Jones of DC Vote, a group advocating for District autonomy.
"The main reason people go after D.C. is because it's seen as a free shot," Jones said. "They are not accountable to the people of D.C. The people of D.C. can't vote them out of office."
Jones and Norton suggested the senators could also be taking advantage of a common misunderstanding about D.C.'s political status.
"Most Americans don't know enough about D.C. to realize that they do not have this jurisdiction," Norton said. They both said understanding that D.C. has a local government, elected by the people, is imperative to understand that, in their view, the Republicans are violating federalist principles.
"Imagine what the tea party would think if they really knew that (the senators) were barging in on a local jurisdiction's entirely local matter?" Norton asked.
The D.C. delegate said she could not remember a time when presidential contenders actively weighed in on D.C. affairs.
"I never remember that," Norton said. "I've never seen people so hungry for press that they stoop this low. Most people run for president on national issues, even if they're issues like the ones that these senators have targeted."
A D.C. government official with presidential campaign experience said the senators could be attempting to set themselves apart from a potentially crowded field of contenders. "I think basically the Republican field is incredibly flat," the official said, noting there is no clear front-runner. "They're just trying to differentiate themselves."
One Senate Republican who recently ran for president said he focused more on national issues when seeking to become commander in chief.
"That was not my top priority." Senator John McCain (R-AZ), told CQ Roll Call on March 26 when asked about the Cruz and Rubio measures targeting D.C. "I thought there were larger issues that I needed to be involved in. If they feel that those issues are important to them, it's a free country."
McCain also remarked, "It means they're not counting on the Washington, D.C., vote." The District is decidedly Democratic, overwhelmingly handing its three electoral votes to Democratic candidates since it first received electoral votes in 1961.
Asked whether their efforts would help the senators' national campaigns, McCain said, "Probably. And maybe that's the purpose. But maybe they ought to make sure that they are driving around Washington in an unmarked car."
Photo: Jonathon Coleman via Flickr