Senate Leaders Appear Close To Debt Ceiling Deal
@AFP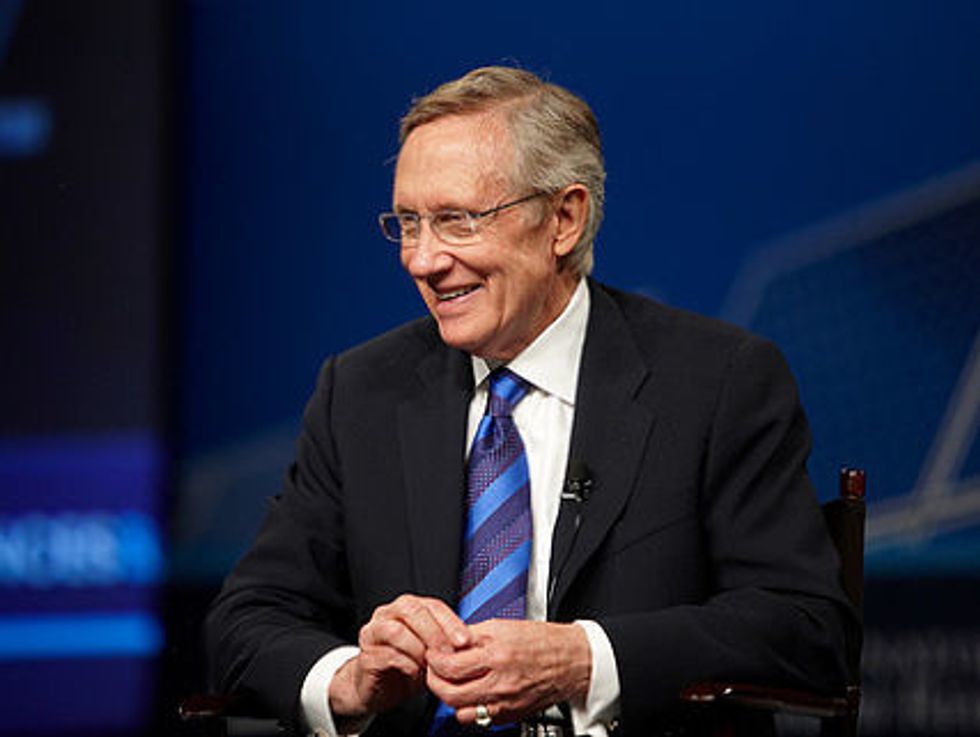 Washington (AFP) – With a potential debt default looming, Senate leaders appear close to a deal to avoid a self-inflicted political calamity that would shred U.S. credibility and rock the global economy.
Senate Republicans are scheduled to convene Tuesday at noon to review a plan being hammered out between Senate Majority Leader Harry Reid and Republican Minority Leader Mitch McConnell that would raise the U.S. government's borrowing limit and end a partial federal government shutdown.
"I'm very optimistic we will reach an agreement that's reasonable in nature this week to reopen the government, pay the nation's bills and begin long-term negotiations to put our country on sound fiscal footing," Reid said at the conclusion of Monday's Senate session.
"We are not there yet, but tremendous progress" has been made, he said.
If Congress does not raise the $16.7 trillion debt ceiling by Thursday, the U.S. government will begin to run out of money and could start defaulting on its obligations for the first time in history.
Reid's statement eased tension on the markets.
The Dow Jones Industrial Average closed Monday 0.42 percent higher at 15,301.26 while the broader S&P 500 rose 0.41 percent to 1,710.14.
Asian markets broadly rose Tuesday, with Tokyo, Sydney, Hong Kong and Seoul all closing up. Jakarta, Kuala Lumpur, Manila and Singapore were closed for public holidays.
"It's not like the U.S. can't afford to pay its bills; it's more like its wife has just hidden its checkbook," said CLSA Asia-Pacific Markets equity strategist Nicholas Smith.
"Most fund managers appear to be more frightened of being left behind if the market rips than of the apocalyptic scenario of failing to fix the debt ceiling on time," he told Dow Jones Newswires.
But the dollar slipped against the yen: the greenback bought 98.40 yen in Tokyo trade against 98.67 yen in New York on Monday.
China and Japan — which between them hold more than $2.4 trillion of U.S. debt — have urged Washington to get its house in order.
Japan's Finance Minister Taro Aso on Tuesday called on U.S. politicians to wake up.
"Many of them don't seem to understand well the magnitude of the international impact this problem could have," he told reporters.
"In the worst scenario, there will be a default, which is serious" for Japan, Aso was quoted as saying by the Nikkei daily.
But Aso also sounded optimistic. "I guess there will be some compromise in time," he told reporters.
Oil prices also slipped in Asia trading, with West Texas Intermediate (WTI) for delivery in November down 27 cents to $102.14 a barrel, and Brent North Sea crude for November down 27 cents to $110.77 a barrel.
Ken Hasegawa,energy desk manager at Newedge Brokerage in Japan, said that traders have concerns about the U,S. economy even if a deal is struck.
The partial government closure meant that economic data, including on jobs, has not been collected, making it "difficult to make bets either way."
"Everyone just needs to be patient," Reid said after the Senate session, adding that he hoped Tuesday "will be a bright day."
McConnell added: "I share his optimism that we are going to get a result that will be acceptable to both sides."
Their comments were the strongest sign yet that Republicans and Democrats — in the Senate at least — want to end the crisis that has dented the country's international standing.
There is no guarantee however that the Reid-McConnell effort will succeed.
Should the Democratic-led Senate coalesce on an agreement, Republican Speaker John Boehner would still have to secure enough support from his conservative coalition in the House of Representatives to approve the measure send it to President Barack Obama.
Boehner faces Tea Party-backed conservatives who oppose almost any deal that does not include anti-Obamacare provisions or fails to rein in federal spending.
Number two House Republican Eric Cantor said leadership has "not made any decision" yet on selling the potential deal to the rank-and-file.
"We will meet with our members in the morning and determine the best path forward," he said.
Yet with progress apparent, Obama on Monday canceled a meeting he had called with Reid, McConnell, Boehner and Democratic House Minority Leader Nancy Pelosi.
An official said the talks were put off to "allow leaders in the Senate time to continue making important progress towards a solution that raises the debt limit and reopens the government."
The sudden optimism contrasted with Obama's tone hours earlier, when he warned of dire consequences if a deal was not reached.
"If Republicans aren't willing to set aside their partisan concerns in order to do what's right for the country, we stand a good chance of defaulting and defaulting could have a potentially … devastating affect on our economy," Obama said.
Politico reported that the putative deal would fund government through January 15 and raise the debt ceiling until February 7.
It would also launch long-term budget talks between Democrats and Republicans that would need to conclude by December 13, and it could delay an "Obamacare"-related tax known as the reinsurance tax.
Photo: Center for American Progress Action Fund via Flickr