Senate Leans Toward Passage Of U.S. Budget Deal
@AFP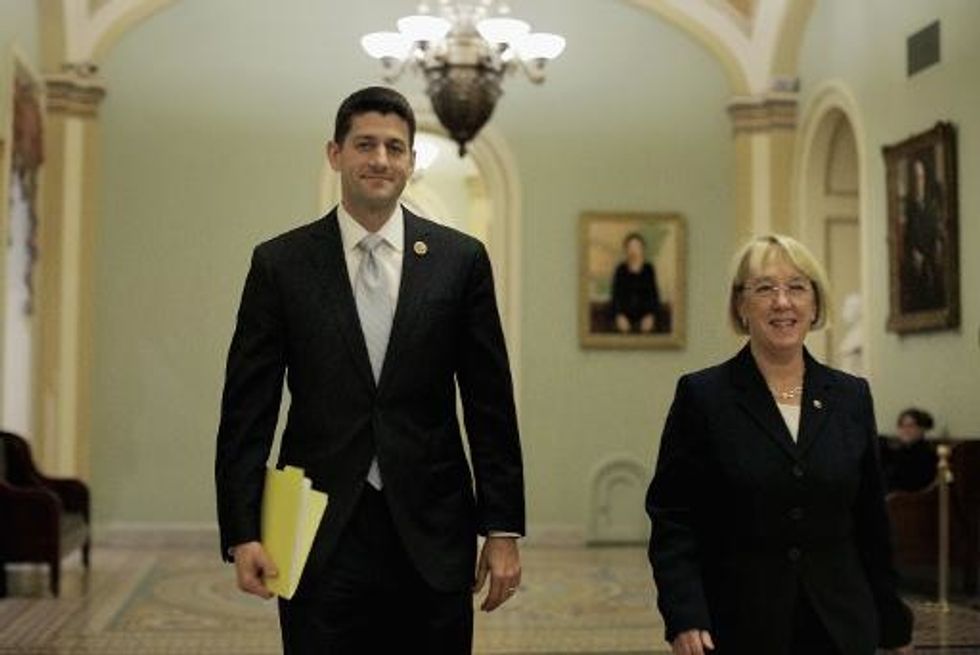 Washington (AFP) – A bipartisan U.S. budget deal looks increasingly likely to survive a crucial Tuesday test vote in the Senate, as Congress aims to end a legislatively miserable 2013 on a positive note.
Members of both parties acknowledge the vote will be a close one but on Monday it appeared there would be enough Republicans joining rival Democrats to head off attempts to block the measure, which has already passed the House of Representatives.
The accord, struck by Senate Democrat Patty Murray and House Republican Paul Ryan, lays out spending caps for the next two years and dramatically reduces the prospects of another government shutdown like the one that hog-tied Washington in October.
It creates $85 billion in savings and repeals some $63 billion in crippling automatic spending cuts — known in Washington as sequestration — that take effect January 1 unless Congress acts.
Some Senate conservatives, including potential 2016 presidential candidate Marco Rubio, stress the bill does not go far enough to reduce spending, but six Senate Republicans have signaled they are either backing the deal or will not act to block it.
"Although I disagree with a number of provisions in the bill, on balance the good outweighs the bad," Republican Senator Ron Johnson said in a statement Sunday.
Senators John McCain and Orrin Hatch also expressed support, while Jeff Flake, Susan Collins and Richard Burr have reportedly signaled they will not attempt to block the bill, which needs 60 votes Tuesday to advance. Democrats control 55 of the Senate's 100 seats.
The top congressional Republican, House Speaker John Boehner, supports the deal, and he is apparently leaning on Senate Republicans to get behind the agreement. An aide told AFP that "the budget deal came up" in Boehner's weekend discussions with some Senate Republicans.
The White House was also banking on Republicans being keen to avoid a repeat of October's disastrous government shutdown, for which polls show more Americans blame the Republican Party.
"We do not expect Republicans to walk that path again," White House spokesman Jay Carney told reporters. "We hope and expect the Senate to act" on the budget deal.
But the bill has angered some liberal Democrats for not extending emergency unemployment insurance, although it remained unclear if they would buck their party and President Barack Obama and vote against the measure.
Some 1.3 million Americans could see those benefits expire on December 28, although the Senate's Democratic leadership has expressed a desire to extend the insurance retroactively in the new year.
The Senate kicked off its final week of 2013 on Monday with Majority Leader Harry Reid saying he was "optimistic" that the chamber could accomplish its goals before the year-end break, including passage of a crucial defense-spending measure and the confirmation of key executive nominees such as Janet Yellen, Obama's pick to be the next head of the Federal Reserve.
"Without collaboration we'll face another daunting vote schedule," Reid warned, referring to last week's marathon sessions to confirm several judicial and executive nominees.
"Christmas is one week from Wednesday," he said. "We have a lot to do."
AFP Photo/T.J. Kirkpatrick