Senate Panel Votes To Fund Nationwide Investigation Of Veterans' Health Care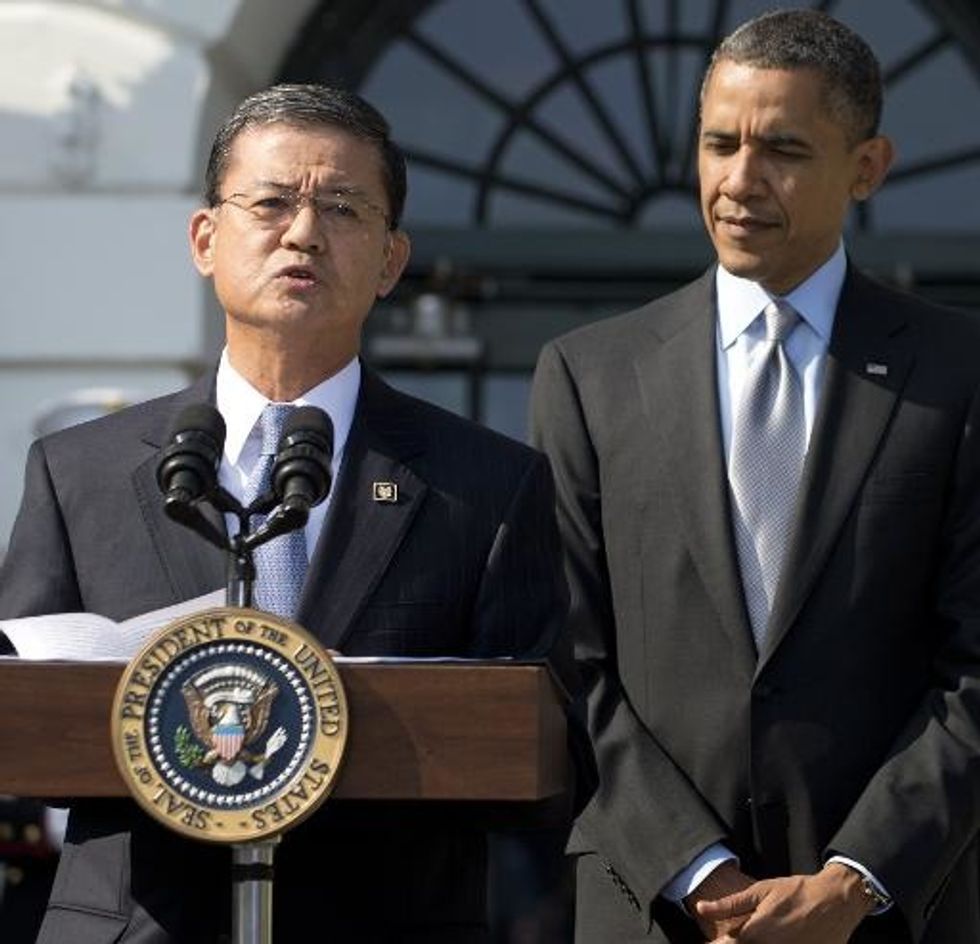 By Richard Simon, Tribune Washington Bureau
WASHINGTON — As Congress stepped up efforts Thursday to get to the bottom of the allegations of substandard health-care services at Veterans Affairs facilities, a Senate committee approved funds for a nationwide investigation and a House panel authorized a subpoena to compel VA officials to appear at a hearing next week.
With a growing number of Republican and some Democratic lawmakers calling for Veterans Affairs Secretary Eric K. Shinseki's resignation, the retired four-star general was on Capitol Hill on Thursday to meet with the Senate's No. 2 Democrat, Richard J. Durbin, over allegations of manipulated waiting lists at VA facilities, including one in suburban Chicago in Durbin's home state of Illinois.
At the same time, Senate Republicans pressed Democrats to conduct more aggressive oversight of the VA, while Sen. Bernie Sanders (I-VT), chairman of the Senate Veterans Affairs Committee, complained about veterans becoming "pawns in election-year gamesmanship."
The Senate Appropriations Committee, meanwhile, approved a $158.6-billion VA spending bill for the next fiscal year that would provide an additional $5 million for the VA inspector general's investigation of reports that VA staff attempted to cover up long waits for treatment.
The measure also would expand the secretary of Veterans Affairs' authority to fire or demote employees and freeze bonuses to senior VA staff until the review is complete and reforms have been implemented.
"We really have come to a point where we need to have more than just good intentions," said Sen. Patty Murray, D-Wash. "What we need from the VA right now is decisive action."
Sen. Richard C. Shelby of Alabama, the Appropriations Committee's top Republican, said: "This kind of reported misconduct at the VA is unforgivable. It is unacceptable. And it is just plain wrong."
The House Veterans Affairs Committee, in response to what its chairman Jeff Miller (R-FL) called the VA's "pattern of stonewalling," authorized a subpoena to compel department officials to appear at a hearing.
"Almost each passing day, there's a new location, a new allegation, a new whistle-blower," a Miller aide said.
A spokesman for the VA said the department was working with the committee, having provided more than 3,000 pages of documents. But a committee staffer noted that the documents arrived at 2:30 a.m. Thursday, and the VA did not send anyone to Thursday's committee meeting. The VA said it didn't receive the request to appear until 6:30 p.m. Wednesday for a staffer to attend the 9 a.m. meeting, which was not enough notice.
VA officials summoned to appear before the committee are Joan Mooney, assistant secretary for congressional and legislative affairs; Dr. Thomas Lynch, assistant deputy undersecretary for health for clinical operations and management; and Michael Huff, congressional relations officer. If they do not show up for a hearing Wednesday, the subpoena will compel their appearance May 30.
The VA inspector general's investigation was expanded this week to include 26 sites. The inspector general's office, which previously identified VA facilities in Phoenix, San Antonio and Fort Collins, Colorado, as the subjects of its review, declined to identify the new locations. Richard J. Griffin, the VA's acting inspector general, has said he expects to have the findings of his investigation ready in August.
President Barack Obama said Wednesday that Shinseki would complete a preliminary report next week, and White House Deputy Chief of Staff Rob Nabors is conducting a broader review of veterans' health care to be delivered next month. Nabors met this week with veterans groups and was at the Phoenix facility Wednesday. That facility has been accused of maintaining secret waiting lists to hide delays in treating veterans.
AFP Photo/Saul Loeb
Want more congressional news? Sign up for our free daily newsletter.