Amid Counting, Nevada Officials Rip Trump's 'Outrageous' Election Lies
@next2godwin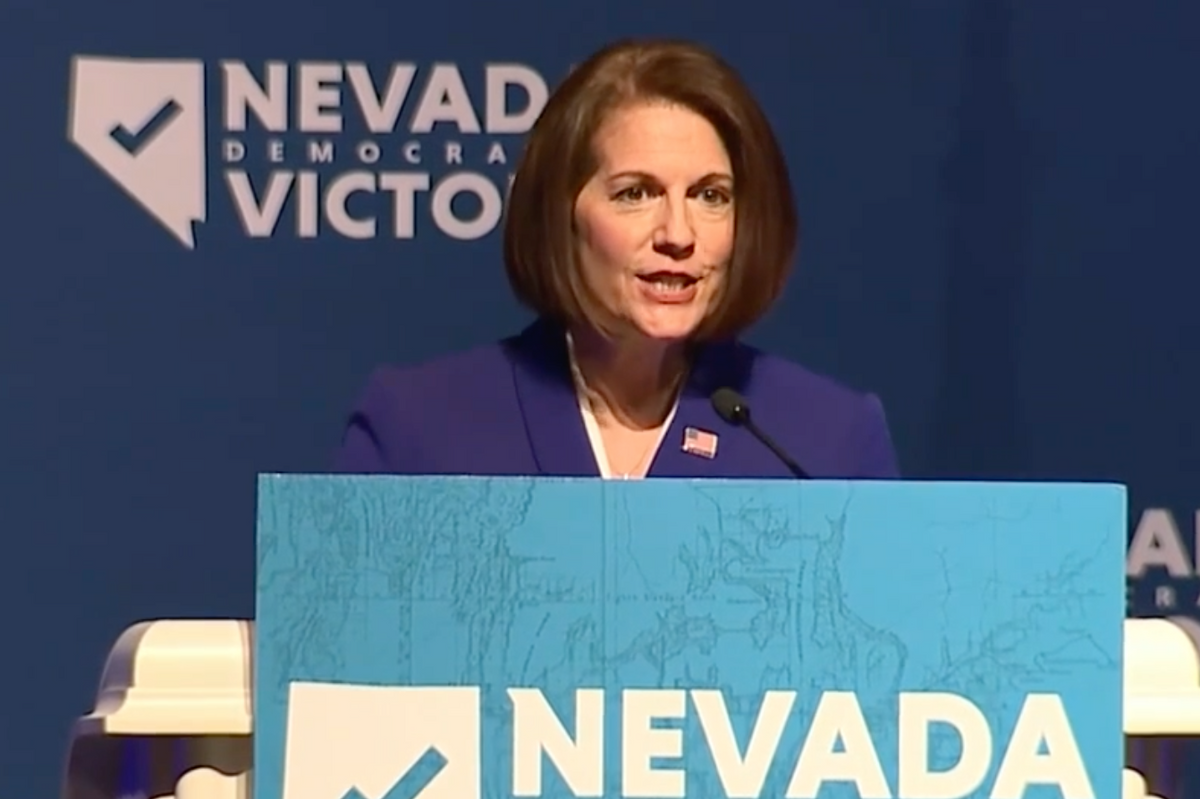 Youtube screenshot
In the days following the midterms, former President Donald Trump has lashed out in every direction to shift blame for the GOP's underwhelming performance — humiliatingly dubbed the "red ripple" by media outlets — but at least one of his targets is firing back.
On Thursday, melting down on his right-wing disinformation outlet Truth Social, Trump lobbed baseless accusations of election fraud at Clark County, Nevada, and Arizona, both of which are continuing to tabulate votes from Tuesday's elections. Officials in both states say results won't be complete for days to come.
"Clark County, Nevada, has a corrupt voting system… as do many places in our soon to be Third World Country," Trump erupted, warning Adam Laxalt, the Nevada GOP Senate nominee, to be vigilant. "Arizona even said 'by the end of the week!'" Trump exclaimed. "They want more time to cheat!" (Officials overseeing the election in the state's largest county -- and many others -- are Republicans.)
Nevada and Arizona have ongoing high-profile races that would determine whether Democrats or Republicans control the governor's offices and assume power in the U.S. Senate.
Clark County hit back at Trump in a tweet, calling his groundless allegations of corruption and fraud "outrageous," which proved the ex-president was "misinformed about the law and our election processes."
\u201c#Election2022.\n\nOur response to former President Donald Trump's recent comments about the elections process in Clark County, Nevada.\u201d

— Clark County Nevada (@Clark County Nevada) 1668107422
"First, we could not speed up the process even if we wanted to," the county argued. "Nevada state law requires us to accept and process all mail ballots received before 5 p.m. Saturday, Nov 12, if they are postmarked on or before Election Day."
"All of our election systems are certified by the state and federal governments for use in the State of Nevada," the county's wrote in its statement, "and there are several state required audits done before, during, and after each election, which further ensure the reliability and integrity of the election."
In a news conference on Wednesday, Clark County's Registrar of Voters, Joe Gloria, confirmed that Election Day votes had been tabulated, but tens of thousands of mail-in ballots were yet to be counted, while even more were expected to roll in, according to The Hill.
Gloria denounced the former president's Truth Social tirade as "misinformed" in another presser on Thursday and noted that — besides accepting mail-in ballots until Saturday — Clark County had to give voters until November 14 to verify mismatched signatures.
"My staff has been working very diligently. We've been here from early in the morning until late at night. We've been fully staffed. We're working as hard as we possibly can in order to get the ballots counted," Gloria said, according to the Centre Daily Times.
Clark County, a Democrat stronghold in Nevada and home to 72% of the state's voters, had "over 50,000 ballots that need to be counted," Gloria explained during the press conference.
The ballots were in different stages of the counting process, and the county had received just 626 ballots by mail on Thursday, a number that will reduce daily until the Saturday deadline for receiving ballots postmarked by election day.
The current vote margin in the state Senate race has whittled down to just about 8,988, reports the Associated Press, with Laxalt at 450,534 votes and incumbent Democrat Sen. Catherine Cortez Masto sitting on 441,546 votes.
As of Wednesday, Clark County had about 84,000 outstanding ballots, of which 14,000 were tallied and published. Cortez Masto won 65 percent of that tranche, while Laxalt scooped up 30 percent. If that margin holds for the rest of the ballots, the Democratic could head into the Georgia runoff in control of 50 Senate seats, election expert Dave Wasserman predicted.
\u201cAfter last night's NV mail ballot trend, excellent chance now that Dems will have 50 Senate seats/control in hand heading into the GA runoff.\u201d

— Dave Wasserman (@Dave Wasserman) 1668085928
However, Democrats have an even bigger mountain to climb in the gubernatorial race, where the incumbent Democrat, Gov. Steve Sisolak, is trailing his Republican challenger, Joe Lombardo, by 28,543 votes as of Thursday night.