Senator: If Trump Jr. Defies Senate Intelligence Subpoena, Arrest Him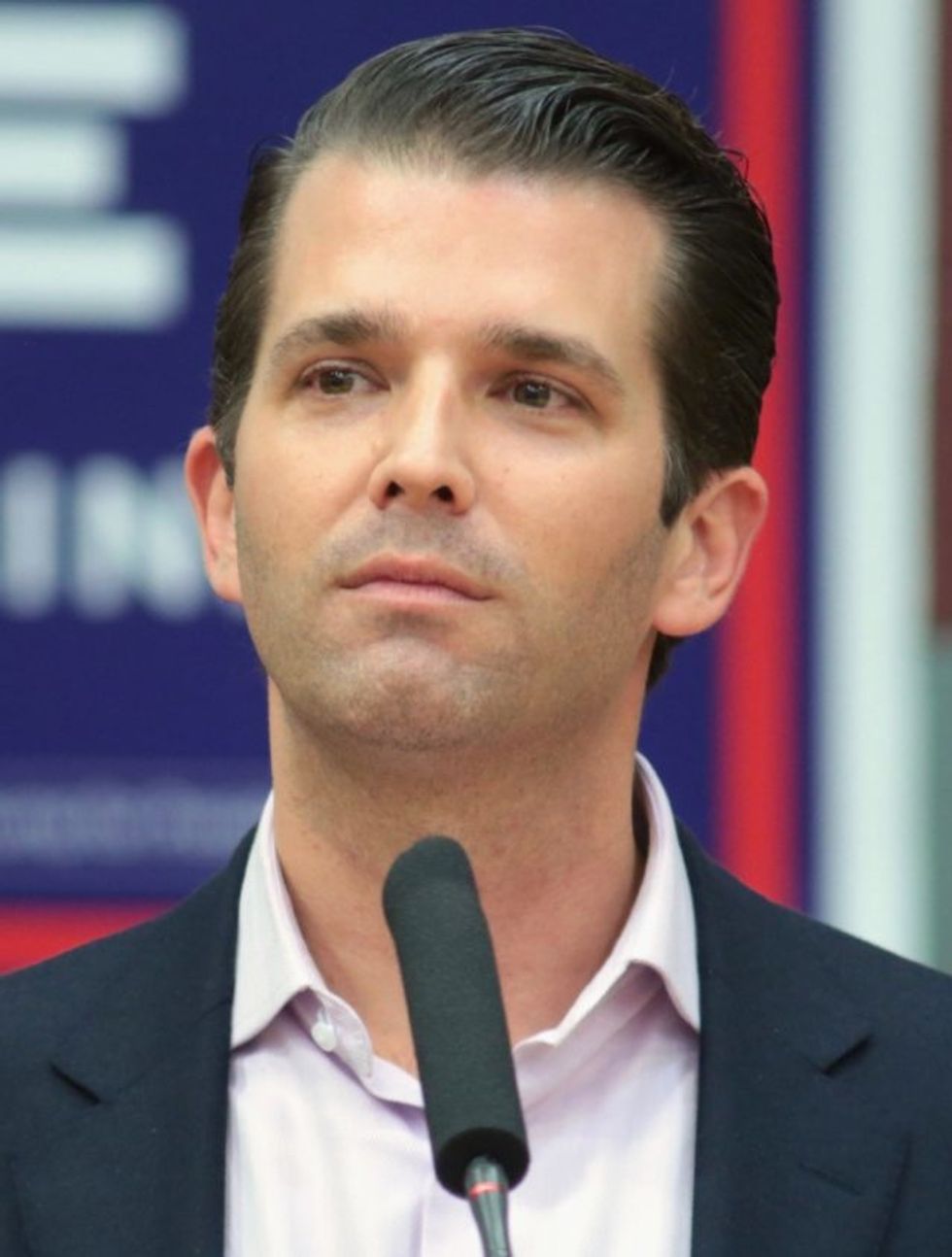 Trump has basked in his supporters' pernicious "lock her up" chants against Hillary Clinton for years.
But now, at least one Democratic Senator is calling for Trump's eldest son, Donald Trump Jr., to be locked up — if Trump Jr. ignores a subpoena from the Republican-led Senate Intelligence Committee.
"The subpoena should be enforced," Sen. Richard Blumenthal (D-CT) said on Thursday, according to the Hill newspaper. "If he refuses to obey it, he should be locked up."
The GOP-run Senate Intelligence Committee subpoenaed Trump Jr. in order to clear up testimony Trump Jr. previously gave the committee that has since been contradicted by former Trump lawyer Michael Cohen, according to Reuters.
The testimony is in regard to Trump Jr.'s involvement in the negotiations for a new Trump Tower in Moscow, which took place as Russia was hacking and meddling in the 2016 election to benefit Trump.
Blumenthal said that Trump cannot exert executive privilege to prevent his son from testifying before the Senate Intelligence Committee — a tactic Trump has used to block other subpoenas issued by House Democrats.
"There are no privileges for Donald Trump Jr.," Blumenthal said. "The son of the president doesn't have any of those privileges."
Blumenthal added that there are "a number of responses he gave that are challengeable based on the truth" and that Trump Jr. needs to clear those up.
"I was in the room and my clear impression was that his answers were deliberately misleading and false," Blumenthal said. "He said he was only peripherally aware of the negotiations in Moscow for Trump Tower there when apparently he was briefed extensively."
Lying to Congress is a crime — one that helped send Cohen to federal prison for three years.
Trump and other Republicans are furious with Senate Intelligence Committee Chairman Richard Burr (R-NC) for issuing the subpoena to the younger Donald. They're saying that the president's son has been "exonerated" by special counsel Robert Mueller's report and that Congress should move on.
But Mueller's report never says Trump Jr. was exonerated, and even says there is a "reasonable argument" to conclude that he broke campaign finance laws with the infamous Trump Tower meeting. That doesn't sound like exoneration in the slightest.
He does have one legal way of getting around the subpoena: invoking his Fifth Amendment right against self-incrimination.
And according to Reuters, it appears Trump Jr. may very well invoke that right to avoid answering questions about his possible lies.
Of course, Trump himself has excoriated people who have invoked their Fifth Amendment rights, saying that "innocent" people don't plead the Fifth.
Trump might change his tune now that his own son is running out of options.
Published with permission of The American Independent.