Senator Kay Hagan: High-Energy, Low-Key, And In The Political Spotlight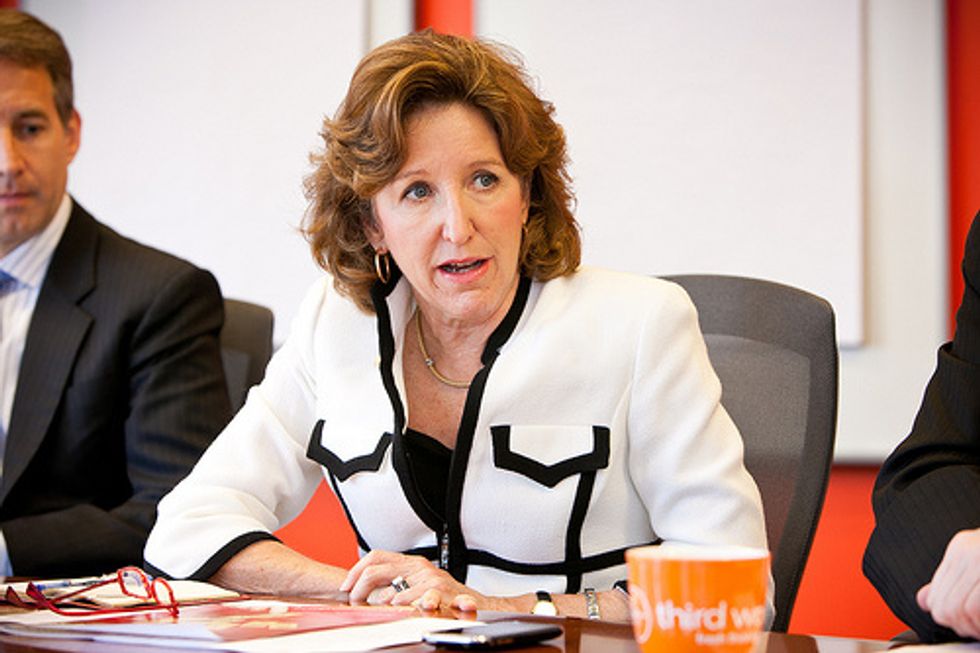 By Renee Schoof, McClatchy Washington Bureau
WASHINGTON — Sen. Kay Hagan prefers stairs to elevators and escalators. She shoots down congressional corridors so fast she leaves attending staff members struggling to keep up.
The first-term North Carolina Democrat is known for being high-energy. On a typical Wednesday this summer, she was at the Capitol early for a closed Democratic strategy session, met with visiting constituents for her weekly Carolina Coffee, chaired a hearing of one of the two Senate subcommittees she leads and was briefed by policy experts on her staff — and that was only part of her schedule.
Every day is packed.
But Hagan hasn't written a bill that has passed the Senate and House of Representatives and been signed into law by President Barack Obama. Bills she has written have become parts of bigger pieces of legislation that are now law. But no major law has her name attached as the primary author.
"Do-nothing Kay Hagan" is one of the criticisms of her by Thom Tillis, her Republican opponent in the Senate race, which looks to be very close. The outcome could be pivotal to which party controls the chamber starting in January.
"Kay Hagan has not authored a bill in six years that's gone to the president's desk," Tillis, speaker of the North Carolina House of Representatives, said at their Sept. 3 debate. "We need somebody who's going to commit to getting things done and get it done."
Republicans and their supporters have also put the "do-nothing" label on other Democratic incumbents, such as Mark Begich of Alaska.
"You know," Hagan said of Tillis, during a recent interview in Greensboro, "he has no idea how the Senate works, especially in these last six years that I've been in office."
She said that in 2013, for example, she and Sen. James Inhofe, an Oklahoma Republican, one of the Senate's most conservative members, added an amendment to a budget bill to restore a program that pays tuition, one class at a time, for active-duty service members.
As a stand-alone bill, it could have languished. The amendment became law in two weeks.
"My role in the Senate is speaking on behalf of North Carolinians, being sure the policies we put forth in the Senate are beneficial, in particular to middle-class families," Hagan said. "And like I've always said, I don't care whose idea it is. If it's good, let's work together."
Some of her bills have been folded into other legislation, as typically happens in Congress. Her America Works Act, which requires that operators of job-training centers prioritize skills that will lead to nationally recognized credentials that are in demand, was added to a bill that streamlines federal job training. It became law this past summer.
"Highly, highly intelligent, but never showy," Sen. Claire McCaskill, a Missouri Democrat, said of Hagan. "We've got a lot of people around here with sharp elbows that are constantly trying to get their mug in front of a camera. Kay doesn't do that. She's effective, but does it by being low-key."
But partisan tensions have stymied the work of Congress, and Hagan has said it's been a huge frustration.
"This has been an extraordinarily unproductive Congress, so it's not difficult to attack somebody on that front," said Norman Ornstein, a political scientist at the conservative American Enterprise Institute and a longtime observer of Congress. "Though it's interesting that most of the people who are going after these senators for not enacting a lot of bills are the ones who don't want to enact any bills. The whole theme of the (Republican) party is to repeal bills."
Michael Bitzer, a political science professor at Catawba College in Salisbury, N.C., agreed that Hagan's lack of legislation is "a symptom of a wider dysfunction that's going on in the Senate."
"Not a whole lot has been passed to begin with," he said.
The Senate no longer has many moderates, a mantle Hagan claims. National Journal, a nonpartisan magazine about politics and policy, rated her as the most moderate senator last year.
Hagan, 61, has a background in business and politics. A graduate of the Wake Forest University School of Law, she worked at North Carolina National Bank (now Bank of America) in Greensboro. She was a county chair for Gov. Jim Hunt's campaigns in 1992 and 1996, and then won a state Senate seat in 1998. She stayed through 2008, becoming chair of the powerful state Senate Appropriations Committee.
She set her sights higher in 2008, when she unseated Republican U.S. Sen. Elizabeth Dole.
In her first term, she has followed a typical freshman path, keeping her head down, learning the job and raising money. In the tradition-bound chamber, committee chairmanships go to senators with longer standing, while freshmen can become subcommittee chairmen.
She meets frequently with Sen. Richard Burr (R-NC) to work on issues of concern to North Carolina. They joined forces on a bill that became law in 2012 that provided health care to thousands of people who were poisoned by toxic water at Marine Corps Base Camp Lejeune in North Carolina. They recently jointly pressed for a cancer incidence study for people exposed to the Camp Lejeune water.
Burr supports Tillis, and his office didn't respond to requests for his comments on Hagan. During the summer, the Associated Press quoted Burr as saying: "Look at the folks running for re-election. What have they done?" Of Hagan: "She's got nothing. She's not alone in that."
Other Republicans, in keeping with Senate decorum, avoided politically charged remarks.
"She's got a good business knowledge and I've enjoyed working with her," said Sen. Johnny Isakson of Georgia. "I'm not going to get political in a contested race."
Sen. Jeff Sessions of Alabama, a fellow member of the Armed Services Committee, said Hagan had been "sort of mainstream on the committee. She's been loyal to the president's basic foreign-policy agenda. I think she believes in defense, and she's a smart senator."
Tillis, however, has accused Hagan of neglecting her committee duties. On Thursday, he criticized her for skipping 27 of 50 hearings of the Senate Armed Services Committee during the past two years. Hagan spokeswoman Sadie Weiner said Hagan often had conflicting hearings — a problem generally shared by every senator — while committee Chairman Sen. Carl Levin (D-MI) said she had one of the best attendance records.
As chairman of the Emerging Threats and Capabilities Subcommittee of the Armed Services panel, Hagan held three closed subcommittee hearings on al-Qaida in Iraq and Syria, as the Islamic State was formerly known. Most of its hearings on counterterrorism policy and cybersecurity threats have been closed to the public because the material is classified.
Hagan also chairs the Subcommittee on Children and Families, part of the Senate Health, Education, Labor and Pensions Committee. She's held hearings on financial literacy, human trafficking, online efforts by adoptive parents to find new homes for their children, newborn screening and family leave.
Hagan "looks for common ground," said Sen. Amy Klobuchar, a Minnesota Democrat and friend.
One liberal group finds Hagan too tepid, at least on environmental issues. NextGen Climate PAC has spent $22 million on behalf of Senate Democrats in other states, including New Hampshire and Colorado, but has no ads in North Carolina to support her.
Founded by investor Tom Steyer, the group calls for politicians to work toward solutions for climate change. Hagan has said it's an urgent problem, but she also supports the continued search for more fossil fuels.
Hagan has shown that she will oppose positions popular with her party. She has opposed efforts to block government regulation of the tobacco products, and supports the XL pipeline that would carry Canadian oil to the Gulf Coast.
But on most issues, Hagan has agreed with the president, one of Tillis' lines of attack. A Congressional Quarterly analysis of 2013 votes shows that on legislation where the administration had a position, she backed it 96 percent of the time, and with the Democratic Party 86 percent of the time. In comparison, Burr voted with Republicans 91 percent of the time.
Hagan has directed her staff to work on constituent services. Her staffers have settled 32,000 cases — helping constituents receive military benefits, refinance homed or, in one case, getting an overseas aid worker home to the U.S. for emergency surgery.
It's the meat and potatoes of being a member of Congress. How much it helps with re-election is unknown.
Photo: Third Way via Flickr