Senator Who Fought KKK Says Trump Encourages Violence Against LGBTQ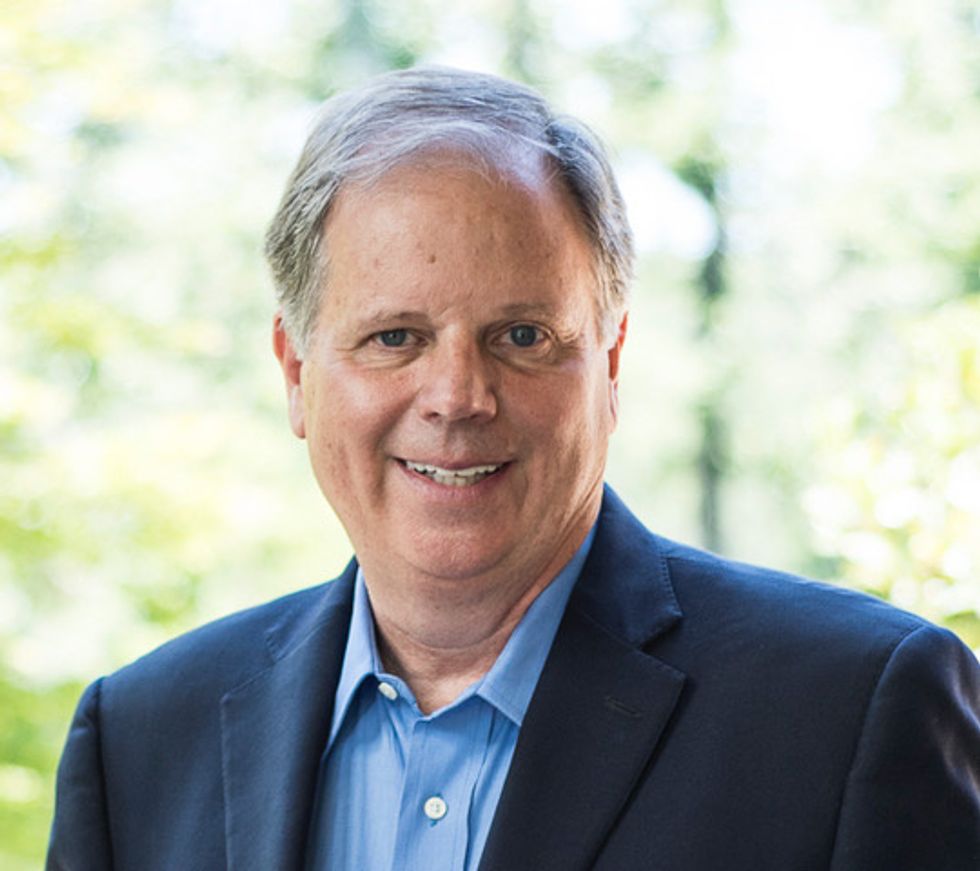 Alabama Sen. Doug Jones says the hatred promoted by Trump and Mike Pence is giving a "green light" to violent bigots to commit hate crimes.
In an interview with Newsweek published Tuesday, the Democratic senator was asked about his February tweet that praised actress Ellen Page for passionately condemning Pence and the Trump administration for their anti-LGBTQ bigotry.
Jones was asked if he worries about "the Trump administration inciting hatred and violence against the LGBTQ community."
"Yes," Jones replied. "I do think sometimes people get so caught up in their own zealousness about an issue that they forget how much words matter. They have a pulpit by which people can take things the wrong way, and there's a lot of people out there looking toward them for a green light to do bad things."
He added that he does not believe Trump officials are "intentionally trying to incite violence." But, he said, "I do believe that some of their words unintentionally can give a green light to people, and that's what we've got to be careful of."
Before he was elected to office, Jones led the successful prosecution of Ku Klux Klan members who planted a bomb that killed four black girls at the 16th Street Baptist Church in Birmingham, Alabama, nearly 40 years after they committed the crime.
Jones understands how violent bigotry works, and he is correct that it doesn't matter whether Trump officials intend to incite violence. They are still doing it — and are still refusing to change course despite mounting evidence that their actions are causing harm.
Since Trump's election, the FBI has found that reports of hate crimes have increased in America. Despite this data and the moral crisis it has provoked, Trump's fellow Republicans have largely chosen inaction on hate crimes legislation.
Trump has also refused to stop calling journalists the "enemies of the people," despite evidence that his words have specifically incited violence and attempted violence against journalists. He continues to spread dangerous lies about Democrats supporting "infanticide," despite America's decades-long history of violent anti-abortion terrorism. And he has only reluctantly condemned white supremacy, despite a recent surge of white supremacist terrorism.
Specifically on the issue of LGBTQ equality, Trump and Pence have been trying to turn the clock back. The administration is currently trying to overturn the right of transgender service members to wear the military uniform, after President Barack Obama changed policy to allow equal service.
Trump is also plotting to manipulate federal law so that LGBTQ people are no longer protected by anti-discrimination laws.
These actions are a clear attempt to hold on to the loyalty of anti-LGBTQ voters, who support the Trump presidency in part thanks to Mike Pence, a long-time homophobe.
Trump and Pence have embraced hate and even made it official government policy. Violent bigots have taken their words to heart, and hurt and killed innocent Americans.
And Jones is calling them out for the harm they are causing every day.
Published with permission of The American Independent.