Senators Hit Administration Scheme To 'Downplay' White Supremacist Terror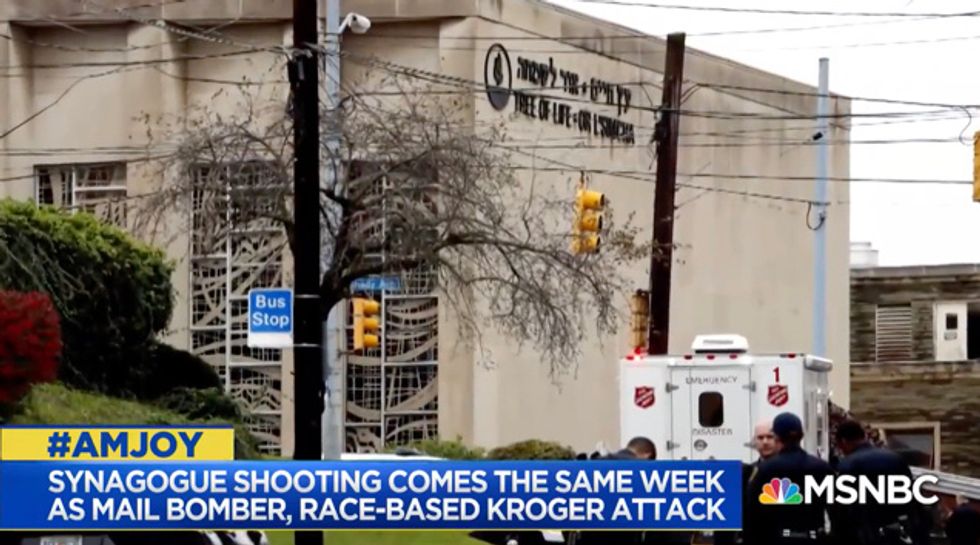 A group of seven Democratic senators are protesting changes made by the Trump administration that downplay the serious and growing threat posed by white supremacist terrorists — which also makes it harder to stop that threat.
In a Thursday letter addressed to Attorney General William Barr and FBI Director Christopher Wray, the senators, all members of the Senate Judiciary Committee, expressed their alarm at a major new change to the way the FBI and DOJ keep track of domestic terrorism.
"We are deeply concerned that the Department of Justice and the Federal Bureau of Investigation are not taking adequate measures to combat white supremacist violence," reads the letter, signed by Senators Dick Durbin (D-IL), Cory Booker (D-NY), Sheldon Whitehouse (D-RI), Amy Klobuchar (D-MN), Chris Coons (D-CT), Richard Blumenthal (D-CT), and Kamala Harris (D-CA).
During a briefing with DOJ and FBI officials, the senators revealed, they learned that "the Trump Administration has shifted its approach to tracking domestic terrorism incidents to obfuscate the white supremacist threat."
Previously, the agencies used 11 different categories for tracking domestic terrorism, including a separate category for white supremacist violence. But the new system has whittled those 11 categories down to just four — including "racially motivated violent extremism," which lumps together white supremacists with "black identity extremists," a freshly made-up term by the Trump team.
In 2017 the National Organization of Black Law Enforcement Executives called the term "black identity extremists" a classification that "further distances communities of color from the law enforcement community." They said the term "resurrects the historically negative legacy of African American civil rights leaders who were unconstitutionally targeted and attacked by federal, state, and local law enforcement agencies for seeking full U.S. citizenship under the law."
This change is an especially big problem, the senators note, because "violent white supremacists are the most significant domestic terrorism threat facing our nation today." And recent incidents, including the shooting at Chabad of Poway synagogue in California and the mass shooting at Linwood Mosque in Christchurch, New Zealand, have brought that fact into painful focus.
"Given the large number of white supremacist attacks, we are deeply concerned that this reclassification downplays the significance of the white supremacist threat," the senators wrote.
Trump, however, inaccurately claims that white supremacist terrorists are "a small group of people" whom we don't need to worry about.
He's wrong.
The Trump administration has deemphasized government programs intended to fight violent racist extremists, and his team's focus on domestic terrorism has reportedly "waned" within federal agencies since the end of the Obama administration.
Trump's legacy is easily summed up in his decision to praise neo-Nazis as "very fine people," while also praising pro-slavery generals that fought in rebellion against the American government during the Civil War.
Trump is using the highest office in the land to minimize serious crimes perpetrated by racists — but Democratic senators are alerting Americans to the injustice being committed in their names.
Published with permission of The American Independent.